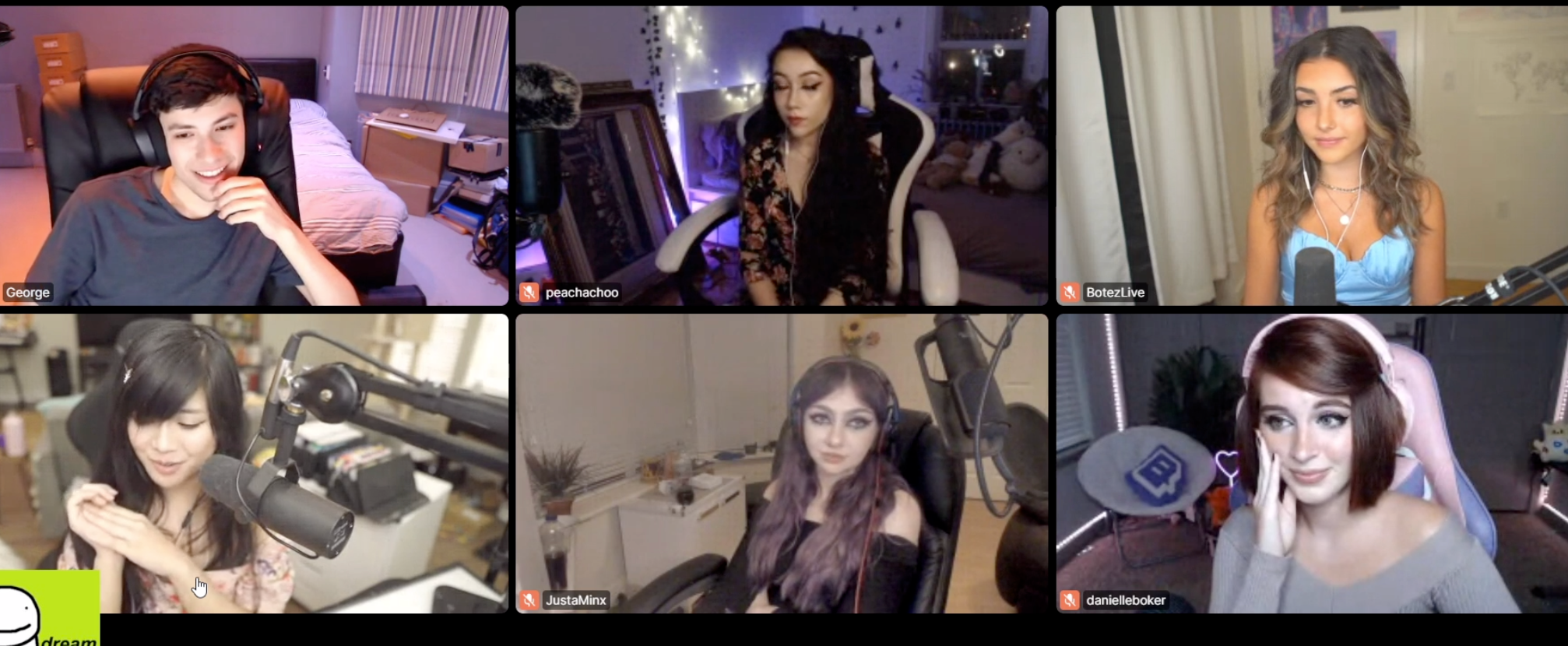 The Twitch Game Show 'Love or Host' Is the Internet's Newest Obsession
By Gina Vaynshteyn

Sep. 10 2020, Updated 8:47 p.m. ET
So, what do you do for new entertainment when the world has paused creating new shows and movies? You jump on Twitch and watch Love or Host, we guess. And when you do tune in, you can interact with all the other hundreds of thousands of viewers watching Love or Host in real time. And decide, collectively, which cast members get eliminated. 
Article continues below advertisement
What is Love or Host?
Love or Host is a game show airing on Twitch, specifically on the AustinShow channel. It's a new(ish) concept that fuses traditional reality TV and live streaming, so you do have to catch it when it airs to really understand and follow what's going on. "It's Love or Host but YOU, the chat, will decide the eliminations and be the matchmaker," Austin tweeted. Thursday's first episode showcases several women live-streaming and talking to host GeorgeNotFound. Instead of George eliminating the streamers, it's the chatroom that decides. 
Article continues below advertisement
Love or Host actually originates from another show Austin used to host, but it was called The Rajj Show (back when Austin used to go by Rajj Patel), and it wasn't based around finding love. Although Austin did host Rajjchelorette on Twitch, which mirrored the same concept as Love or Host.
Kotaku described Rajjchelorette, writing, "Austin tells the handsome politics streamer Hasan Piker that the 'woman of your dreams is in this room,' as the cast preens themselves in the corner, or leans casually on their beds. One by one, they get eliminated, and when they are, they must reveal whether they chose in the beginning to go on a date or have their stream hosted by the contestant, which would boost their notoriety." 
Article continues below advertisement
Can I be on Love or Host?
You can be cast on Love or Host! All you need to do is casually DM @GetOnAustinShow, the Twitter account specifically made for casting Love or Host. 
Article continues below advertisement
What are the 'Love or Host' Rules?
To be on Love or Host, you have to meet certain requirements. @GetOnAustinShow tweeted, "When reaching out to be on a show be sure to include: Who you are and what makes you interesting. Why you are interested in the guest. Photos of yourself. Anything else you think would be of interest. Must be 18+ to be on the show!"
Article continues below advertisement
The internet is pretty fascinated by Love or Host.
Tuning in to Twitter, it looks like a lot of people have caught on to the show (over 100,000 people tuned in to the first episode). People are already rooting for contestants, like Minx.
Article continues below advertisement
Article continues below advertisement
It's pretty confusing if you just randomly start watching it, so it's suggested that you tune in on the dot.
Article continues below advertisement
Back in 2019, Austin shared his thoughts about starting his own version of reality TV with Kotaku. "I would like to push and develop the non-gaming reality TV side of Twitch. It has the potential to be bigger than gaming one day. Who knows," Austin said.