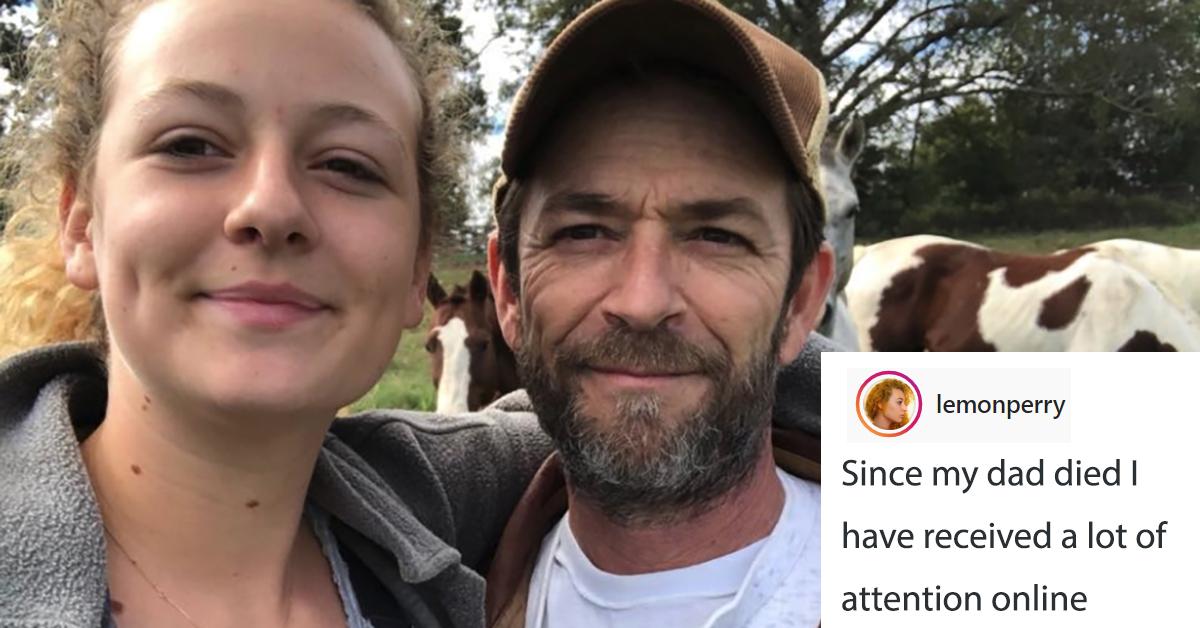 Luke Perry's Daughter Responds to Fans Who Criticized the Way She Mourns
It's been a week since Luke Perry, known for his roles on 90210 and Riverdale, passed away from a stroke at the age of 52. And while fans have been mourning the loss of one of their favorite actors, Luke's family is feeling the brunt of the pain.
Article continues below advertisement
Sophie Perry, Luke's 18-year-old daughter, took to Instagram when news broke on Monday to share a photo of the pair. "I'm not really sure what to say or do in this situation," she wrote on Instagram. "It's something you aren't ever given a lesson on how to handle, especially when it's all happening in the public eye."
Article continues below advertisement
A few days later, Sophie also posted an emotional message to her mother, Minnie Sharp, thanking her for being "the rock" in their family as they grieve. "She's the toughest and sweetest and most amazing woman I or anyone else has ever met, she wrote. "How did I get so lucky to have two icons for parents? I love you mom and I could not get through this absolute s--t situation without you."
Article continues below advertisement
While the messages that flooded the posts were generally positive, some fans actually tried to argue that they're grieving more than his family.

Article continues below advertisement
While others were critical of Sophie's use of curse words, and her decision to post a tribute to her mother.

Article continues below advertisement

Sophie responded to one of the comments by saying: "This is about me getting through the loss of my dad. And if that takes my mom, so be it."
But she also decided to make a separate Instagram post addressing some of the hate she'd gotten in the last few days.
Article continues below advertisement
"Since my dad died I have received a lot of attention online," Sophie starts. "And most of it has been positive but of course, some people just can't be nice. And I'm here to say that I did not ask for this attention, I did not ask to be thrown into some virtual spotlight, and while I don't mean to offend anybody, I'm also not going to cater to any one else's needs and beliefs."
Article continues below advertisement
"I'm 18. I swear like a sailor and sometimes I dress like a hooker. And I support causes and you may not. And most importantly. I am going to laugh and smile and live my normal life. YES I am hurt and sad and crying and beside myself with what happened to my dad. It's the worst thing to ever happen in my life. And I am torn the f--k up over it."
"But I'm not going to sit in my room and cry day in and day out until the internet has deemed it appropriate for me to do otherwise. And if you knew my dad you would know he wouldnt want me to. So you shouldn't either. So to those of you shaming me for my language and my wardrobe and most disgustingly, my grieving process, do us both the favor and just unfollow. It's a waste of both of your time."
The post attracted thousands of sympathetic comments.
"Just wanted to tell you that you are absolutely right," one user wrote. "Who are these people that think we should grieve a certain way?! Its crazy!"
"Well said, we all grieve differently and in our own way, and all the trolls just need to get on with their lives and find something to do with it, rather than spending all day attacking people who are different."