TikTok Influencer "Teacher Luke" Was Arrested in Thailand for Allegedly Having Sex With a Minor
Luke Rockwell, known as Teacher Luke, is an English teacher turned influencer who had been teaching in Thailand. He was arrested in September 2023.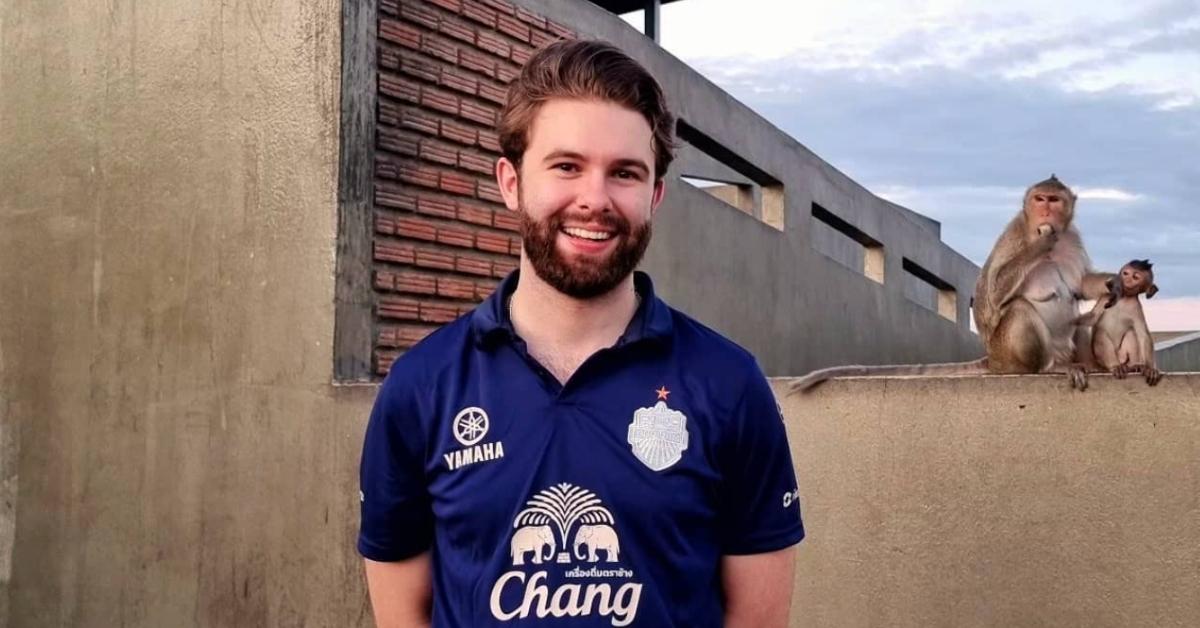 The Gist:
Luke Rockwell (aka Teacher Luke) is an American teacher and TikTok influencer who has been teaching English in Thailand for years.
In September 2023, he was arrested near Bangkok for allegedly having sex with a minor.
It wasn't until the alleged victim contracted an STD that she finally told her family what was going on.
Article continues below advertisement
If you are on TeacherTok, you may have come across posts from Teacher Luke (real name Luke Rockwell). The English teacher turned influencer, who has been teaching in Thailand for years, runs the popular TikTok account @English_with_teacherluke. It is here that he once shared educational videos that touch on pronunciation, grammar, word choice, and more.
Rockwell was adored for his enriching videos and for making learning English more accessible to folks around the world via social media. He even established Teacher Luke's Language School, a private online platform for students to learn English like a native speaker, per his LinkedIn profile.
But in September 2023, Rockwell's public image was shattered and his social profiles went private as news broke that he had been arrested. What was Rockwell arrested for? We share the details below.
Article continues below advertisement
Luke Rockwell was arrested for allegedly having sex with a 16-year-old teenage fan in Thailand and recording it.
According to the Bangkok Post, Rockwell was arrested on Sept. 3, 2023, in Thailand for allegedly having sex with a minor and recording the acts, per police.
Article continues below advertisement
The mother of the 16-year-old girl had filed a complaint against Rockwell, which prompted his arrest. This complaint claimed that Rockwell and her daughter had known each other for approximately five months and that Rockwell had a recording of their sexual encounter.
Rockwell was charged with "taking away" a minor from the parent or legal guardian "for indecent purpose with the consent of such minor."
Article continues below advertisement
The girl's mom spoke to NBC News and alleged that Rockwell had also passed on a sexually transmitted disease to the girl, which made her very sick.
The mom claimed that Rockwell met her daughter in March 2023 after she turned 16 and they began meeting at his house because he did not want to be seen with her publicly.
The two initially had protected sex, according to the mom; however, shortly after Rockwell showed the girl medical documents that claimed he had clean sexual health, the two then allegedly began having unprotected sex.
On Aug. 25, 2023, the girl began bleeding and was in pain. Three days later, she told her mom about her relationship with Rockwell. She was then taken to the hospital and to the police station to file a report.
Article continues below advertisement
The mom said that on Aug. 30, the hospital confirmed that the girl had contracted STIs. She said that police took the family's statement the following day and put out a warrant for Rockwell's arrest.
After police had trouble finding Rockwell, they asked the girl to help "lure" him to a meeting, where he was finally arrested, according to the mom.
Article continues below advertisement
The mother said that the police later informed her that her daughter had been recorded by Rockwell during these sexual encounters.
"I was so shocked and it gave me a big punch in the chest. I was filled with sorrow and anger when I found out what he did [the recordings] to my daughter," she told the outlet.
Currently in Thailand, the legal age of consent is 15 years old. However, it is considered a criminal offense to engage in "indecent acts" outside of marriage with someone who is over 15 but under 18 years old, even if they provide their consent.
This offense is punishable by a maximum prison sentence of five years and a fine of 10,000 baht, which is approximately $280 USD.
Rockwell is currently out on bail.