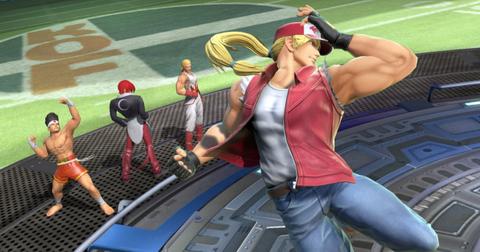 Terry Bogard Is Live in 'Super Smash Bros.' — but You Won't See This 'Fatal Fury' Character
By Abi Travis

Updated
On Wednesday, Nov. 6, Nintendo rolled out Version 6.0.0 of Super Smash Bros. Ultimate. The update includes a new fighter, new music, a new stage, and a bunch of Mii Fighter costumes. But it doesn't include Mai from Fatal Fury — a character that some people may have been expecting. Here's everything you need to know about the update.
The Fatal Fury character Terry Bogard is now live in Super Smash Bros. Ultimate.
Thanks to the update, you can now choose Terry Bogard as your fighter in Super Smash Bros. Ultimate. In a new video from Nintendo, Super Smash Bros. Ultimate director Masahiro Sakurai revealed what Terry Bogard is going to look like in action.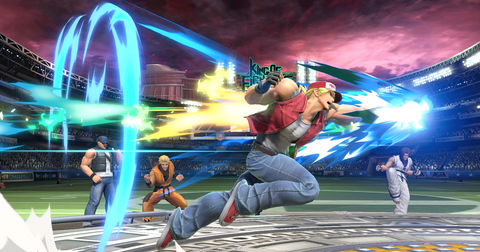 Terry Bogard first debuted in the classic SNK arcade game Fatal Fury: King of Fighters. In that game, Terry and his brother Andy enter a fighting tournament to get revenge on Geese, the fighter who killed their adoptive father during the same tournament 10 years ago.
Terry Bogard's fighting style is varied — he uses a mixture of boxing, karate, kung fu, kickboxing and street fighting. Terry's also a big fan of basketball and his special moves (Both in the Fatal Fury games and in Super Smash Bros. Ultimate) include Crack Shoot and Power Dunk.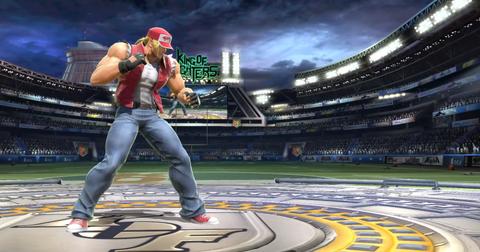 In addition to adding Terry Bogard to the fighting roster, there will also be a new stage.
The new stage is the King of Fighters Stadium. It's a large arena based on the King of Fighters Tournament where Terry competed to avenge his father's death. The layout is a simple flat ring on the ground, surrounded by spectators in the stands. 
Although the arena is surrounded by invisible walls, they can be broken during a fight if enough force is applied. Masahiro Sakurai also revealed that there will be 50 new music tracks from various SNK games added to Super Smash Bros. Ultimate. 50 tracks!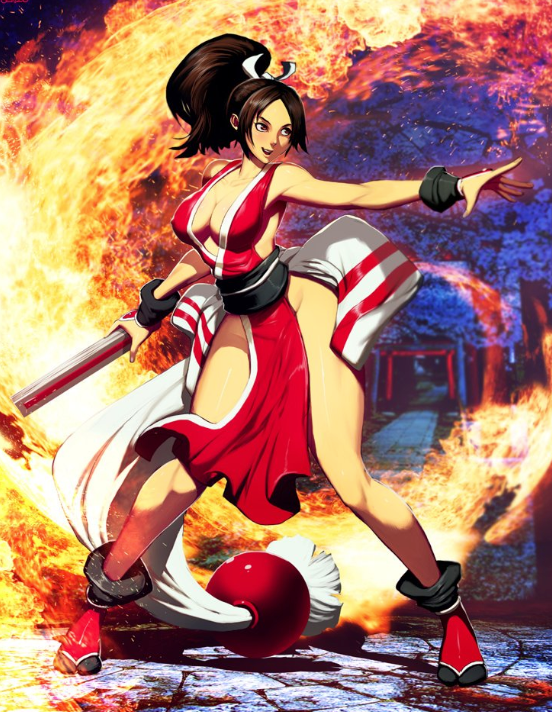 But there's one Fatal Fury character you won't be seeing and that's Mai Shiranui.
During the stream, Masahiro Sakurai revealed that Mai Shiranui would not appear in the game. The reason he gave is interesting, to say the least. According to Sakurai, "Super Smash Bros. Ultimate is for good boys and girls of many different ages so we decided not to feature her – please forgive us."
If you're not already aware, Mai Shiranui is one of the most recognizable female video game characters around. She also happens to wear a costume that reveals quite a bit of her body, and her fighting style features a lot of "bend-over-in-front-of-the-camera" moves. Apparently, Mai Shiranui was deemed to be a bit too sexy for Nintendo's typically family-friendly vision.
We can't say we're super surprised that Mai from Fatal Fury won't be included as a Super Smash Bros. Ultimate fighter. Luckily, there are still plenty of great female fighters in the game, so it's not as if players are without options. If you really want to play as Mai Shiranui, you'll have to stick to games she does appear in, such as Dead or Alive 6.