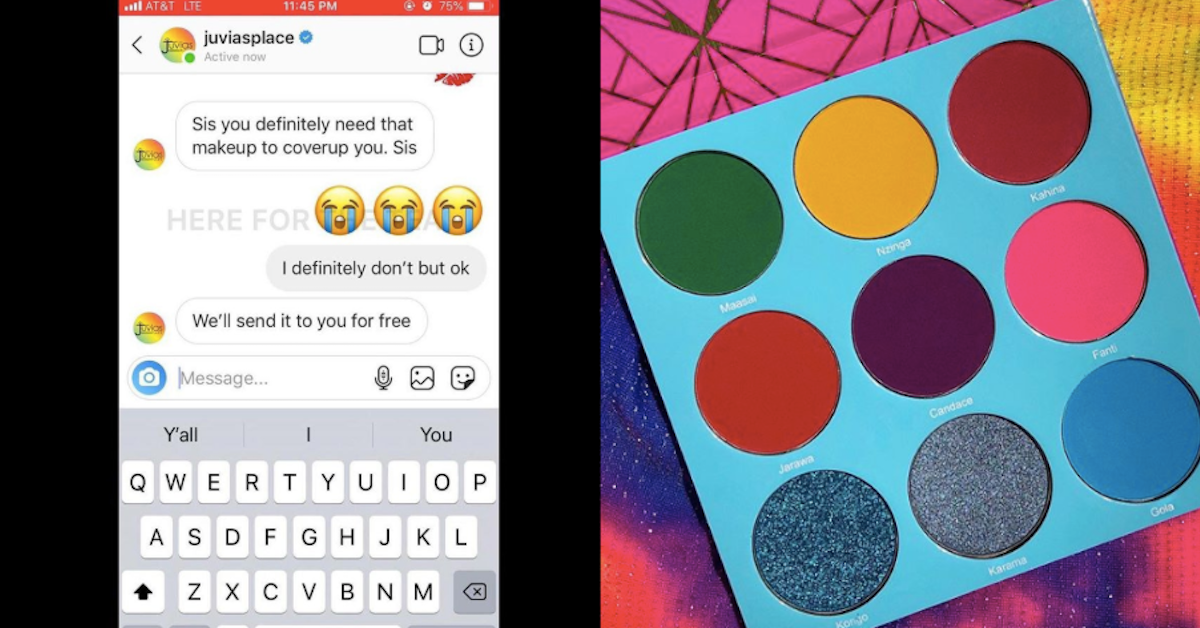 Makeup Company Insults Customer Asking Where Their Missing Order Is
Article continues below advertisement
To say it is getting out of hand would be an understatement. Especially since some brands are way better than others at being actually clever and creative. One brand, a makeup company called Juvia's Place, came under fire recently for the very inappropriate way they responded to one customer seeking help on their corporate Instagram account.
Article continues below advertisement
Juvia's Place is a popular cosmetics brand. They famously provide makeup for people of all skin tones and genders. You would think they would be sensitive about how they speak to their customer base. But apparently they are not.
When a Juvia's Place customer recently reached out on their Instagram to get help with their order that hadn't arrived yet, whoever was speaking for the brand wrote in response, "Sis you definitely need that makeup to coverup you. Sis" and then wrote, "We'll send it to you for free."
Article continues below advertisement
How incredibly insulting was that? I love that the person who was just trying to find out what happened to their missing makeup responded with, "I definitely don't but OK." I too would be stunned if a professional representative of a makeup brand basically told me I was ugly and that they would give me makeup for free because I really had to cover myself up. Like, no thank you! Not cool!
Article continues below advertisement
One Redditor commented, "Hey they can insult me if they send me some free stuff," before allowing, "However, in all seriousness that is really unprofessional. Wonder why their customer support thought that was an appropriate response."
It is easy to forget that there are real people behind those brands' customer service chat tools and phone numbers. But still, most human beings would never speak to anyone they didn't know very intimately that way, let alone a stranger who is asking you for help while you're on the job.
Article continues below advertisement
According to some commenters, this isn't the first questionable thing they've done on social media, and they have lost customers before. One person wrote, "They've always acted incredibly trashy on social media. I'm not even remotely surprised if this is true. I stopped buying from them a while ago because of how unprofessionally they carry themselves."
Article continues below advertisement
Someone else shared their very strange experience with Juvia's Place. "I stopped buying after a personal experience," they wrote. "I was contacted by the juviasplace account on IG like a year ago sayign they loved my photo but I had a different brand vaguely in the background and if I was willing to re-create it without those brands they would upload it to theif IG with credit to me."
This person was excited for the exposure, even though they were essentially asking them for free advertising. But they had a small Instagram account they were trying to promote, so they took a few new pictures and sent them along for approval. They didn't approve any of them, so this person ended up spending money on props and spent a lot of time trying to craft the perfect photos for a chance to be featured on the Juvia's Place Instagram account.
Article continues below advertisement
But Juvia's Place ghosted them completely after not approving any of the photos. That would be a bad enough end to the story, but then this happened: "A year later a few of my photos resurfaced on their account WITHOUT any credit towards me." None of this is OK!
Weirdly, Juvia's Place purports to support all types of people. Their website reads, "We believe in inclusive beauty, and The Tribe is where we celebrate our customers that come to us from all walks of life." They should really start practicing what they preach before they lose more customers.