This Man Befriended a Deer in His Backyard, and the Internet Is Obsessed
In a series of viral videos, a man befriends a deer roaming around in his backyard. Keep reading for the rest of the heartwarming story.
Snow White, who? Sorry, we only know Joe Gletow!
In June and July 2023, TikTok user @wishgrantingmama shared a series of adorable videos showing her husband, Joe, befriending the deer that roams around their backyard. Read on for all the heartwarming details.
Article continues below advertisement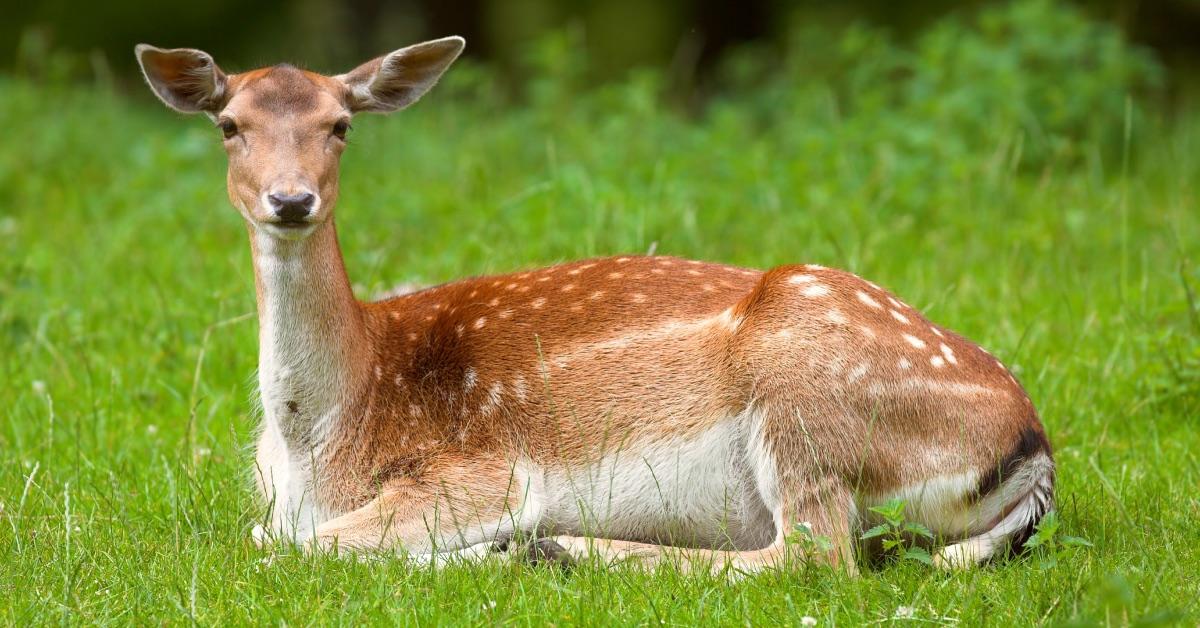 A man befriends a deer in his backyard, leading to an adorable bond.
In the first video, which has amassed 5.4 million views, the creator (Danielle) films Joe in the garden. He turns around, only to come face-to-face with a deer. Joe tells her she can eat there, even offering the deer something to eat — she sniffs the produce but doesn't do anything other than stand near Joe.
"How is this f------ real?" Joe asks his wife in disbelief. "What is happening?!"
Article continues below advertisement
The following video, which is set to Randy Newman's Oscar-nominated song "You've Got a Friend in Me," sees Joe and the deer hanging out in the backyard. He scratches and pats the deer's back, and she starts wagging her tail like a cute little dog. Joe tries to feed her a carrot, but like last time, she doesn't want to eat — she just wants to be near Joe.
Article continues below advertisement
The last three videos are very brief updates about the sweet backyard deer, who Joe and Danielle named Buttons. She encounters the couple's dog, Lucy, but it's safe to say their first meeting wasn't the best. Buttons approaches the pup but quickly retreats once Lucy starts excessively barking (OK, jealous much?)
In the fifth and final video, Joe opens the front door and sees Buttons standing on the driveway. As he approaches his new furry friend, Joe moves the camera around to show viewers that Buttons is bringing her friends along to have fun and relax at the house. Ugh — that is just so freaking precious!
Article continues below advertisement
Many fellow TikTokers have been following the story since the beginning, frequently taking to the comment sections to obsess over Joe's heartwarming bond with Buttons the backyard deer.
"She can tell your husband has a pure and loving heart," one person said. "This is so sweet."
Article continues below advertisement
A second TikTok user wrote, "His kind and compassionate heart is radiant!! Enjoy the moment."
Another person commented, "That's amazing. I'd be out there every day, finding a reason to work in the yard (and pet the deer)." Yeah, we couldn't agree more!
"To me, that means he's a nice man with a nice soul," a third user shared.
Others pointed out that Joe is having his Disney princess moment, with one TikToker writing, "He's Joe White. Snow's little brother." OK, but can we actually get this spinoff?! Joe's story would be perfect!
Article continues below advertisement
"Your husband is a Disney princess," someone else added, while another agreed that there are "so many Snow White vibes." A third TikTok user revealed they were "so jealous" of Joe for living out the Disney princess fantasy.

Article continues below advertisement
Danielle eventually took to the comment section of the first video and revealed she didn't expect it to blow up on the social media platform: "I can't believe that this is at almost a million views," she wrote. "I posted this thinking my 200 followers might see it [and] he had no idea." Now, the video has over 5 million views.
She popped back into the comments a few days later, hilariously stating that Joe "found out about this viral TikTok on a business Zoom by his VP sharing it." Well, we hope his VP is as obsessed as we are!