Man Tells His Boss That His Girlfriend Is Pregnant, Gets Fired Just Days Later
One man recorded a video of him getting terminated from his job just a week after telling his boss that he and his girlfriend were expecting.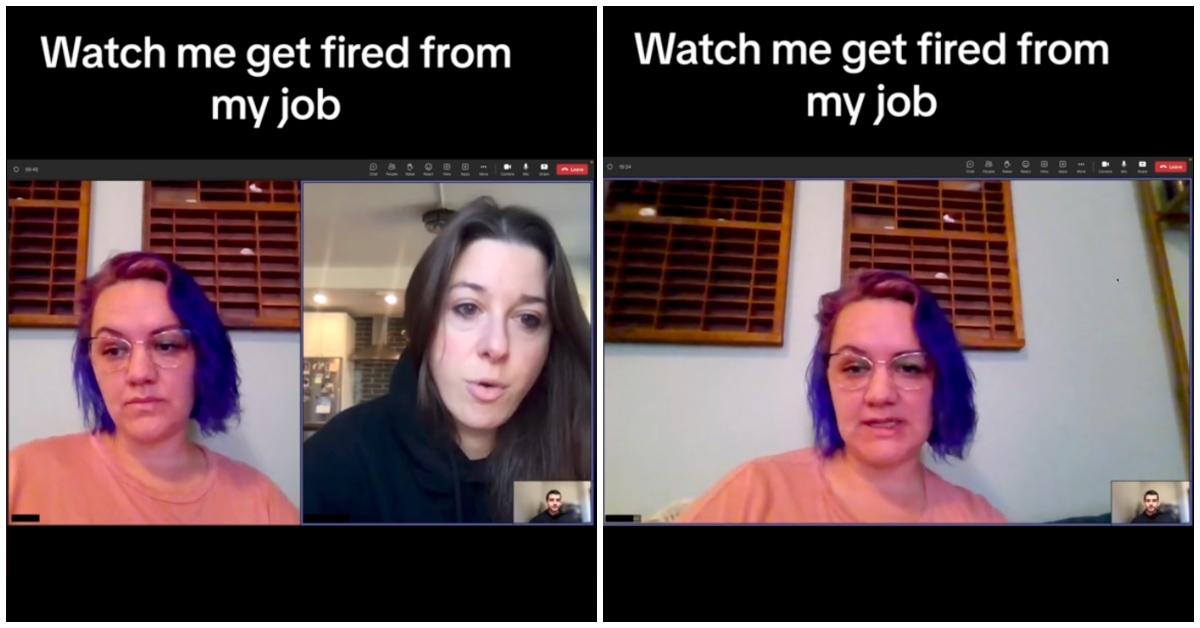 Getting laid off is one thing, but getting laid off mere days after you just informed your boss of a major life change seems just a little suspicious, does it not? That's what happened to one man, and TikTok agrees with him that this isn't just a coincidence. Sadly, it seems that his company appeared to want to get rid of him stat after the news he shared with them.
Keep scrolling for his story.
Article continues below advertisement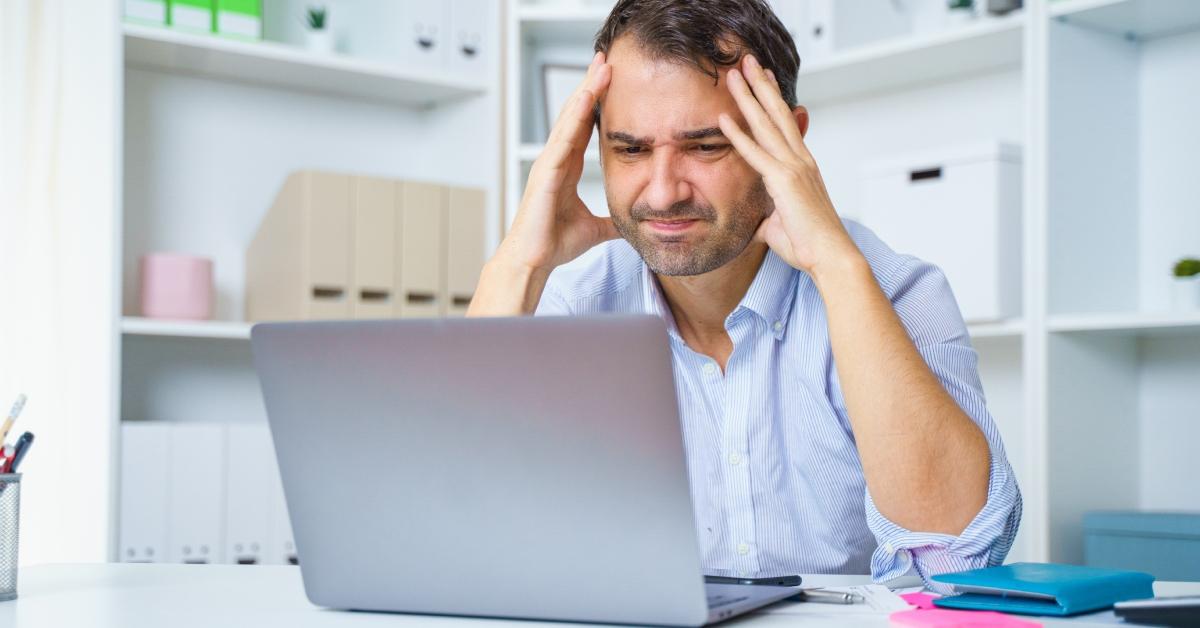 A man says he got fired after telling his boss that his girlfriend was pregnant.
A TikTok user named Tommy posted a video of him allegedly getting fired after telling his boss that his girlfriend was pregnant the week prior.
"We're here to talk about something completely unrelated to what you brought up to me last week," said his boss during a Zoom call with him and an HR representative that he recorded.
She continues, "That said, the team has undergone a restructuring, and unfortunately, your role has been eliminated, and that is effective today."
Article continues below advertisement
She then says she will leave the call and let the HR representative discuss offboarding with him. She doesn't appear to thank him for his contributions to the company.
After she leaves the call, Tommy asks the HR representative, "I got fired?"
Although it seems like Tommy was just laid off, she replies: "Yes," adding, "The role was terminated."
When Tommy asks if this decision was based on performance, she responds no and says it was based on "the overall structure of the team."
Article continues below advertisement

When Tommy explains to her that he just shared the news of his girlfriend's pregnancy with his boss, she agrees with him that it's unfortunate timing, but doesn't actually seem too sympathetic. She also doesn't mention any details of severance unless they were edited out of the video.
In the comment section, Tommy confirms that the video is actually a few months old. "I've been out of work for 7 months now and have no health insurance. Baby was born happy and healthy in August," he wrote.
That said, since he got the boot, he was unable to secure employment.
Article continues below advertisement
TikTok users who watched the video felt for Tommy, believing that him telling his boss that his girlfriend was pregnant related to his termination.
"Pregnancy and firings go hand in hand," wrote one user. Others claimed it was a red flag that his boss explicitly mentioned that his termination was not related to his pregnancy news.
Many were still confused over whether he was laid off or fired.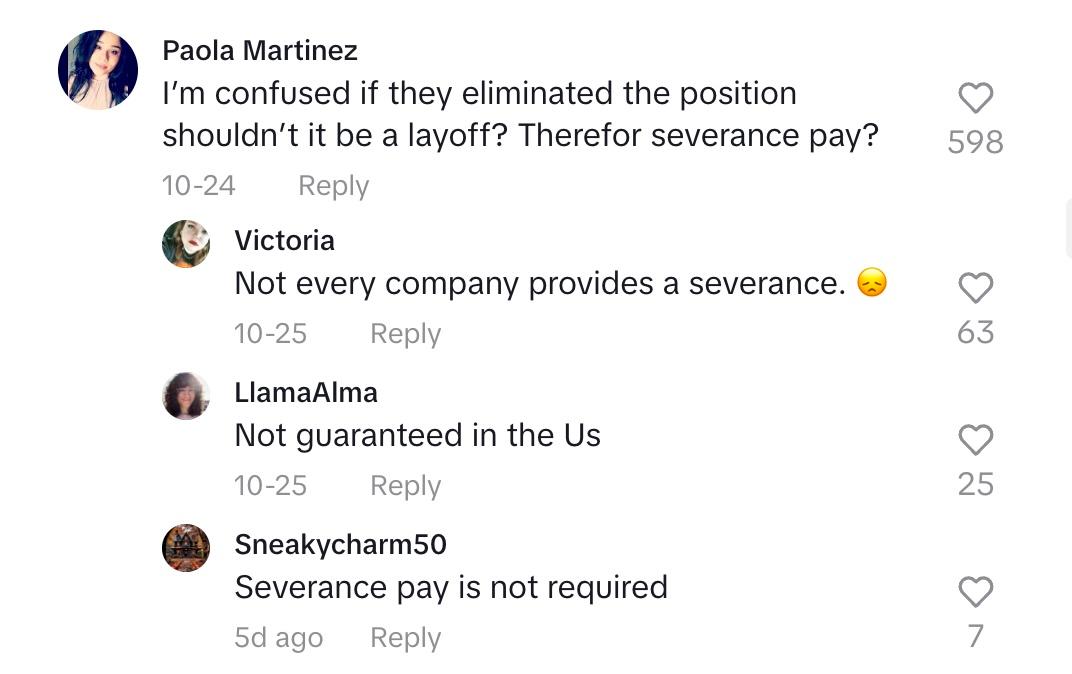 Article continues below advertisement
One TikTok user claimed that Tommy should make sure his company phrased it as a layoff in documentation. However, other users replied to that comment claiming that they had been laid off, but never received documentation confirming it.
This is important because the eligibility criteria for unemployment benefits vary from state to state, but in general, employees who are laid off are more likely to receive more benefits than those who are fired for cause.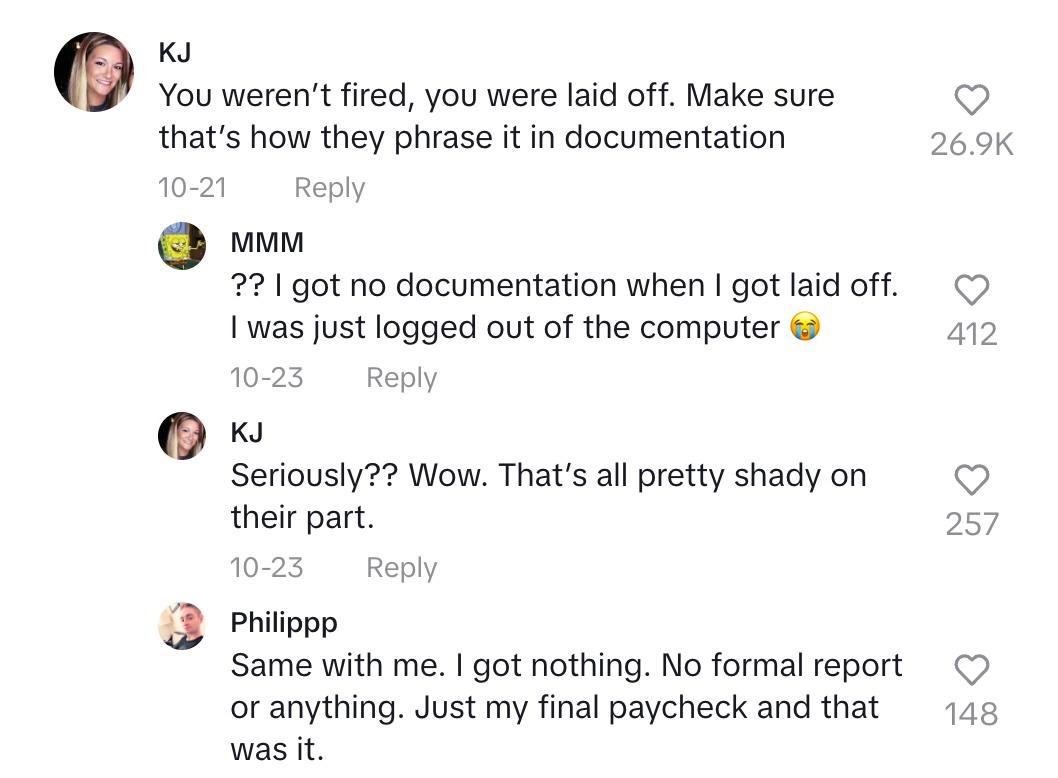 Article continues below advertisement
Although Tommy was not the one pregnant, it seems that his boss may have thought that he would take paternity leave when his girlfriend gave birth. While discriminating against a pregnant employee is illegal, the same may not be true for the partner of a pregnant employee.
Despite this, many employers seem to have unethical practices in place that target those who are pregnant or the partners of those who are pregnant.
Elsewhere, one woman was fired after returning from her maternity leave, proving that pregnancy does put jobs on the line.
In a situation similar to Tommy's a woman was fired shortly after she returned from her maternity leave. Her boss actually took to Reddit to ask others if he was wrong for terminating her.
In his post, he explained that his team was finishing a project when a pregnant employee, whom he called Jess, went on leave. The team started a new project while she was gone, and they had to adapt to working without her expertise.
Article continues below advertisement
The team eventually developed the skills needed to do some of Jess's workload, but the company still hired a new employee to help out. The new employee was significantly cheaper because he was fresh out of college.
When Jess returned from leave, upper management told her boss they couldn't afford to keep both Jess and the new hire on staff. That said, he had to choose between her and the cheaper new hire.
He chose the new hire, and Jess called him a "c---" and left.
Most users who read the post were outraged for Jess, and some agreed that she has a case against her previous employer for workplace discrimination, depending on local labor laws.