"The Kids Laughing Cracked Me Up" — Video of Dad Passing Out on Kids' Ride Goes Viral
There are countless videos in the world featuring people passing out on an amusement park ride. This one might be the best one yet.
Amusement parks have often been featured prominently in pop culture. There are the infamous roller coaster scenes in both Fatal Attraction and Fear. In the movie Big, a kid wishes to be big when he encounters a fortune-telling machine at a carnival. The next day he wakes up as Tom Hanks. And over in the real world, who could possibly forget that time Fabio was hit in the face by a passing goose while riding a coaster?
Article continues below advertisement
With the advent of social media, the world has given us new and exciting ways to experience thrill rides. It's become fairly common to watch a video of someone on a ride because they bravely screamed their way through it, cell phone in hand. Another caught-on-camera moment that I always delight in is when someone passes out on a ride. And for Lewis Conley Waterman, who goes by @lewisconley93 on TikTok, he took it to an entirely new level.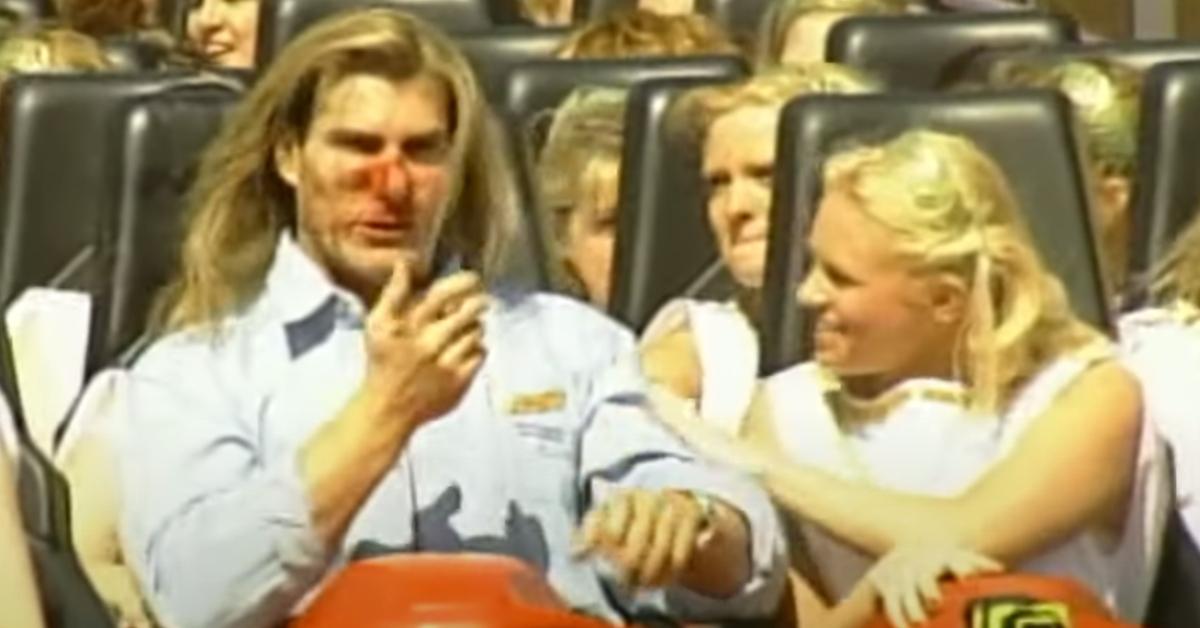 Article continues below advertisement
Maybe the ride was too scary?
"Still can't believe I passed out on a children's fair ride," said Lewis over a TikTok of one of the easiest, breeziest rides I've ever seen. To be fair, I love roller coasters so I'm not a great litmus test for these things. I definitely get a flash pass at every park just to avoid lines and I always ride in the back because it's more fun. But still, this is an objectively tame ride.
To get a sense of who Lewis is, I took a peek at his other TikToks. He's definitely a gym rat who looks like he rarely skips arm days. He uses a mental health hashtag which is always a good thing. It's clear he takes care of his mind and his body.
Article continues below advertisement
He also spends a lot of time having fun with his children which is how the loopy trip to the fair came about. The ride he and his children are on is basically a souped-up swing. There are five seats available on either side as the ride goes backwards and forwards, gaining a bit more height each time.
Article continues below advertisement
Because this ride is for kids, you never really get super high. It's not like one of those ships that slowly rocks back and forth until it has done a full turn and you're left hanging upside for a second, watching whatever is in people's pockets fall slowly to the ground. Man, the end of the workday must be wild for amusement park employees. They just collect loose change, baseball hats, and sunglasses.
Article continues below advertisement
Things start off fairly easily. Lewis is looking at his children and as the ride kicks off, he puts his arms up as if to show them there is nothing to be afraid of. That's good! Lead by example.
The whole time, Lewis is staring at a very small boy next to him who keeps his hands on the safety bar. That's probably for the best because as previously mentioned, he is quite smol.
Article continues below advertisement

In solidarity, Lewis puts his arms back down but keeps an eye on the tiny tot. Everyone is laughing and screaming in a non-threatening way. At one point Lewis reaches over and reassuringly squeezes the leg of the little boy next to him, who I assume is his child. Little does Lewis know, he will be the one in need of comforting.
Article continues below advertisement
Suddenly Lewis slumps over onto his son who does not appear to notice. That's my favorite part. He is now so into the ride, that his father passing out barely makes a blip on his radar. The little girl next to Lewis's son, however, notices and bends over to match his body shape. She begins to laugh, and suddenly I want children but only if they are like that little girl.
"The kids laughing cracks me up," one commenter wrote.
So many people in the comments had stories of times they were terrified on a ride. "I was so close to passing out on the Zipper and the Zero Gravity ride," said one person. "My life flashed before my eyes." More than one person brought up the pirate ship. How could you not? Only one person was worried about how Lewis's son felt watching his dad pass out. If you roll back the tape, he is also laughing. Stay safe out there!