Ride Won't Stop Spinning at Amusement Park, Trapping Passengers as Bystanders Helplessly Watch
Bystanders stood back in horror as they watched an amusement Park Ride at a New York fair was stuck spinning with no stop in sight, trapping passengers.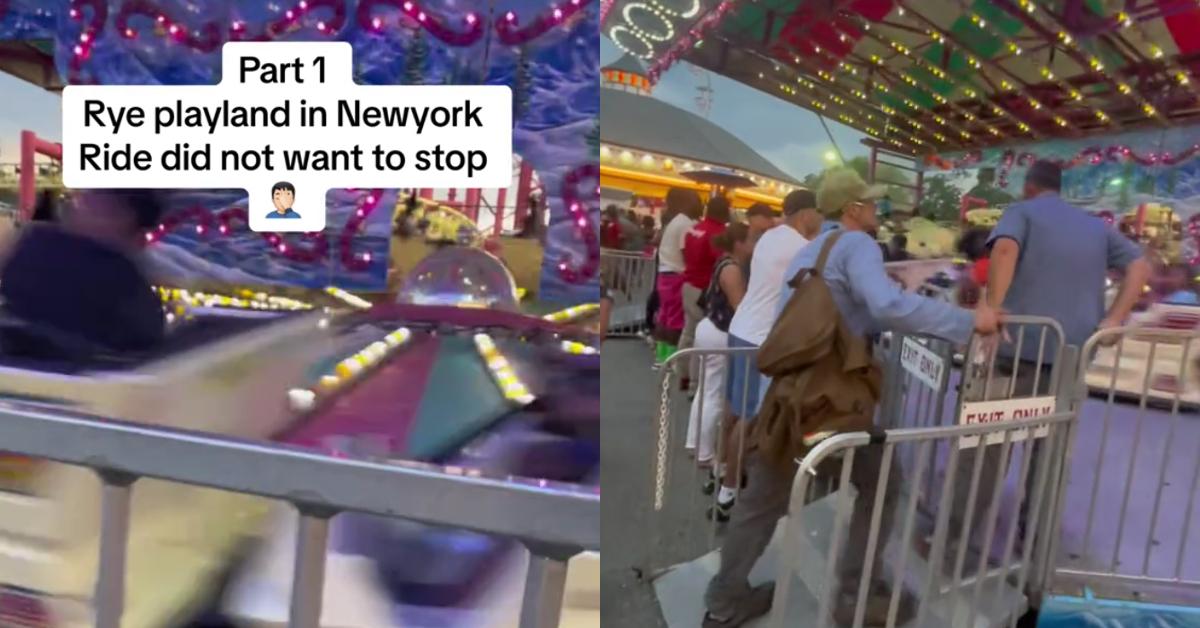 Thanks to the movie Final Destination, there are throngs of people absolutely terrified by things like logs on the back of trucks on the highway and roller coaster rides.
Article continues below advertisement
Part of the thrill of being on these rides is feeling like you're in some sort of danger while being locked into an otherwise extremely safe position.
Article continues below advertisement
That being said, there are a pretty sizable number of amusement park attendees who have sustained injuries over the years: Gitnux reported that annually, between 2010 and 2017, 45,200 people were hurt in amusement park related incidents.
82% of these accidents happen on rides, and some of these injuries can be attributed to ride malfunctions, like this one that went viral on TikTok.
Article continues below advertisement
In a video uploaded by @kinggee_654, bystanders watch helplessly as a ride won't stop spinning. A text overlay in the clip reads: "Rye playland in Newyork Ride did not want to stop"
One person off-camera can be heard saying, "It's stuck," as folks helplessly twirl around on the ride, locked into their seats. Another person asks if they can "pull the plug," and a park employee turns around and informs them that there isn't a "plug" to disengage.
Article continues below advertisement
Then, a man can be seen walking up the ramp to step into the ride area. They open the gate and head inside, followed by another man with a bag — they appear to be maintenance workers.

Article continues below advertisement
"This is why you don't get on these rides," someone can be heard shouting off-camera as the two employees get to work on stopping the ride. A third person with a bag on their back walks up to the control panel for the attraction to join the other workers.
"That's crazy. That's a lawsuit. That's a lawsuit," the same man could be heard shouting, as he interacts with another bystander who says that they'd been on the ride for at least 10 minutes.
Article continues below advertisement
Within seconds, the maintenance workers are able to shut the ride down. The lights turn off and the passengers on the ride begin to slow down as folks surrounding the attraction begin to clap.
Article continues below advertisement
In a follow-up video, ride passengers exit the attraction, children can be seen crying into the arms of adults outside of the ride, as the man off-camera loudly urges folks to file "police report[s]" while also stating that he would never get on another ride again.
One commenter who saw the video joked that they couldn't understand who the police report would be served to: "a police report we gonna arrest the ride for assault??"
Article continues below advertisement
While another highlighted how upset one of the passengers exiting the ride looked: "Bro with the red shirt and the chain turned backwards mind went back in time on that ride he got off wanting to fight everybody"
Article continues below advertisement
Another expressed their disgust that the first thing folks started talking about after seeing the ride was worrying about getting a lawsuit and not fearing for the safety of the children on the ride.

Article continues below advertisement
"People thinking lawsuit lol instead of being grateful kids are safe lol," they wrote.
And then there were those who were surprised that the passengers on the ride weren't worse for wear upon exiting the attraction: "How in the world was anyone walking after that straight"
Another said: "I'm shocked no one threw up or passed out that ride already goes fast"