Restaurant Worker Says Boss Forces Them to Clock Out for 2 Hour "Break" to Avoid Paying Overtime
A restaurant worker claims that their boss is forcing staff to clock out for 2 hours, but they have to stay on-site, in order to avoid paying overtime.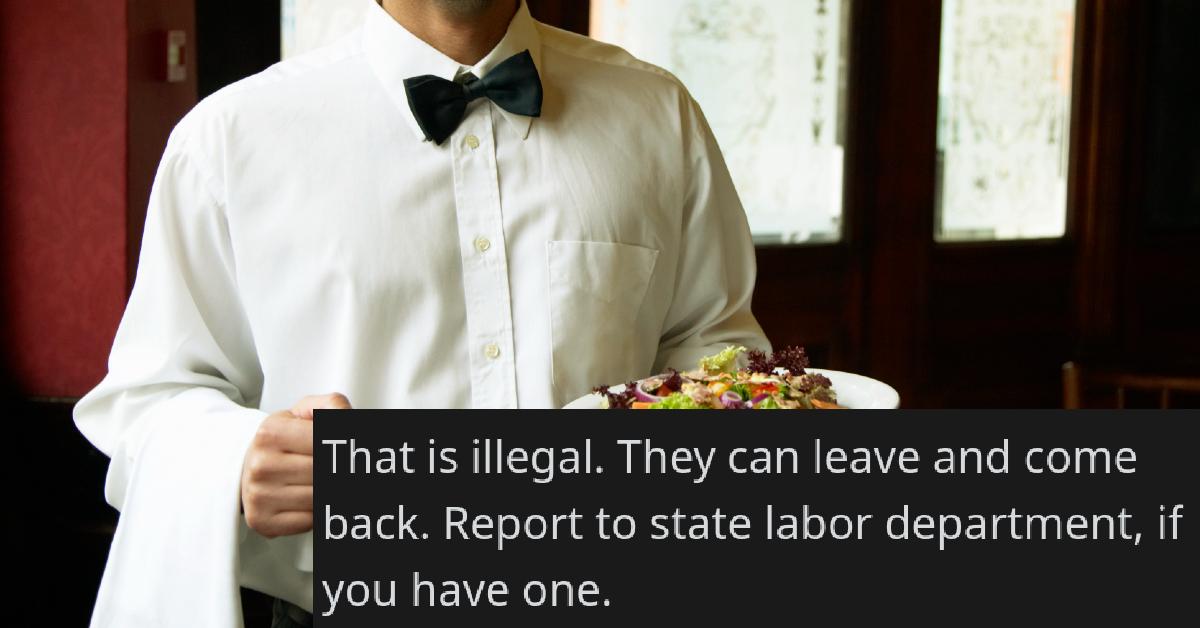 Article continues below advertisement
In their post, they wrote that due to being currently understaffed at the restaurant, they are dealing with "scheduling issues," which means that the employees they do have on hand have to work longer hours.
But it would seem that the restaurant doesn't want to pay its servers for that overtime hours the Redditor says it expects of them, since management wants them to stay in the restaurant for an extended, unpaid break.
Article continues below advertisement

It's not just for servers and other front-of-house employees, either: they're asking cooks to clock and sit around for 2 hours until they can get back to work as well.
Article continues below advertisement
OP went on to call this type of behavior "ridiculous," and that the restaurant workers weren't allowed to leave the establishment and return, either.
Several other Redditors who replied to the post agreed with the poster's blog, with one of the top rated commenters urging them to report the business to proper labor authorities: "That is illegal. They can leave and come back. Report to state labor department, if you have one."
Article continues below advertisement

According to Law Info, employers are not legally not allowed to tell employees what they can and can't do on their break time: "While employers can require their employees to take a rest or meal break, they cannot dictate what an employee does on their break. For instance, an employer cannot require an employee to eat their meal during a long break or go to the bathroom only during a designated break."
Article continues below advertisement
Presumably, if the business that the Redditor works at was forcing its employees to take a longer break in order to skirt overtime pay laws, it could potentially find itself in heaps of trouble if word got out that they were also attempting to keep their workers on-site during these extended breaks, especially if they aren't getting paid.
Another Redditor responded in the comments section that a former boss of theirs also attempted to get free work out of them by making them clock out for a 2-hour lunch break. They said that they "knew enough at 24 years old," that this practice wasn't exactly kosher.
Article continues below advertisement

Their boss then relented and told them to take a 1-hour lunch break, but that they expected them to work during that hour, but they repeated that their break time was their break time, and that they weren't going to work during it.
Article continues below advertisement
One person who said that they worked in the IT industry reported that the lack of break-time respect extends to various other industries, and that they would be approached by folks while they were actively getting ready to eat lunch in order to troubleshoot an issue.
"The lack of respect some people have is astounding. I've been stopped while taking food out of the microwave to address a tech issue. At which point I (gleefully) got to tell them to submit a ticket and I'm on my lunch, so someone else can address it.," they wrote.
Article continues below advertisement

Article continues below advertisement
They further explained: "In order to legally be able to not pay you, they have to totally relieve you of duties when you clock out, and they have to give you a time you need to be back and clock back in.
If they are having you clock out because the work dries out and they need you to stay onsite because they're not sure when the work will return, then you have to be paid for those hours waiting."

Article continues below advertisement
However, they did add that if the employer asked their workers to clock out and then return to the work site at a later time, then that is perfectly legal, citing this resource for reference.
Has this ever happened to you with an employer? How did you respond?