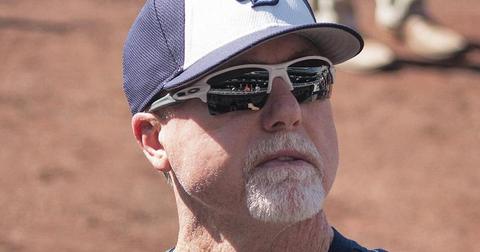 Mark McGwire Left MLB to Focus on His Sons' Careers
By Katie Garrity

Updated
In 1998, it was impossible to watch a game of Major League Baseball without hearing updates about the 1998 Major League Baseball home run chase. This competition was all anyone could talk about that summer, and it centered around three main MLB players — Sammy Sosa, Ken Griffey Jr., and Mark McGwire.
In the end, the "winner" was Mark McGwire. He broke the original record of 61 home runs in a season set by Roger Maris on Sept. 8, 1998, against the Chicago Cubs and finished with 70 home runs.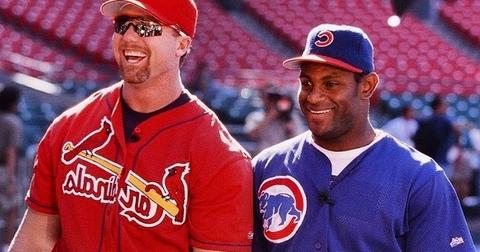 Mark McGwire retired from the MLB in 2001.
After Mark retired from the MLB in 2001, he found himself at the helm of a steroid controversy. The home run chase itself took place right in the middle of the "steroid era," and Mark testified at a congressional hearing on steroids in baseball.
In 2005, another MLB player, Jose Canseco, said that he and McGwire used performance-enhancing drugs in the 1980s. Jose Canseco even said that he himself injected the drugs into Mark McGwire. Mark McGwire went on to testify at a congressional hearing on steroids that same year.
He actually refused to answer questions under oath and said, "Asking me or any other player to answer questions about who took steroids in front of television cameras will not solve the problem. If a player answers no, he simply will not be believed. If he answers yes, he risks public scorn and endless government investigations. My lawyers have advised me that I cannot answer these questions without jeopardizing my friends, my family, and myself. I intend to follow their advice."
He went on to work as a hitting coach for his old team, the St. Louis Cardinals.
Mark McGwire worked as a personal hitting coach for St. Louis Cardinals players like Matt Holliday and Skip Schumaker. In 2009, he took over as the Cardinals head hitting coach, and the team almost immediately saw a boost in their offense in the 2010 season.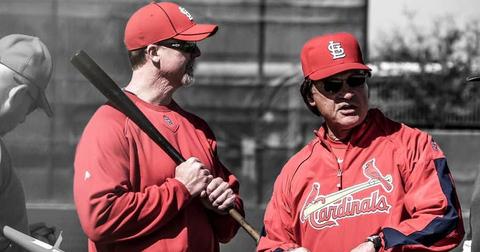 He stayed in that position for four years until he accepted a position with the Los Angeles Dodgers as their hitting coach position. He also held a position with the San Diego Padres as their bench coach but left that role in 2018.
Mark McGwire left the MLB to help coach his sons.
Mark's sons, Mason and Max McGwire, are playing together at JSerra High School in San Juan Capistrano, California. Max, who graduates in 2021, is a power hitter like his father and committed to Oklahoma University. Mason, a class of 2022 player, is a lanky pitcher.