Marshmello's Identity Is No Longer a Secret
Before he was Marshmello, he was Dotcom. What's his real name? What does his face look like? All questions you have about Marshmello's identity answered.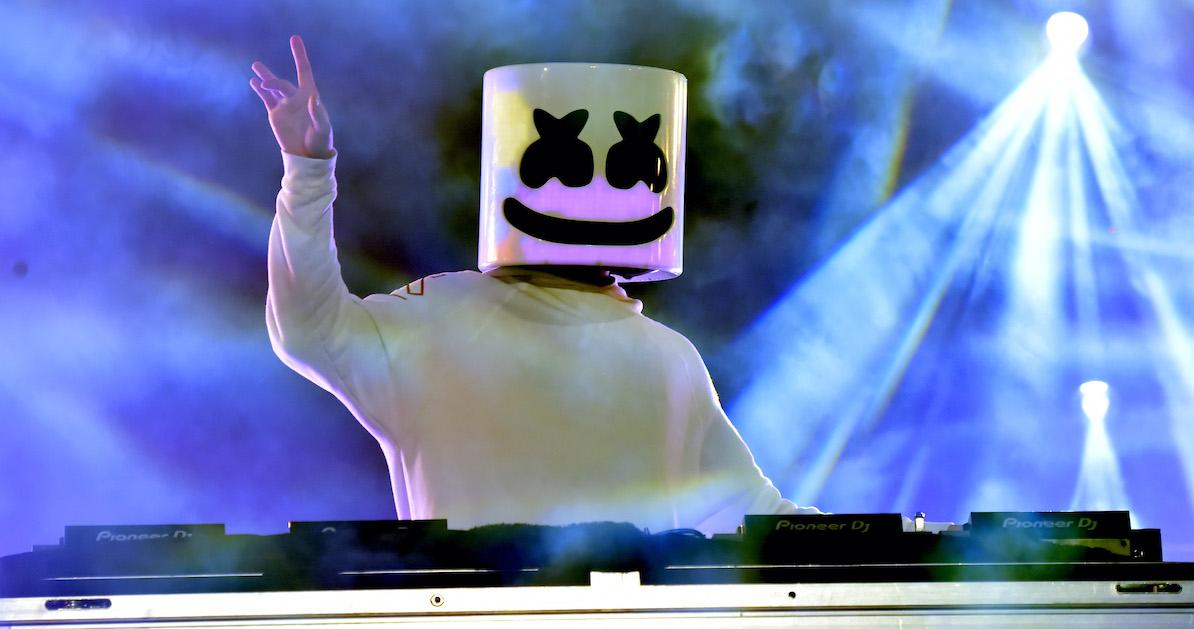 When DJ Marshmello hit the scene in 2016, you were probably a little confused. What's up with the guy wearing a marshmallow on his head?
The shtick worked, though! Marshmello is an international success, with hits, remixes, and collaborations like "Wolves," "Friends," and "Happier" with Bastille.
Article continues below advertisement
Still, that marshmallow helmet is perplexing. Why would you wear something over your head like that? Don't be quick to judge, my friends. He's not the first DJ or musical artist to keep his identity a secret.
Deadmau5 has his special helmet. The Gorillaz didn't even want to show their real bodies -- remember the animations? -- and it took years before we saw who was behind the Daft Punk gear.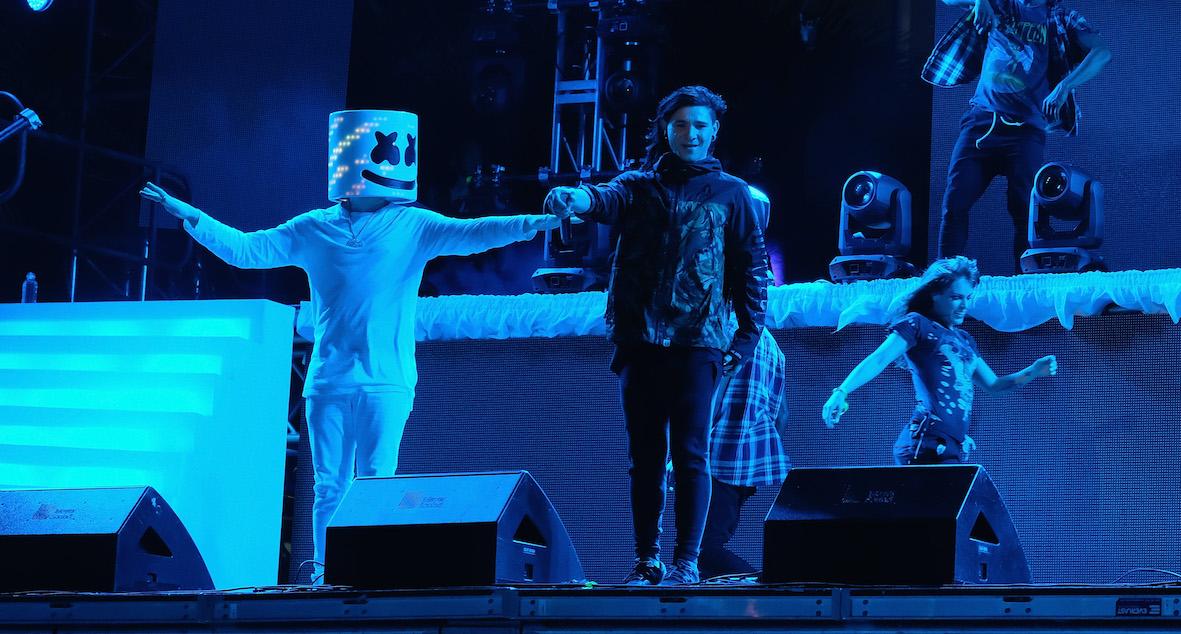 Article continues below advertisement
Eventually, though, Marshmello un-marshmallow himself. It took a prank with Tiesto, a slip-up by Skrillex, and a lot of nagging from fans, but we soon learned that Marshmello is Chris Comstock, also known as Dotcom.
True Marshmello and Dotcom fans guessed the identity match even before Forbes started looking into it. The dead giveaway was Chris' red, right leg tattoo.
Dotcom, Chris, and Marshmello are the same person.
Dotcom is Chris's other stage name, who happens to be on the same management roster as Marshmello. Chris is reluctant to associate himself with the Marshmello persona, even though we know who he is, but he has no problem publicly appearing as Dotcom.
Forbes confirmed the tripartite of Chris back in 2017. How did they do it? A little reverse search.
Article continues below advertisement
In the same way you can search for a celebrity by their real name and have it turn up their alias, you can do so with DJs and their stage name. Going into the BMI database to confirm Marshmello's identity was a breeze. BMI did pull the info down afterward, however.
Despite their efforts to keep his identity under wraps, at the end of the day, curiosity and resourcefulness unmasked the DJ/producer.
Article continues below advertisement
Marshmello's manager, Moe Shalizi, did an excellent job creating the faceless brand they were going for, regardless. About the branding, Moe stated, "We were like, 'How do we create something that's not driven by who it is, or what it's about?'"
The team wanted his music to be driven by the music, not the person performing it or philosophies surrounding it.
Marshmello's real face has done nothing to impact his success negatively.
In 2017, he was considered one of the highest-paid DJs in the business, bringing in $21 million dollars in 2016. It's estimated that he's worth around $40 million in 2020.
He continues to sell-out shows and be in high demand. In 2019, he released his best Fortnite music video to his song "Alone." It received over 72 million views and is very silly, to say the least.
Article continues below advertisement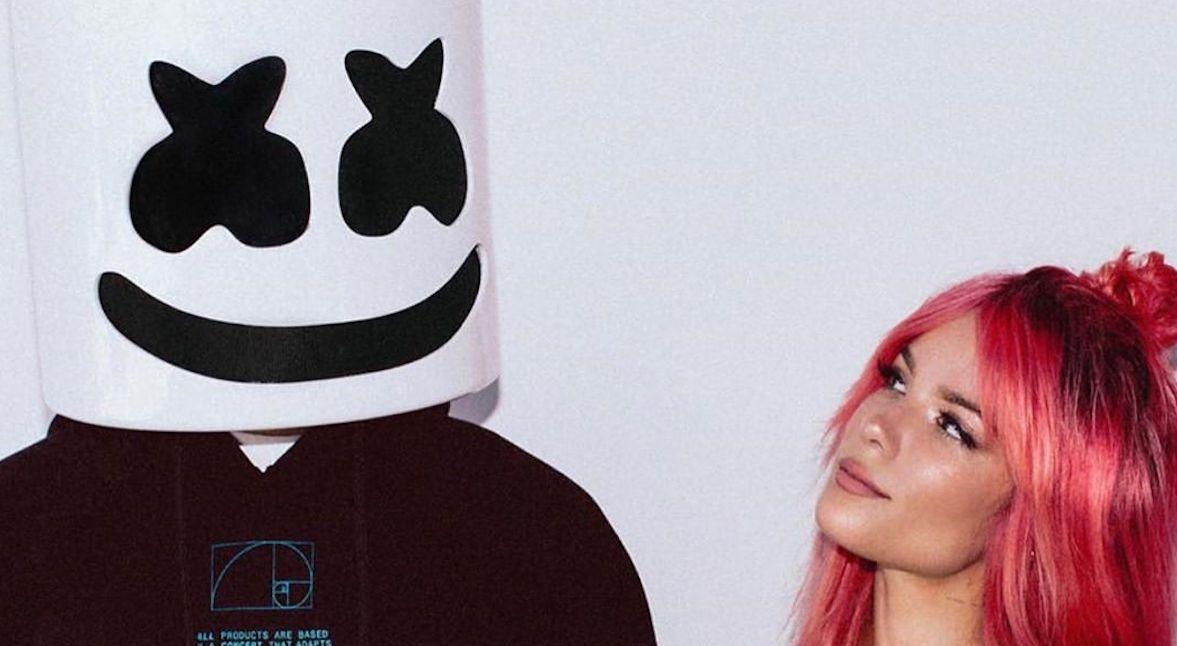 Still, it puts Marshmello's youth and ability to cater to audiences at the forefront. Mask or not, this is why people like him. He's with it! He's energetic. He doesn't have to show his face to make up for any lack of talent or promote a brand.
In fact, all he needs is his helmet.
He also knows where to connect in the music industry, having worked with Khalid, Selena Gomez, and recently, Halsey.
In just two years, Chris went from Dotcom to Marshmello and of those three, Marshmello took over the EDM world. It's crazy to say, but now that we know who Marshmello is, we don't care about his face — we just want his music!