Matt Corral's Past Actions Could Make Him a Hard Sell to NFL Recruiters
Matt Corral once got into a fight with Wayne Gretzky's son, and the chain reaction of events resulted in his becoming a star at Ole Miss. Details.
Sometimes, unfortunate moments in our lives end up becoming far more pivotal in the grand scheme of things than we ever imagined they'd be. For Ole Miss star quarterback Matt Corral, his moment was during a high school fight with Wayne Gretzky's son Tristan Gretzky. The ensuing events helped shape his athletic career.
Article continues below advertisement
With that being said, what exactly went down in Matt's fight with Tristan, and how did it impact his future in football and the NFL? Keep reading to find out.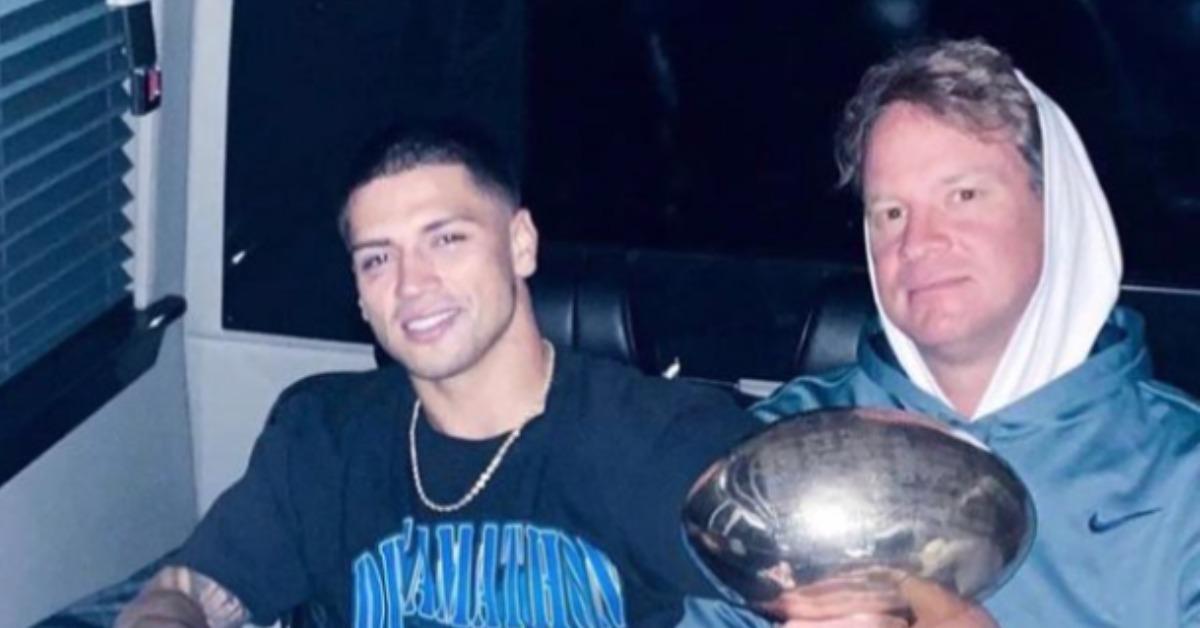 Article continues below advertisement
In high school, Matt Corral got into a fight with Wayne Gretzky's son Tristan Gretzky.
As reported by TMZ back in 2017, Matt was a star junior quarterback at the prestigious Oaks Christian School in Westlake Village, Calif., and was committed at the time to the University of Southern California. However, Matt mysteriously transferred to Long Beach Polytechnic High School in Long Beach, Calif., after a successful 2016 season with the former school. The reasoning for his transfer was attributed by many to an altercation that ensued between Matt and Tristan at a high school basketball game.
TMZ noted that tensions had been brewing between the two for some time, but the outlet didn't give any further details on what it was attributed to.
According to the publication, Wayne has consistently been one of Oaks Christian's biggest donors for years. The hockey pro has sent three of his children there and reportedly raised hundreds of thousands of dollars for the school during that time.
Article continues below advertisement
During a 2021 interview with CBS, Matt touched a bit more on his experience at Oaks Christian and what the altercation with Tristan meant to him. He told the publication that Oaks Christian is a "rich school" where students "flashed money" and were "never going to have to work a day in their lives."
As for Tristan and his famous father, Matt said candidly, "That kid, his dad, went through hoops to f--k my life up. Eventually, it's going to have come out."
Article continues below advertisement
After changing high schools, the budding athlete eventually committed officially to Ole Miss. He went on to establish quite a legacy in the school's football program that will likely endure for some time.
Article continues below advertisement
Matt Corral's off-field issues have also been a topic of discussion as of late.
With Matt's career at Ole Miss concluded, he is currently one of the top prospects for professional football scouts. However, anonymous sources are stating that one of Matt's issues going forward will be overcoming concerns about his character.
In a Sports Illustrated roundup of offensive coordinators' and position coaches' opinions on the 2022 QB class in April, one offensive coordinator told the outlet about Matt: "He's kind of a mess. … His offense was a true college offense, he pushes the ball, he plays reckless with his body, he won't hold up playing the way he did in college. And there are character concerns. I'm not sure you want him leading your program, his sorts of issues aren't the kind solved by giving a kid millions of dollars."
Although an anonymous quarterback coach told SI that Matt interviewed well at the combine — and the outlet noted that Matt has been making it clear that he's "turned a corner," particularly with Lane Kiffin's help — some recruiters are apparently skeptical.
"If we were interested, I'd do a way deeper dive on that," an anonymous coordinator told the mag. "You hear he's a big party guy, and that he had issues, but he'll tell you he's gotten himself together."