Mei Kawajiri Is the Most Coveted Celeb Nail Artist (EXCLUSIVE)
Who is Mei Kawajiri? The celeb nail artist is the most sought-after talent in the game and she sat down with 'Distractify' to chat about her career.
The nail game has become synonymous with the world of fashion. The right manicure can easily work as an accessory and in some cases, act as the main attraction for a look. Rocking an eye-catching manicure is something celebs such as Cardi B, Megan Thee Stallion, and Nicki Minaj know very well. So, who do our favorite celebs call to create a one-of-a-kind manicure? That honor goes to Japanese nail extraordinaire Mei Kawajiri.
Article continues below advertisement
Not only have Mei's skills afforded her the opportunity to build an extensive clientele of A-listers, but her work can also be seen throughout various editorial shoots, fashion runways, and most recently, a collaboration with Magnum Ice Cream and Nails Inc. In other words, Mei is everywhere, and for good reason.
In an exclusive interview with Distractify, Mei got candid about how she went from her start in the nail industry to becoming one of the beauty world's most sought-after artists.
Article continues below advertisement
Mei started her nail art journey in Kyoto, Japan.
No matter how talented you are, everyone has to start somewhere. In Mei's case, the nail artist began her career by doing nail art in Kyoto, Japan.
Mei's childhood love of drawing grew into a passion for nails that prompted the start of her training at 18. Mei worked in several salons in Japan and even owned her own salon for a short time.
"I learned a lot of detailed work and the importance of being patient in Japan," Mei exclusively told Distractify. "And after putting in the work and coming to New York in 2012, I decided to take things to the next level."
Article continues below advertisement
Mei explained that upon moving to New York, she realized just how trendy the nail world could be.
"I realized how everyone's vision in America is more dynamic than Japan," Mei told us. "I used to do my own nails so much shorter, but coming to New York showed me that long nails are in fashion. So, the decision to combine long nails with my nail art to showcase on a bigger scale made sense."
Article continues below advertisement
Mei's A-list clientele includes Gigi Hadid, Nicola Coughlan, and Maude Apatow.
When you're good at what you do, the demand for your talent skyrockets. Mei's gorgeous nail art designs — which include intricate stencil paint jobs, 3D designs, textured nails, and more — caught the attention of various Hollywood A-listers.
Article continues below advertisement
A quick scroll through Mei's Instagram shows that she's worked with model Gigi Hadid, Bridgerton star Nicola Coughlan, Euphoria's Maude Apatow, and many more famous names. Even though Mei already has an impressive client list under her belt, she dreams of adding more names to her roster.
Article continues below advertisement
"I really hope that I can work with Beyoncé and Rihanna," Mei revealed. " But you know, anything can happen in the future. So, I'm very hopeful."
Mei predicts that 3D nails, nude nail shades, and transparent designs will be on trend for the fall and winter of 2022.
Mei has a keen eye for captivating nail art. Over the years, the artist has created various designs including 3D nail art, the trendy Supreme Chapstick art, and wearable art-inspired nails that have taken on a life of their own.
Article continues below advertisement
Now that Mei is a certified nail-art tastemaker, it's easy for her to point out the next big trends. And according to Mei, there are a few styles — from simple to bold designs — that'll tickle just about anyone's fancy.
Article continues below advertisement
"3D style will continue to be popular," Mei shares. "Nude brown shades are also going to be a trend since it's a neutral that comes in an array of shades suited for everyone. Long nails with pointed and square shapes and transparent designs will also be seen through the fall and winter 2022 season."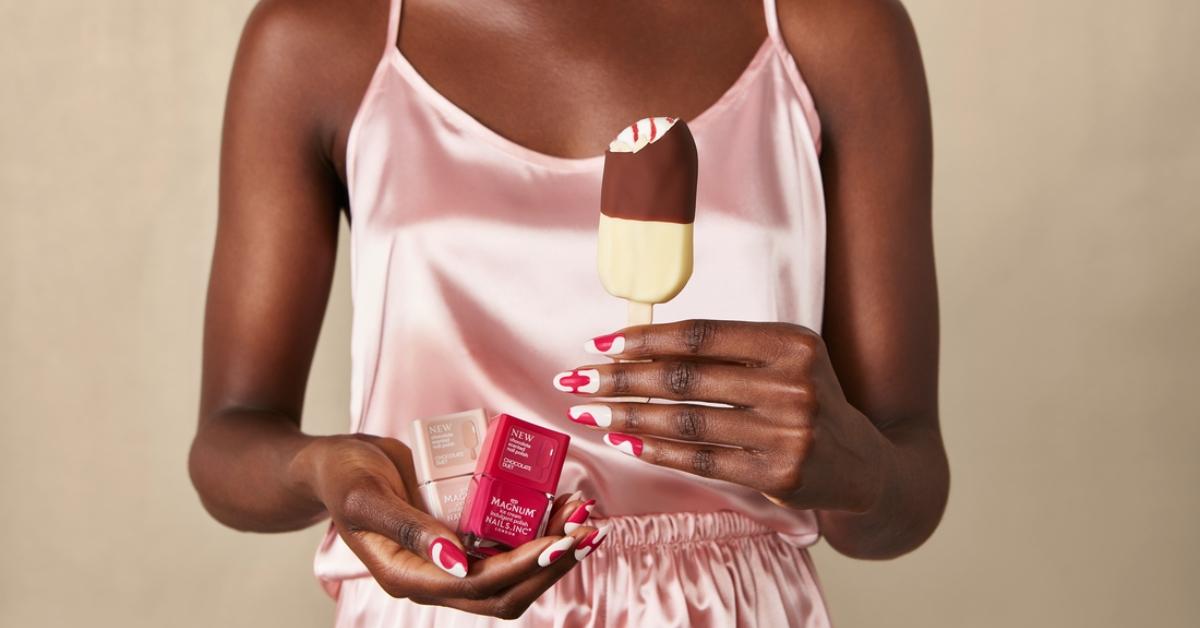 Article continues below advertisement
Mei's unique style and passion for nail art has done wonders for her career. Even though many people are just learning about Mei's talents, we're sure that she'll become a permanent fixture in the nail world for years to come.
Be sure to check out Mei's latest partnership with Magnum Ice Cream and Nails Inc for the launch of their new collab: a line of chocolate-scented nail polish duos inspired by the new Magnum Ice Cream Duet Bars. The duet polish sets consists of Almond Duet, featuring the pairing of Glazed Almond, a buttery shade of light brown and Double Chocolate, a rich dark brown; Chocolate Duet, which includes Raspberry Swirl, a hot pink shade paired with White Chocolate, a silky light pink; and Cookie Duet, featuring Crunchy Cookie, a gorgeous beige shade and Classic Chocolate, that delivers the perfect chocolate-y brown tone.Yum!
Plus, follow Mei on Instagram at @nailsbymei to keep up with her gorgeous nail art.