These Nail Art Ideas From TikTok Are Perfect for Valentine's Day
These nail art videos from TikTok for your upcoming Valentine's Day date will get you in a lovey-dovey mood. TikTokers have amazing nail art ideas!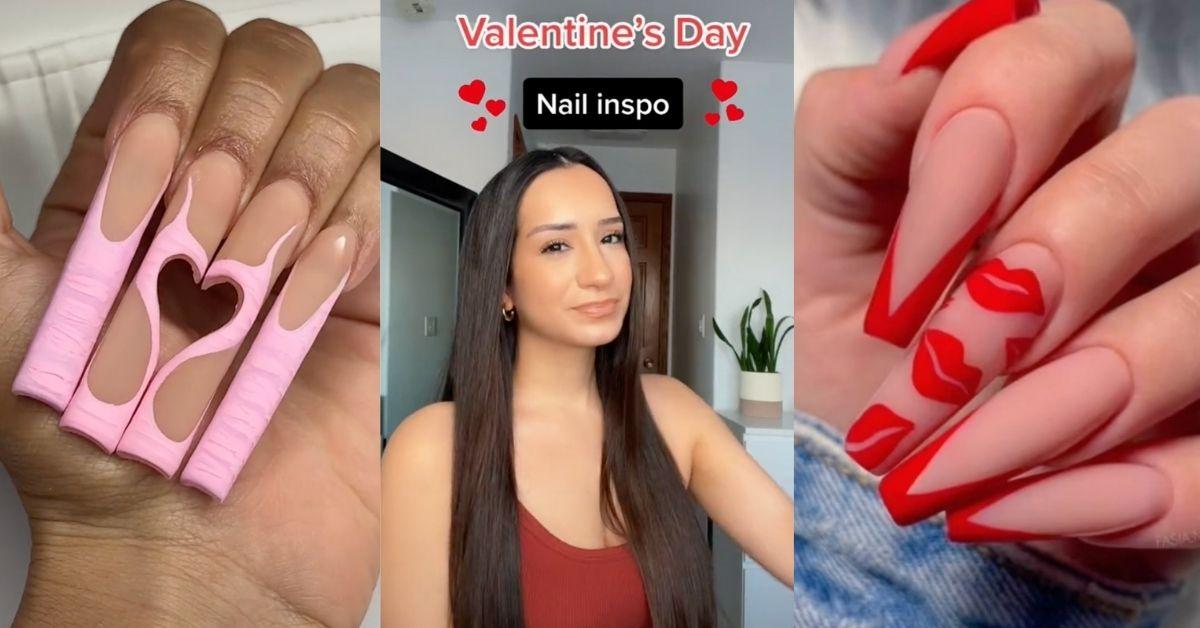 Searching for inspiration to step up your nail name this Valentine's Day? Well, look no further! TikTokers have come to the rescue with incredible nail art ideas that are guaranteed to get you in the lovey-dovey mood. While each of these ideas hold true to traditional themes like hearts and lips in shades of pink and red, some of the ideas take things to the fabulous extreme. Whichever way you choose to go, your nails will definitely be getting some extra attention this Valentine's Day.
Article continues below advertisement
Valentine's Day nail art idea from @Nails_by_Miaaa
Thanks to @nails_by_miaaa on TikTok, it's easy to follow the steps for adorable rhinestone-covered nails decorated with little red hearts. Mia provides a step-by-step tutorial that starts off with medium round clear tips, two coats of nude polish, one coat of pink nail polish, tiny red hearts beneath a layer of clear gloss, and shiny gemstones to complete the look.
Nail ideas from @glamlife4life
For all the hopeless romantics looking for Valentine's Day nail art inspo, @glamlife4life definitely has you covered. She posted a video collage consisting of multiple nail art ideas — and all of them are special in their own way. The acrylic sets featured show various designs of lips and hearts, along with crystals and lettering, like the word "love" written in cursive. Choose one of these sets or even mix and match to create your very own look!
Article continues below advertisement
Nail art by @NailedByTerry
The sweater trend has been blowing up on TikTok since the holiday season, with people getting sweater-style nails for Thanksgiving, Christmas, and New Year's Eve. Now Valentine's Day has been thrown into the mix! TikToker @nailedbyterry went with a neon pink color for her nail design and created a sweater pattern with lines, hearts, and dots.
Article continues below advertisement
Nail art from @VividNailz
If you're going for total glitz, glamour, and glitter with your Valentine's Day nail look, then this nail art idea from @vividnailz might be for you. Creator Emily designed a set of long nails with half of a heart carved out of both the middle and ring fingers. When you press those two fingers together, the nails meet to form a hollow heart. Emily used nude polish as the base and paired it with baby pink to create a subtle flame design around the heart.
Article continues below advertisement
Nail art from @Celeste_M_Beauty
Everyone knows that red is the color you choose if you're trying to stand out in a crowd. For @celeste_m_beauty, that's exactly what she was going for while designing this Valentine's Day acrylic set. While two out of five nails on her model's hand are covered in huge red rhinestones, one is completely covered in dark red glitter, and the last two nails are left to balance out the look with a sleek classic red. If you ask us, this is the look to sport on the holiday of love.