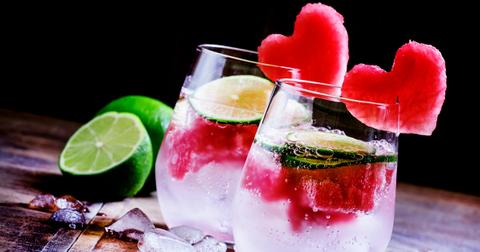 Bartend Your Valentine's Day Date With These Festive Cocktail Recipes
By Lizzy Rosenberg

Updated
Very few things are more romantic than making dinner with your S.O. on Valentine's Day, and since cocktails are an essential staple for any romantic evening, we've compiled a list of easy cocktails to make on Valentine's Day for your special someone. With the right ingredients, professional mixologists and bartending newbies alike will be able to nail these in a cinch.
Pina in Paradise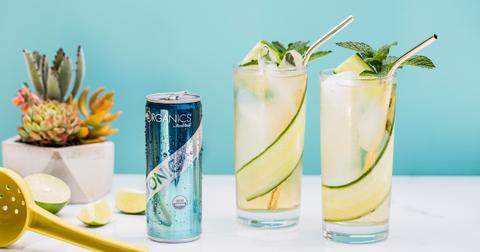 Heat things up with the Pina in Paradise — combine 1.5 parts tequila, one part pineapple juice, and .5 parts lemon juice in a shaker over ice, and strain into a tall glass with more ice. Then top with ORGANICS by Red Bull Tonic Water, and prepare to sip the night away.
Bailey's Red Cupcake Velvet Martini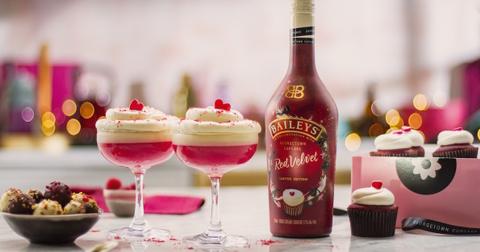 Seriously, is there anything sexier than red velvet? For this mouth-watering martini, simply combine 1.5 parts Baileys Red Velvet with .75 parts vodka in a shaker, filled with ice. Shake until chilled, and pour into a martini glass.
Devilish Sangria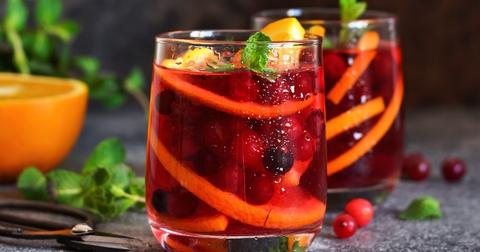 Perfect for any Galentine's celebration is this Devilish Sangria. Combine Casillero del Diablo Cabernet Sauvignon, four cups of cranberry juice, one cup of orange juice, one cup of fresh cranberries, orange slices, and apple slices in a pitcher. Chill for four to six hours, and stir before pouring into individual glasses over ice. Garnish with extra fruit, if desired.
The Rosé Is My Jam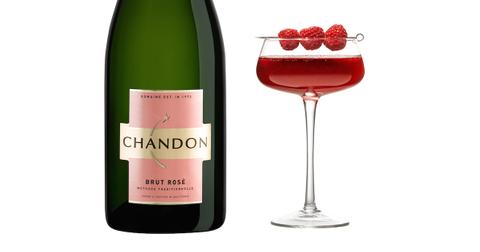 Feeling bubbly? Blend one tablespoon of raspberry jam, one part hibiscus tea, and .5 parts simple syrup in a cocktail shaker and shake. Strain into a flute or wine glass, and top with Chandon Rosé. Make things extra sweet by garnishing with fresh raspberries.
Tequila Rose Soda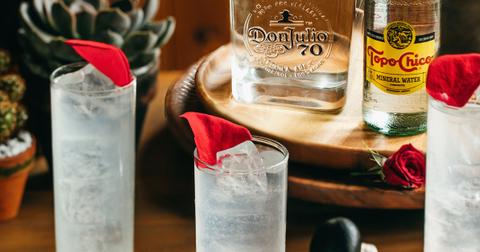 Roses are so last year... but rose tequila? Ground-breaking. For this next-level tequila soda, created by famous mixologist Ben Scorah, combine 1.5 parts Tequila Don Julio 70 Crystal Añejo with .5 parts lime cordial* and a drop of rose water in a highball glass. Add fresh ice cubes and fill to the brim with four parts Topo Chico Soda Water. Stir and garnish with edible rose petals.
*Lime Cordial: The zest of three limes and .5 cups granulated sugar combined, sitting at room temperature for 24 hours, before adding 3/4 cup of fresh lime juice and a pinch of salt. Mix and discard lime zest.
JAJA's Pomarita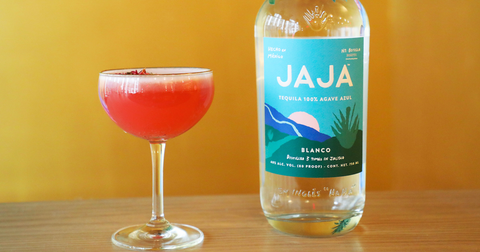 Transport your date to ~la playa~ with JAJA's Pomarita. In a shaker over ice, combine 1.5 parts JAJA Blanco, 3/4 parts pink peppercorn grenadine, and 3/4 parts lime juice. Shake and strain into a glass. Top with soda water, and garnish with a thin slice of habanero and a dash of bitters.
Stella Artois Cidre Cupid Fizz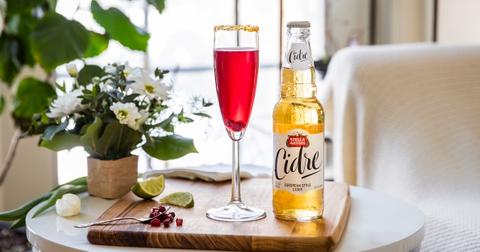 For anyone ballin' on a budget, this one's for you: start out by rimming a champagne flute with gold sugar, before combining one part vodka, .75 parts pomegranate juice, .75 parts ginger beer, .25 parts lime juice, and three parts of Stella Artois Cidre in the glass. Stir and enjoy.
Tequila Bee's Knees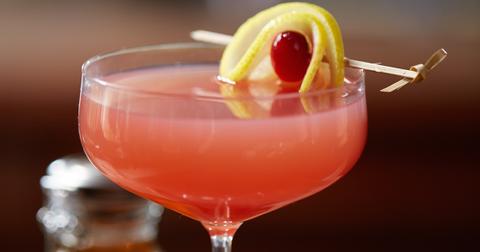 Tell someone you think they're the "bee's knees" with this tropical drink. Combine 1.5 parts Hornitos Reposado Tequila, .75 lemon juice, .5 parts cranberry juice and .5 parts honey in a shaker with ice and shake. Strain into a coupe glass and garnish with a Maraschino Cherry and a lemon twist.
SVEDKA's The Other Half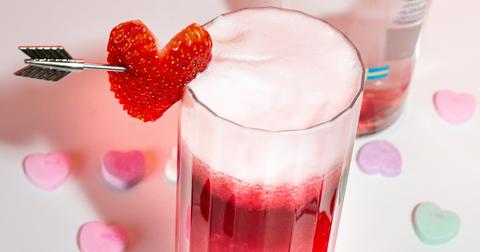 Nothing tells someone they're your other half quite like vodka. Created in part by professional mixologist and Muddling Memories founder, Cody Goldstein, The Other Half combines two parts Svedka Vodka, 1.5 parts passionfruit juice, 1.5 parts prickly pear puree, and .5 parts grapefruit juice in a shaker with ice. Shake until chilled and strain into a Collins glass, before adding .75 parts hibiscus tea on top. Then garnish with anything from fruit to heart-shaped candy.
Classic Daiquiri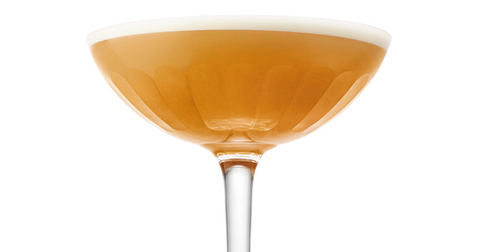 A simple-yet-solid option is the Classic Daiquiri — all you need to do is combine two parts Don Papa rum, one ounce of lime juice, and .5 parts simple syrup in a cocktail shaker with ice, before straining into a serving glass. With the right ingredients, this should take less than three minutes.
L'Avant Garde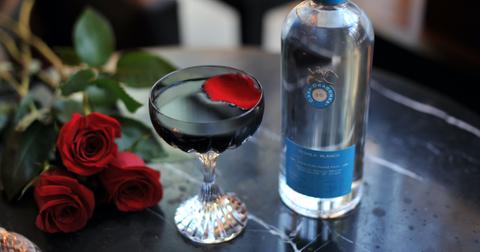 While booking a night at a hotel sounds like the epitome of luxury, concocting five star cocktails is almost the same... almost. Served at New York City's Baccarat Hotel, the L'Avant Garde blends .75 parts Casa Dragones Blanco, .75 parts Cappelletti, .75 parts Yellow Chartreuse, 75 parts of lime, .5 bar spoon of activated coconut charcoal, two dashes of orange bitters in a shaker. Blend, and double strain into a chilled absinthe rinsed coupe. Then, garnish with red rose petals. Enjoy your stay!
Cran-Spiced Martini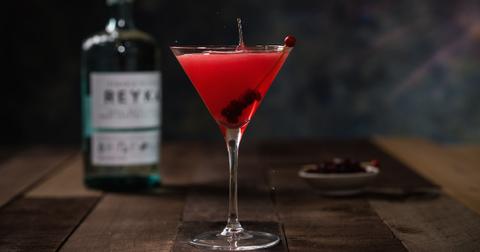 Class things up with the Cran-Spiced Martini — simply combine two parts Reyka Vodka, one part cranberry juice, and .75 parts vanilla spiced syrup* in a shaker with ice. Shake, strain and garnish with skewered cranberries.
*Vanilla spiced syrup recipe: (one cup sugar, one cup water, .25 tsp. ground black pepper, 5 tsp. allspice, one cinnamon stick boiled in a pot, simmered, and cooled, with .5 ounces vanilla extract added at the end).
Select Spritz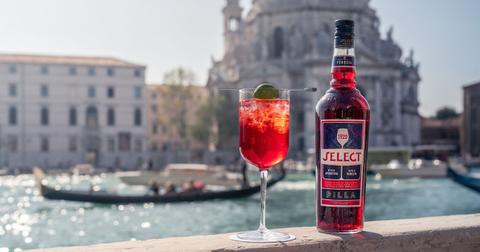 Venice is one of the most romantic locations in the world, and although you might not get the chance to go there this Valentine's Day, the Venetian Spritz — or Select Spritz will make you feel like you're there. Simply combine two parts Select Aperitivo, three parts La Marca Prosecco, and a splash of soda water in a wine glass over ice. Then top with a large green olive. Buon appetito!
Hot Honey Whiskey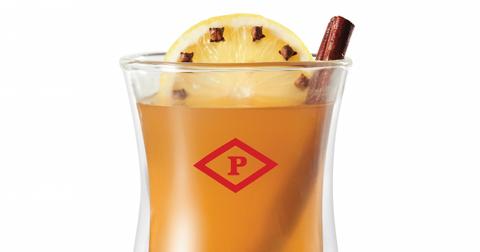 Unfortunately, V-Day falls on one of the coldest nights of the year, but here to warm you up is the Hot Honey Whiskey. Simply combine two parts POWERS Irish Whiskey, .5 parts lemon juice, two teaspoons of honey, and four parts hot water in a mug, and stir. Add a cinnamon stick and a lemon round to garnish. Serve warm.
Regardless of what you decide to do on the most romantic evening of the year, homemade cocktails are the key to almost anyone's heart. Cheers, and happy Valentine's Day!