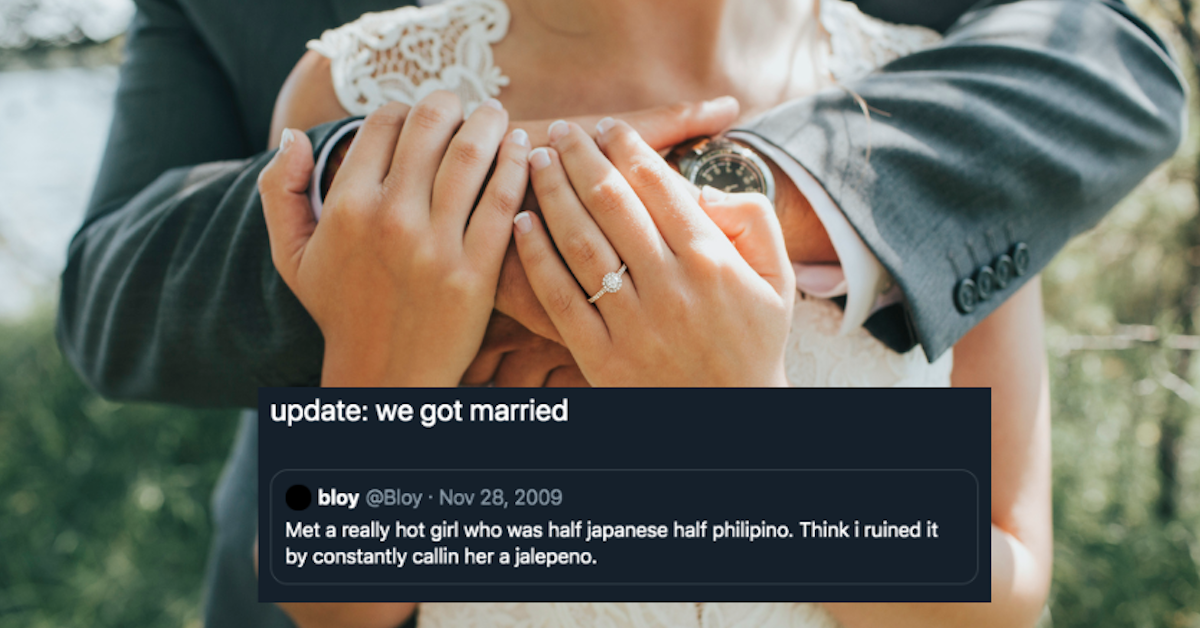 Guy Tweeted About a Girl Once, Logged on 10 Years Later to Let Us Know They're Married
Jared Matthews stopped using Twitter after two tweets in 2009, one of which was about a girl he met at a bar. He just logged back in to let us know that they're married now.
Some people constantly tweet about their lives. Just yesterday, I couldn't help posting a picture of my new haircut. For people like us, it's really strange to realize that some people don't post all of their big life events on the internet for the world to see. Some people are content to just have face-to-face interactions and form true and deep connections with other people. Weird, right?
Article continues below advertisement
For one man, Twitter was a thing he tried in 2009. He wrote a couple tweets, including a funny one about a girl he met at a bar, and then he gave it up... for ten years. He just logged on again to share that the girl he tweeted about that one time ten years ago is the girl he married. And, of course, all of Twitter fell head over heels for this adorable, very succinct love story.
Article continues below advertisement
Like many, Jared Matthews signed up for Twitter.com in 2009, not really knowing the monster it would become. He chose the handle and username @Bloy. He was just a young guy with a new social media profile, and he wasn't quite sure what it would be for him.
The same day that he wrote that first tweet — in fact, just four minutes later — Jared tweeted again: "I am closing twitter.com as my boss is not happy." To be fair, Twitter has never really been a thing bosses liked. And that was it. Jared was off Twitter. Until November 28, 2009, when he tweeted one more time.
Article continues below advertisement
It's a funny tweet! And BuzzFeed News spoke to Jared, who told them the story behind it. "I'm not going to lie to you, I was getting a little drunk, and when she told me she was half Japanese, half Filipino, I just made the joke." Analyn, the subject of the tweet, luckily thought it was really funny, and they exchanged phone numbers.
Article continues below advertisement
Analyn must have made an impression on Jared because she made him log onto Twitter after 10 months! And so they started going out. About a month into dating, Jared asked Analyn to be his girlfriend. They started dating, and Jared stopped tweeting. He was probably too busy doing this thing called "living his life." I just heard about it, and honestly, seems like a scam.
Jared declined to discuss with BuzzFeed what made him actually step away from Twitter, but he says, "The reason I came back was because I had seen how much it changed from then." Nearly ten years later, Jared logged back on to Twitter and found his old tweet. So he decided to casually update everyone on his life.
Article continues below advertisement
On December 17, 2019, he tweeted that he was back and quoted his own tweet about his boss. But then, hours later came the kicker, the tweet that would make him go totally viral.
Article continues below advertisement
Y'all, they got married! Jared told BuzzFeed News that he proposed to Analyn after dating for three years. So they've been married for a while! And when he told her that his tweet announcing their marriage went viral (we're talking nearly 150,000 retweets and 700,000 likes-levl viral), she laughed and responded, "Don't you think the update is a little outdated?"
Article continues below advertisement
Obviously, people freaked out. It's just the most hilarious, adorable story. "I wasn't expecting something so wholesome," one person wrote. And it's true! Twitter is so full of negativity, and you just don't expect to see something so lovely and nice! People were surprised and delighted that he literally logged on after 10 years. It was sort of like, "Oh yeah, we're married now!" and Twitter lost it.
Jared told BuzzFeed News, "I knew exchanging numbers that night had been the best decision of my life." Don't mind me. I'll just be over here tweeting about all the tears that are inexplicably leaking out of my eyes now.