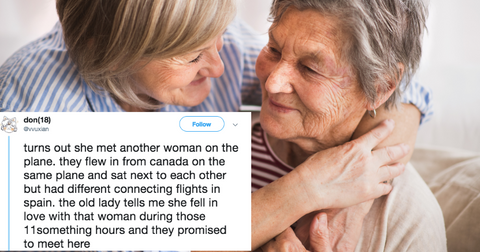 This Airport Love Story Between Two Old Women Will Melt Your Heart
By Robin Zlotnick
You know the opening scene in Love Actually that's just a montage of ecstatic loved ones reuniting and embracing at the airport? This story makes that scene look like Schindler's List. Seriously, you might want to grab a bowl of popcorn and a box of tissues because this Twitter thread is actually the greatest romantic story that has ever been written. And the best part is that it happened in real life.
Twitter user and airline employee @vvuxian was working at the ticket counter when a woman of about 70 approached her and asked for some information about a certain passenger on a flight coming in from Spain. What happened next will melt even the coldest, most frozen of hearts.

Follow-up spoiler alert: Not only is it a love story, but I would venture to say it is the great love story of our time. If someone were to option this and make it into a movie, I would watch it a million times. It's like real-life Before Sunrise. But better.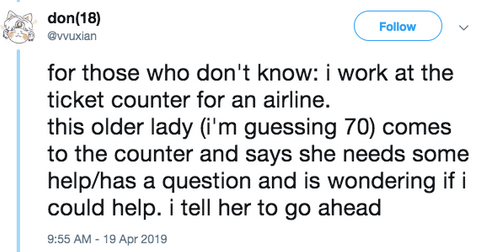 When you work at an airline ticket counter, you probably encounter all manner of people. When an older woman walks up to you, she could want anything, whether it's an upgrade to first class or a complimentary in-flight meal or directions to the nearest bathroom. In your mind, you're probably like, "Oh, here we go..." as she approaches the counter.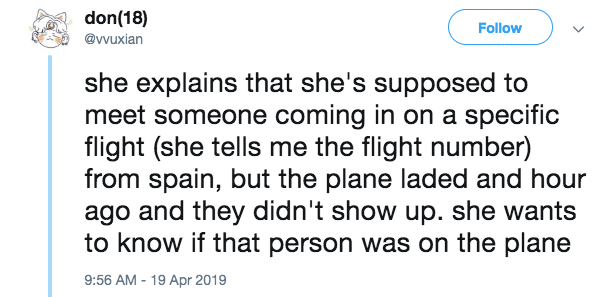 At first, this seems like an innocuous enough request. Maybe she's waiting for her child or another loved one to arrive. The only problem is information like that can't just be given out to anyone to protect your privacy and safety.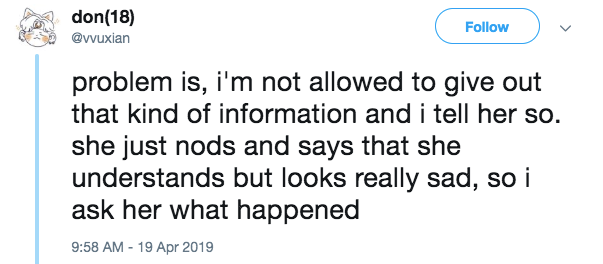 First of all, it's just great customer service for an airline employee to recognize that they can't help someone but still lend an ear and ask what's going on. Second of all, thank goodness she did, because otherwise she would have never witnessed the greatest love story ever — nor ben in a position to facilitate the most perfect reunion.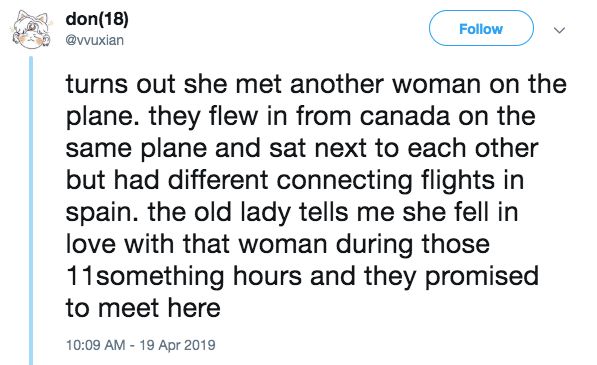 If you have ever witnessed two people fall in love because they were coincidentally seated next to each other on a plane or a train, you know how magical it is. Once, I sat right behind two gorgeous people who were complete strangers and clearly fell in love during the three-hour train ride from Boston to New York. I'm convinced they're still together, and this was about 13 years ago.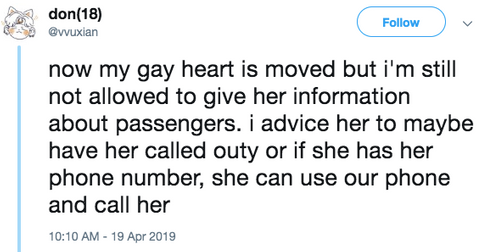 It's clear this airline employee is invested in getting these two lovebirds back together any way she can that doesn't violate the rules of her job. At this point, it's unclear if these women will ever find each other again. My heart is beating so fast... and I've already read the rest of the story!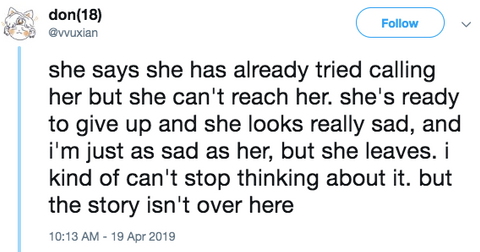 The woman and the airline employee might be sad, but so am I and so are the thousands of others who read this story on Twitter. The one thought I had here is that at least she had her phone number. Even if they miss each other at the airport, they will still be able to get in touch.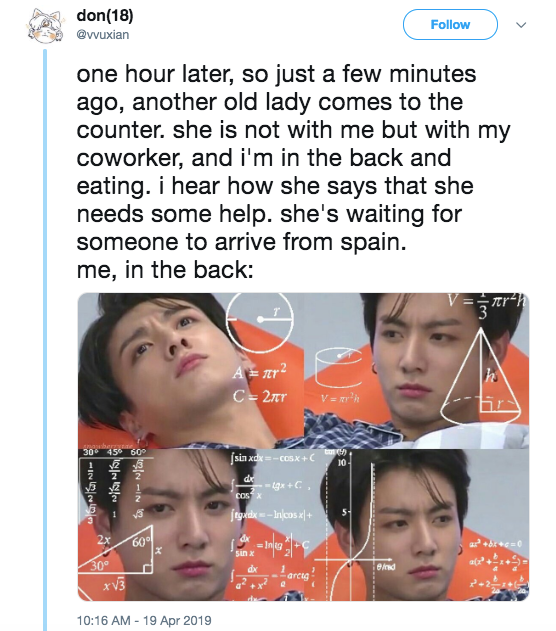 Guys, the drama is so real. If this woman is waiting for someone from Spain, and so was the other one, this is the other woman! I'm so glad our heroic airline employee was within earshot when this happened.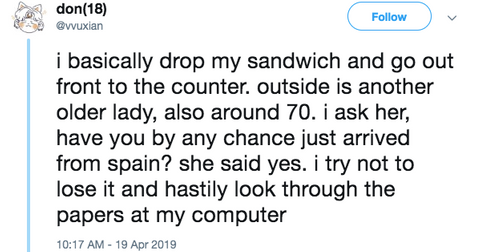 You abandon that sandwich, girl! You have a relationship to save! But what's happening? Why is she looking through papers?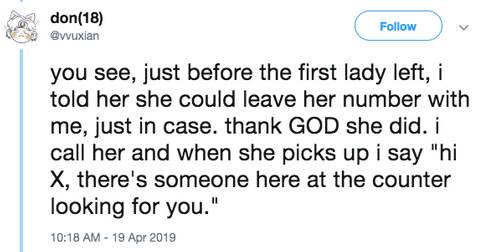 What a beautiful perfect genius. Seriously, what foresight to be able to be like, "I can't give you any information, but you can leave your number with me in case I hear anything." I think you can see where this is headed...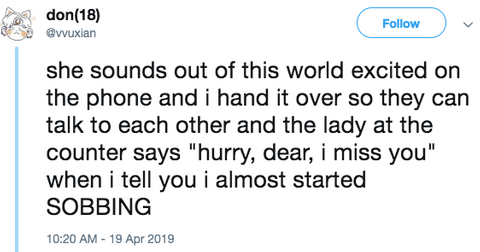 I literally just got chills. So precious. So adorable. This airline employee is witnessing actual love blossoming right in front of her eyes.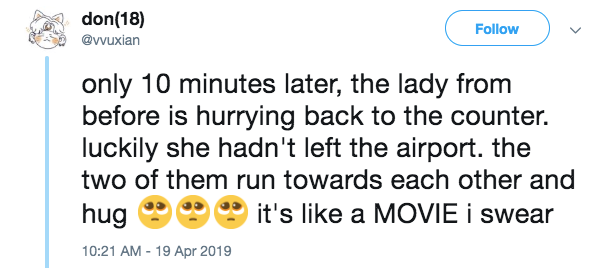 It happened! They reunited! If you're not tearing up right now, something is wrong with you. But it's not over yet!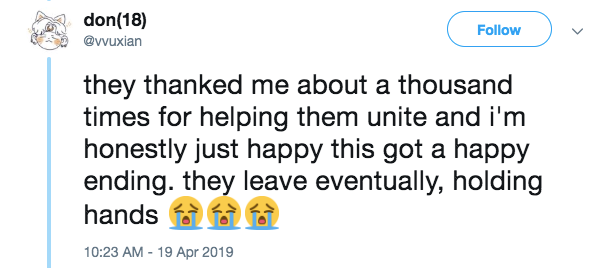 I would also like to personally thank her for bringing these two together and for sharing this heartwarming story on Twitter. These two women leaving while holding hands seems like the perfect closing shot for the movie that has to be made about their story.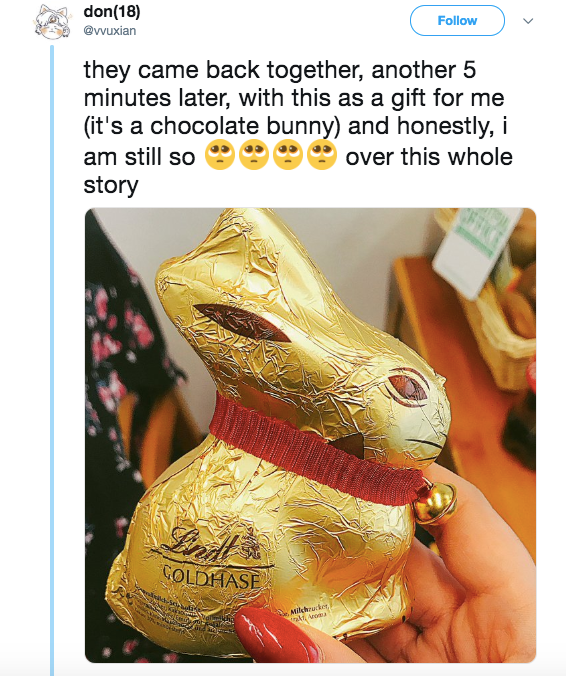 How cute is this? Not only are these two older women in love, but they are also both wonderful people who realize they never would have been reunited if this airline employee hadn't helped them out.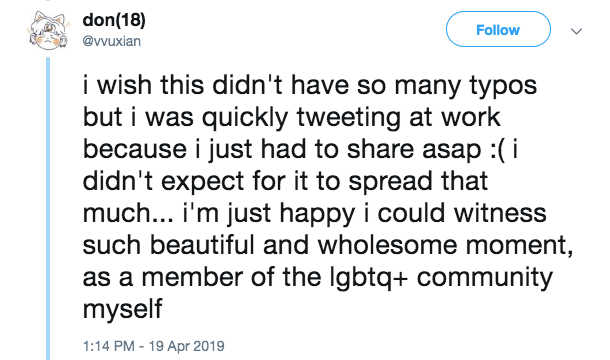 We are so glad @vvuxian decided to share this story, which has now gone certifiably viral. Love is a special thing, especially when you witness it first-hand. We wish these two women a lifetime of happiness!