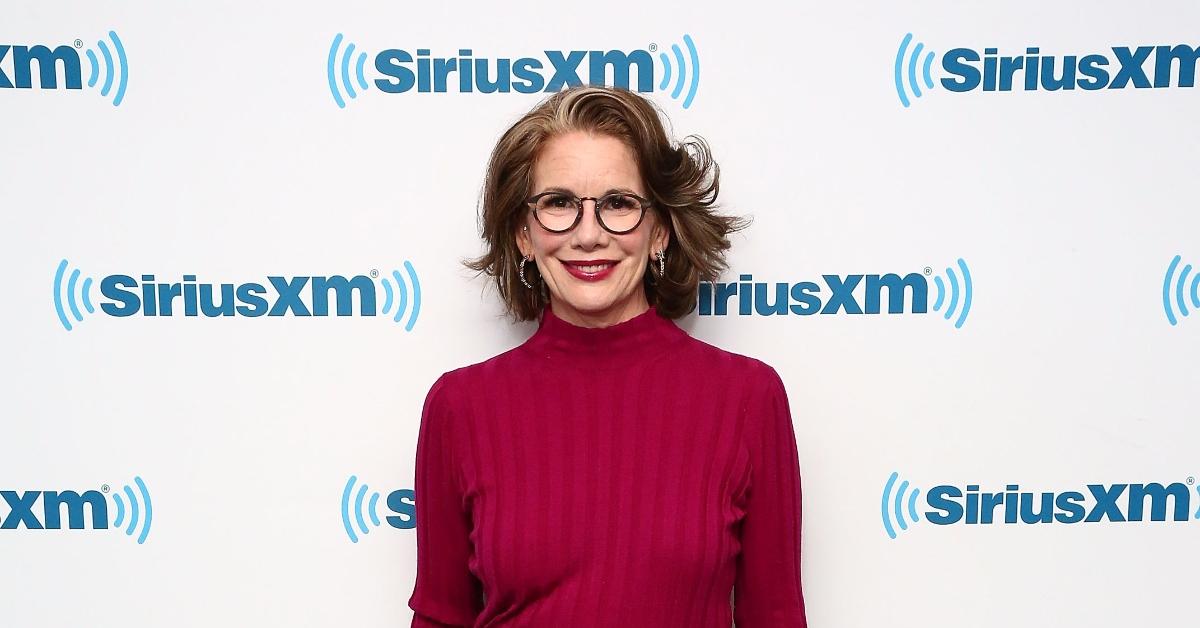 Melissa Gilbert Says Her Back Surgery Was "Wildly Successful"
On Friday, Nov. 20, 2020, Little House on the Prairie alum Melissa Gilbert took it to Instagram to announce that her fourth spinal surgery was successful. The actress, politician, and producer has struggled with back problems for years, having first had an operation for a broken back in 2001. So, how is she doing now?
Article continues below advertisement
Melissa Gilbert had back surgery in fall 2020.
"Surgery was wildly successful! Dr. Bray was able to remove all the old hardware, shave off bone spurs causing numbness in my right hand and, and, and, he was able to give me the artificial disc! So now I focus on recovery and remaining COVID-19 free. Thank you all for your love, support and prayers. I send so much love back to you all. Happy Thanksgiving indeed! Love and love and love...MG," Melissa wrote on Instagram.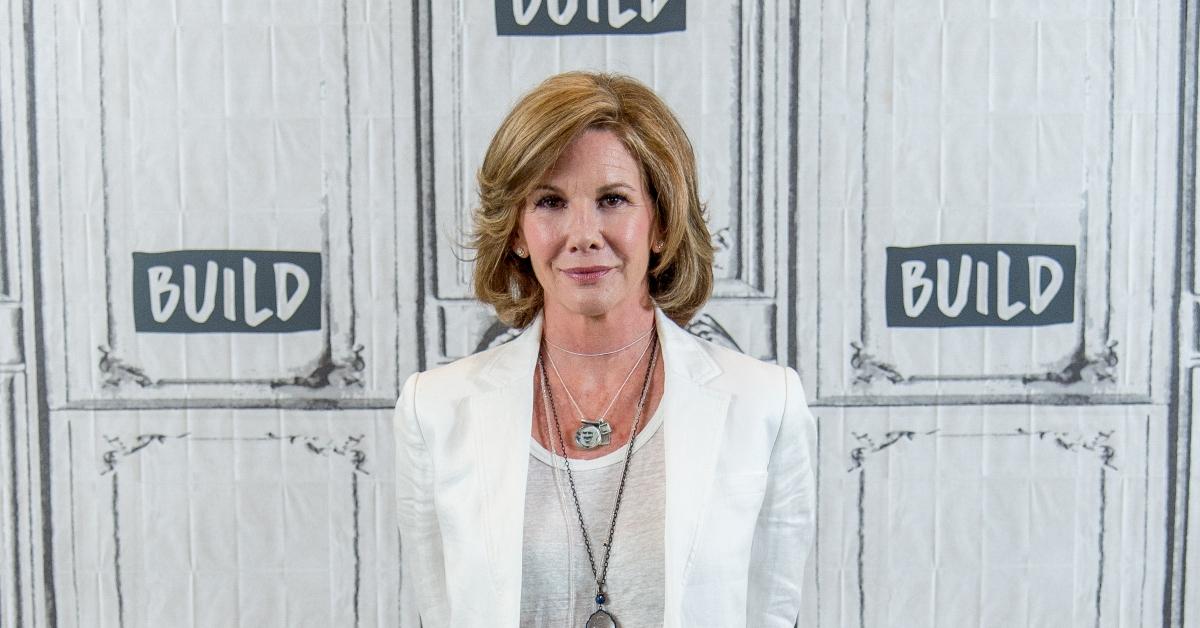 Article continues below advertisement
The celeb learned that she would have to undergo surgery in April 2020, after describing near-constant back pain and a tingling sensation in her right-hand fingers. However, the non-urgent procedure was pushed back due to the coronavirus (COVID-19) pandemic.
Melissa Gilbert received a new spinal disc — which is hoped to preempt further fusion surgeries.
Melissa received a spinal fusion surgery in 2016 — which later on turned out to be unsuccessful. It's understood that the hardware implanted into her back started to impair her C7 vertebra, causing her more and more pain and eventually warranting further medical intervention. For a while, it was uncertain whether she would be able to receive a new spinal disc at all, Melissa revealed in a previous Instagram post.
Article continues below advertisement
"In April of this year, I had a consultation with Dr. Robert Bray at #discsportsandspinecenter. He did my the first fusion in my neck in 2001 and repaired/fused my back when I broke it in 2010. He agreed surgery was necessary and he felt I was a good candidate for an artificial disc instead of a fusion. Saving me from having to do more fusions down my spine in the future," Melissa wrote in a previous Instagram post.
Article continues below advertisement
"I won't know until I wake up if Dr. Bray will have been able to give me the disc or will have had to re-fuse my neck," Melissa added later on.
Article continues below advertisement
Melissa had to drop out of a congressional race due to health concerns.
Melissa has had several accidents over the years. In 2012, she fell during an episode of Dancing with the Stars. She was rushed to the hospital with a mild head concussion and whiplash after tripping during a paso doble routine.
The star broke her back for the second time in 2010, while working on the Little House on the Prairie, the Musical. The injury led to ramifications in the long-term, and in May 2016, she dropped out of the race for Michigan's 8th Congressional District due to health concerns.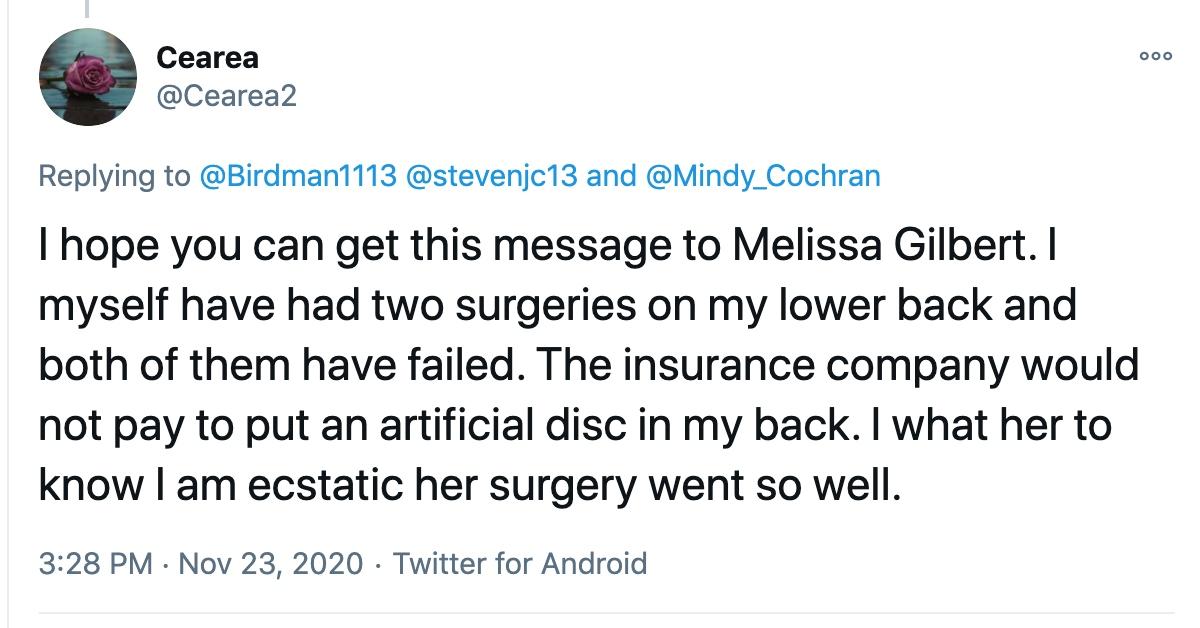 Article continues below advertisement
"While I have received the best treatment and therapy I could have asked for, those injuries have only gotten worse [...] As much as it breaks my heart to say this, my doctors have told me I am physically unable to continue my run for Congress," she told Detroit Free Press via a press release at the time.
Although her political career may have been cut short due to her health struggles, Melissa didn't let it get in the way of her pursuit of a highly successful acting career. Over the years, she has accepted several new roles. In 2019, she appeared in a drama titled When We Last Spoke, and in 2018, she starred in a TV show titled Hometown Christmas.