Here's a Breakdown of the Drama Between Mia Khalifa and Madison Beer
Why do former Pornhub star Mia Khalifa and internet personality Madison Beer have drama? Here's a total breakdown of their beef and history.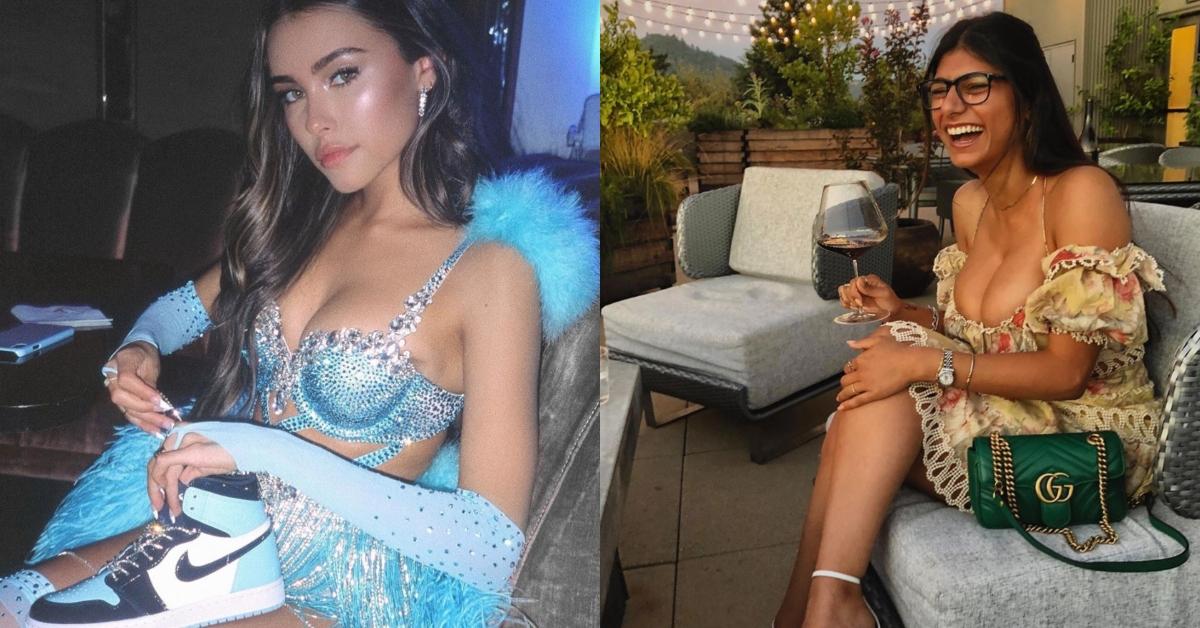 The social media drama truly feels never-ending, especially when everyone is cooped up at home, and has nothing better to do than surf the internet. Recently, some beef arose between singer and internet personality Madison Beer and former adult film superstar Mia Khalifa over TikTok, but we can't help but wonder where this all came from.
Article continues below advertisement
Article continues below advertisement
It all started at the end of May 2020, when Madison Beer publicly denied plastic surgery claims.
For months on end, TikTok users had taken to the app to berate Madison with claims that she previously altered her face with plastic surgery to look the way she does, according to Paper Magazine. They felt not coming clean was dishonest, and also promoted unrealistic beauty standards for her young fanbase. She continued to deny these accusations, and eventually took a social media hiatus to avoid the haters. But then, TikToker Katie Kelly, @girlwithgreenbeanie, called her out.
Madison responded to Katie's TikTok video, admitting she had — in fact — once gotten lip fillers a long time ago, and decided to remove them instantaneously. Other than that, though, she claims to have never gone under the knife.
"Guys, I got my lips done when I was younger and I f--king regretted it and I hated it, and I got them dissolved. This is literally my f--king natural face... I'm about to start crying, bro," she said in the now-deleted video.
Article continues below advertisement
Mia Khalifa proceeded to make this video, proudly admitting she got a nose job... and shading Madison in the process.
Clearly, Mia had caught wind of Madison's accusations, and sides with those who want her to come out about getting work done. This inspired her to post a video to TikTok on Monday, June 22, which showed her contemplating getting a nose job, going for it, and finally, a clip of her recovery, with a bandage over her nose. She tagged the surgeon, Dr. Dugar, who is a well-regarded celebrity surgeon, and reiterated she'd never "hide behind a tree."
Article continues below advertisement
The caption of Mia's TikTok video read: I'd never hide behind a tree. Don't compare urself to anyone on the internet, ur beautiful ♥️ THANK U, @deepakdugarmd . U changed my life! #ShaveItOff."
A few hours later, when a fan posted to Twitter mulling over the shade Mia was throwing at Madison in her video, Mia promptly replied, "I will be shading anyone who sets unrealistic beauty standards for young impressionable fans."
Article continues below advertisement
We're loving Mia's honesty, but if Madison wants to stay quiet about getting work done, that's entirely her business. Still, it isn't completely clear if Mia and Madison knew each other before this extremely uncomfortable interaction, but it seems somewhat unlikely. Madison hasn't yet responded to Mia's evident shade, but when she does, we'll be waiting to hear what she has to say.