The 4-1-1 on Michael Blackson and Rada's Relationship — Couple Dishes on "Boundaries" (EXCLUSIVE)
They're back, mothersuckers!
Ghanian comedian Michael Blackson has had his share of ups and down in relationships. The star has been accused of infidelity in the past, but things have changed for the better since Michael and Instagram model Miss Rada have become an item. The details surrounding when Michael and Miss Rada first became a couple is unknown, but it's believed that the pair have been an item since 2019.
Article continues below advertisement
Michael and Rada have faced disagreements, including breakups and makeups, but it seems the pair is still smitten with each other. And after appearing on VH1 Couples Retreat Season 1, the couple is back at it again for Season 2 following their July 2021 engagement.
In an exclusive interview with Distractify, Michael and Miss Rada got super candid about their relationship issues, boundaries, side chicks, and plenty more. Here's the tea.
Article continues below advertisement
Michael and Miss Rada are still together and working on their relationship.
Fans who have been keeping up with Michael and Miss Rada's relationship likely know that the pair has parted ways in the past. According to The List, in a now-deleted July 2020 post, Miss Rada seemingly announced her split from the comedian.
Miss Rada captioned the post (per SOHH), "Gotta learn how to swipe right again..." which many fans took to mean that the pair split up.
The List also noted that Miss Rada deleted all of her photos of Michael from her page at the time. One week later, Miss Rada reportedly teased that she and Michael were getting back together.
And it's been somewhat smooth sailing ever since.
Article continues below advertisement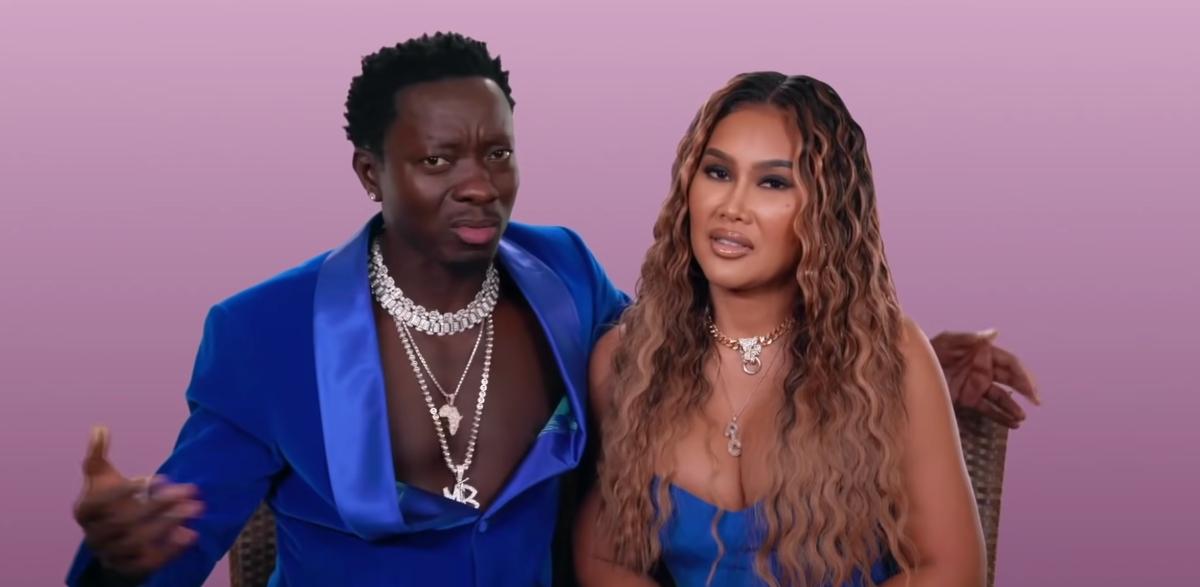 In fact, the pair appeared on VH1 Couples Retreat Season 1 to iron out their issues. Not to mention, Michael decided to take their relationship to the next level with a live public proposal during his July 2021 interview with The Breakfast Club.
Article continues below advertisement
Now, the couple is back for another season of Couples Retreat and appear to be in a great space. In fact, Michael shared that their nuptials may take place sooner rather than later.
"A 2023 wedding is very possible," Michael exclusively told Distractify. "We haven't really set a date. We just want to fix our problems, come to a really good understanding, and be in a good place before we take that step. So, I'm definitely expecting that to happen in the next year or so."
Article continues below advertisement
Miss Rada says that she and Michael are not in an open relationship, but the couple simply likes to have fun with other women.
It's no secret that Michael has had a share of side chicks in all of his relationships. The comedian admitted to the fact during his interview with The Breakfast Club. Most people would not be OK with their partner having a side chick, but Miss Rada is an exception.
Miss Rada revealed to Distractify that not only does she love the idea of bringing women into the bedroom, but that that's also one of the things that she and Michael are aligned on. In fact, that's one of the reasons why she and her ex-husband had what she considers to be "boring sex."
Article continues below advertisement
"I am okay with him having a side chick or two and bringing them into the bedroom to add some excitement to our sex life," Miss Rada told us. "The only thing that I don't agree to are the [crossing of] boundaries and some of the things he does for the side chicks."
Miss Rada feels that Michael can sometimes cross the line with side chicks by essentially doing things that go against her boundaries, including taking women out for breakfast. Thankfully, Michael shared that he's working on fulfilling Miss Rada's wants and needs when it comes to his side chicks.
Article continues below advertisement
"I'm working towards it," Michael exclusively told Distractify. "[Rada] tells me about every day. There are times where we do extracurricular activities in our bed and other times where a [side chick] is alone with me. [Rada] feels that when they're alone with me we shouldn't take any pictures, I can't take them out to dinner, and other things. So I'm working on that. You know, pretty much it's like a coochie delivery service."
Michael never misses a moment to add comedic relief into a conversation, and fans will be able to see that and much more on Season 2 of VH1 Couples Retreat.
Catch the Season 2 premiere of VH1 Couples Retreat on Monday, May 16, 2022, at 9 p.m. EST.