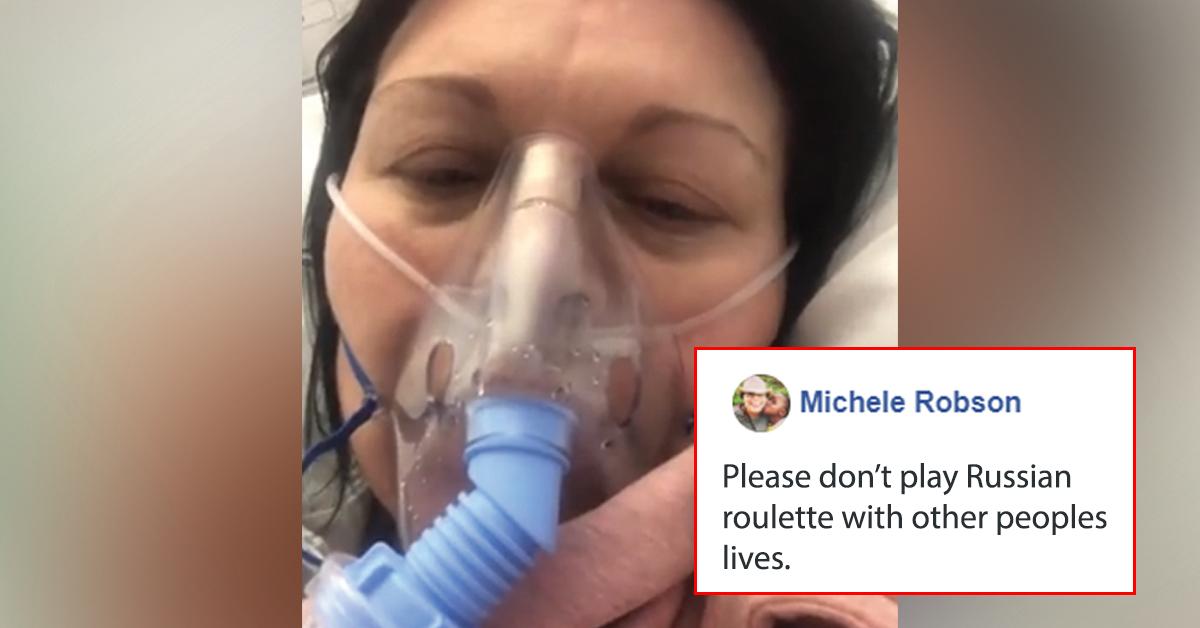 Woman with Asthma Begs People to Stay Home from Hospital Bed After Catching Coronavirus
She called people taking part in big events "walking virus distribution centers."
Michele Robson, from Durham in the United Kingdom, is begging people to stay home and practice social distancing as much as possible after she was admitted to hospital with coronavirus.
Article continues below advertisement
Robson, who has minor asthma, is receiving breathing treatment after catching the virus. In a video from her hospital bed, she implores: "Please, think twice before taking risks that can affect other people. Frankly, in my view, I wouldn't wish this on anyone so please, please be careful."
"Big gatherings shouldn't be happening, if they do, people that take part, are walking virus distribution centers and will be responsible for a lot of sickness and death. So I'm begging you, please, please be careful, be responsible. Thank you."
Article continues below advertisement
In a caption alongside the video, Robson explained further: "My sister Annette Hewitt asked me if I would be brave and share this in the hope that it might encourage people to adhere to social distance, especially in public places to avoid any unnecessary cross-contamination."
Article continues below advertisement
"This virus is like nothing the world has ever seen in two generations.. if we are going to survive and protect everyone especially the most venerable. I have always had mild asthma which for years living in Africa I have been luckily unaffected by. I returned to the U.K. a month ago to start a safer life."
"I have been living in a country in civil crisis and it was no longer safe for me .. I couldn't have imagined when I arrived in London to attend International Women's Day Event that the solidarity of we women, many flying in from all over the world like myself could spread this deadly virus and bring so much sadness."
Article continues below advertisement
"If I had known I would never have taken the chance .. the thing is we now know all governments across the world are telling us the same thing .. it's about time that people realised we all have to work together to prevent more fatalities. I cried yesterday when I saw photos of bikers in the centre of Rothbury, Northumberland gathering in large numbers .. shame on anyone that took part."
"Please stop this type of gathering... please don't play Russian roulette with other peoples lives.. if you act sensibly we can save lives. May God give us all the strength to do the right thing, by ourselves and others. Sending love and positive thoughts to all."
Article continues below advertisement
Robson's post comes as people have been criticized for continuing to go to work and attend social gatherings despite a national lock down the United Kingdom over the coronavirus. So far, there have been 8,077 confirmed cases and 422 deaths in the U.K.
The best way to prevent contracting or spreading coronavirus is with thorough hand washing and social distancing. If you feel you may be experiencing symptoms of coronavirus, which include persistent cough (usually dry), fever, shortness of breath, and fatigue, please call your doctor before going to get tested. For comprehensive resources and updates, visit the CDC website. If you are experiencing anxiety about the virus, seek out mental health support from your provider or visit NAMI.org.