Holmes Family Rescue's Mike Holmes and His Kids Are Constructing a Family Legacy
Two of Mike Holmes' kids are following in his footsteps, joining him on HGTV's new renovation show 'Holmes Family Rescue.' Learn more about the show.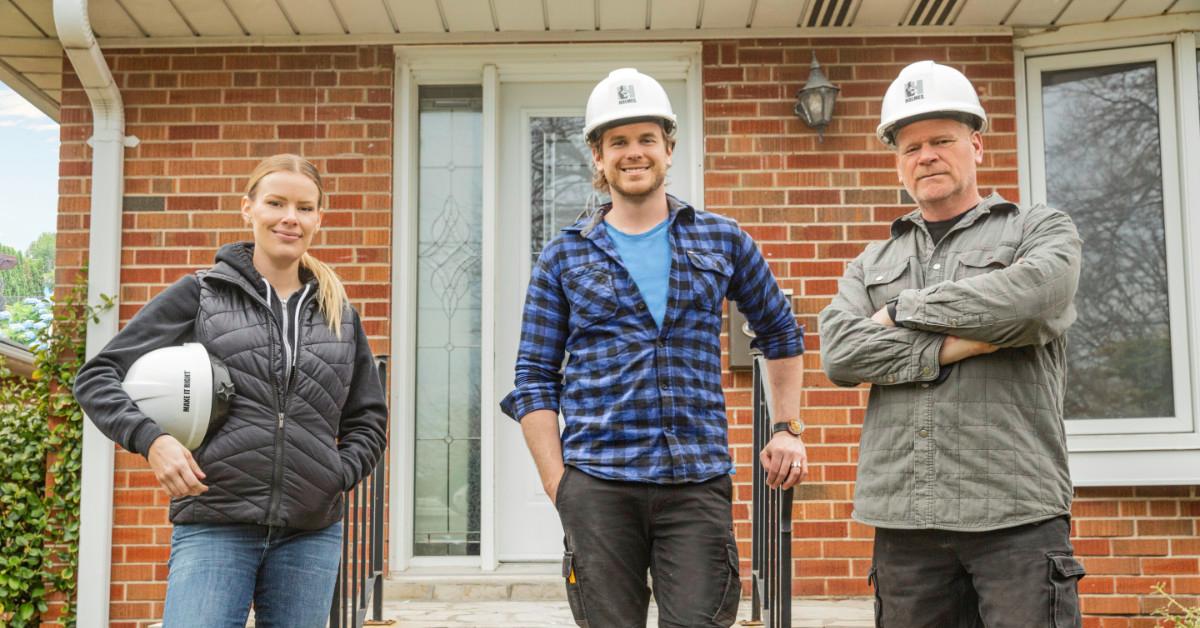 As the host of Holmes on Homes, Holmes Inspection, Holmes Makes It Right, Holmes Buy It Right, and other TV shows, Mike Holmes has become one of the most visible home-renovation experts.
And now HGTV viewers are getting to know Mike Holmes' kids.
Article continues below advertisement
In Holmes Family Rescue, which premiered on HGTV on Wednesday, Dec. 8, Mike teams up with daughter Sherry and son Mike Jr. to rescue homeowners from botched construction jobs.
"In the new series, [Sherry and Mike Jr.] follow their father's mission — helping homeowners-in-trouble navigate through the tricky challenges of home renovation," HGTV teases. "Maybe it's genetic!"
'Holmes Family Rescue' isn't the first time Sherry and Mike Jr. have joined forces with their dad.
According to the family's website, Sherry has been a fixture of her famous father's "Make It Right crew" ever since they teamed up on Holmes in New Orleans, in which they built a new home for a Hurricane Katrina survivor.
"If you're thinking about getting into the trades, go for it!" Sherry says on the site. "If it's your passion, learn as much as you can. It might be harder than you think to make your mark, but I promise you it will be worth it. It just might change your life."
Article continues below advertisement
Mike Jr. is also a permanent member of the crew, having constructed a start-of-the-art garage for his father on MIke's Ultimate Garage. He's also a woodworker, a carpenter, and a healthy home advocate.
"I'm a big believer in living a healthy lifestyle and building healthy homes," he says on the site. "I'm passionate about educating people and ensuring good indoor air quality to support a healthy attitude and lifestyle."
Article continues below advertisement
Meanwhile, Mike's elder daughter, Amanda, "refuses to get the attention," as Sherry told the Times Colonist in 2014. And in a 2017 Instagram caption, Mike told fans that Amanda "prefers to work with us behind the scenes."
Holmes' married the kids' mother — his ex-wife, Alexandra Lorex — when he was still a teenager.
Amanda, Sherry, and Mike Jr. are Mike's children with ex-wife Alexandra Lorex, whom he married when he was just 19 years old, according to TV Media. He was also 19 when he founded his contractor business, with business cards billing him as "The F-up Fixer."
But the next decade proved rough for the future TV star: As a recession impacted the construction industry, Mike had to sell both his company and his car. And when he was 30 years old, he and Alexandra divorced.
Article continues below advertisement
We've gotten glimpses of Alexandra on social media in recent years, though. In 2016, Mike Jr. wished his mom a happy birthday on Instagram, telling her, "You're my friend, my mentor, and so much more. Words can't express how much I love you."
A few weeks later, he shared an old family photo of Mike, Alexandra, and the three kids. Mike, who rocked a blond mullet in the photo, reposted his son's Instagram, adding, "Thanks for this #tbt @mikeholmesjr. Wow. There's not much more to say."