People Are Defending "Milk Coke" and Twitter Is in an Uproar
Comedian James Felton shared the drink "milk coke" on Twitter, saying it was popular in Birmingham.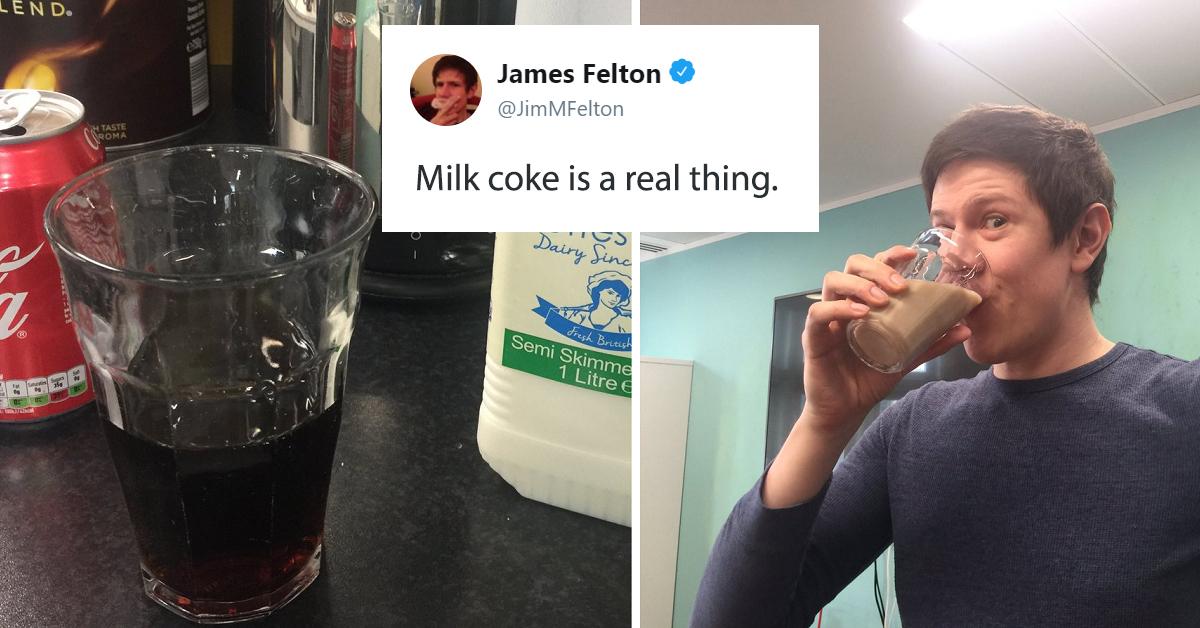 While there are plenty of drinks that go well mixed with Coca Cola, like Jack Daniels, there are plenty of local combinations with the American beverage that make most people wince. And according to a comedy writer from Birmingham in the United Kingdom, people from that city drink "Milk Coke," which looks just as bad as it sounds.
Article continues below advertisement
"Milk coke is a real thing. Brummies love it," James Felton wrote on Twitter. "We can all move on from this discussion now, I will be taking no further questions." Brummies are people from Birmingham, by the way.
Article continues below advertisement
James' disgusting combination quickly went viral, with thousands of likes and comments from people who couldn't believe the combination.
"Can't believe people really drink milk and Coke together," one person wrote.
Article continues below advertisement
Another user was surprised that so many people were just learning about the invention. "It's weird to me that milk coke isn't common knowledge. My parents introduced us to soda/milk combo when I was like four — so 24 years ago, give or take. At the time it was called 'bop' or 'brown cow' and yes, if done correctly it was amazing."
Article continues below advertisement
Others doubted that James actually drank the concoction. Apparently he did.
Article continues below advertisement
"Unfollowed and reported to the police," one user added.
While another user wrote: "Not sure about Brummies, a Glaswegian told me about this many years ago. It's meant to be a hangover cure but the real purpose is to enable one to continue on the Buckfast from breakfast time onwards."
Article continues below advertisement
"Not a Brummie," one social media user added. "Loved milk coke since I were a kid. Thanks to your bravery I feel I can stand up and say this now. Thank you, Mr. Felton."
One former bartender shared another strange mix:
"When I waited tables I had a regular who would order Colorado Bulldogs. It's vodka, kahlua, milk, and Coke. Imagine ordering that on purpose and then paying for it."
Please, just stop this madness.