These Two Dudes Snuck off to Italy in a Vacation Prank That Left One Mom Super Angry
This mom got seriously angry after her son and his friend pulled a vacation prank by sneaking off to Italy. Let's break down the full story.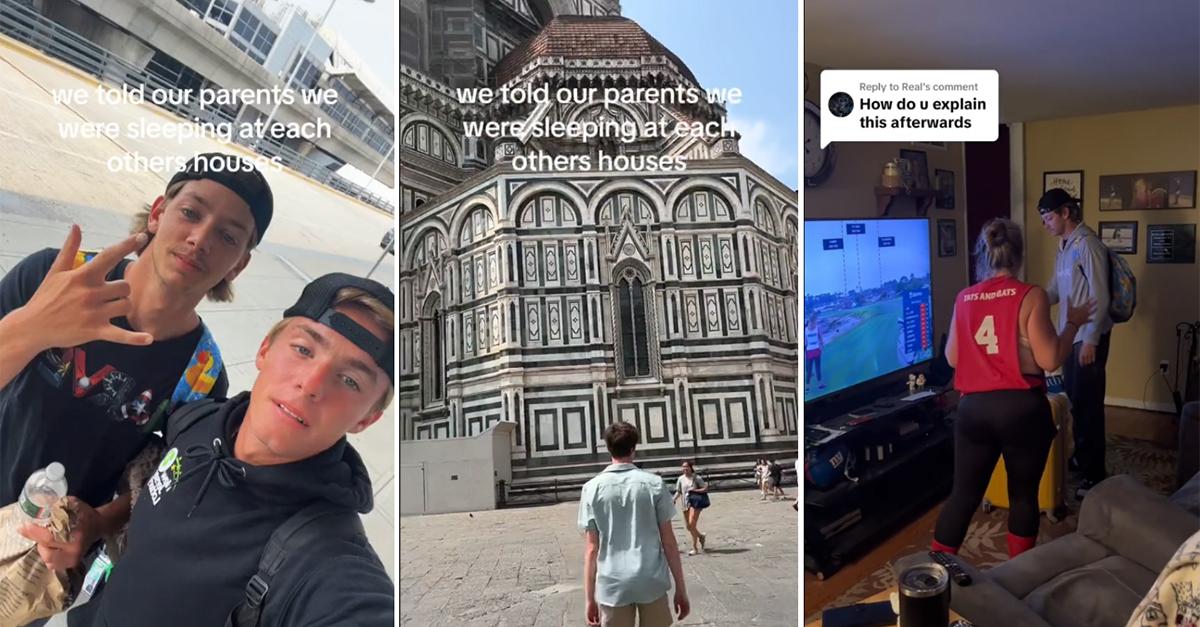 The Gist:
Two friends tell each other's parents that they're sleeping at the other person's house. Instead, they both take a vacation to Italy.
They are forced to come home, with one of the moms furious at their lavish deceit.
They catch the mom's reaction to more of their antics.
Article continues below advertisement
Have you ever done something behind your parents' back before? Maybe you secretly watched a violent movie or TV show while they weren't looking. Perhaps you hid under the covers pretending to sleep at night while trying to play video games or read books. If you were especially daring when you were young, maybe you even snuck out of the house when you weren't supposed to in order to go somewhere else.
Whatever little lies you may have told your parents before, we can bet that this one is hard to top.
Article continues below advertisement
A group of dudebro types shared footage of one of the wildest pranks we've ever seen in which they went off to Italy on a vacation without their parents knowing. Unfortunately, they return home to an especially angry mom. Let's break down the full story and the hilarious drama that ensues.
This mom got super angry at this Italy vacation prank that these two boys pulled.
Nick Verdesco first shared footage of his trip on his TikTok (@nikcyv2). In his first video, he lays it out plain and simple. Nicky and his friends told their parents that they were sleeping at each other's houses. Where they actually ended up was somewhere a little further.
Article continues below advertisement
The group actually ended up boarding a flight and going to Italy. Nick even showed off footage of some gorgeous Italian architecture. It's safe to say, though, that that's a far cry from their own houses.
Unfortunately, their trip was cut short.
Article continues below advertisement
In Nick's next video, the kids were caught, with one of the moms having booked them a flight home already. Needless to say, they were disappointed to be going home, but let's be real. They couldn't have hidden a trip to Italy for very long. But if you thought that was the end of it, just wait until you see what happens when they get home.
Article continues below advertisement
The mom was furious with a capital F when they got home. After yelling and scolding one of the kids on camera, she grounded him on the spot. Grounded him from what? Yes.
However, this lavish and outlandish trip and the mom's subsequent reaction have become a recurring theme for them. In a subsequent video, the mom catches the kids at a graduation party that violated their having been grounded from everything. The mom even blames their Italy antics, claiming that she wouldn't have pulled them away from the party if they were truthful about their trip.
Article continues below advertisement
Shockingly, though, it hasn't put a damper on their activities. In fact, the family has become rather TikTok-famous as the drama unfolded, with the initial videos each having several million views. The friends even shared their newfound internet popularity with the mom, which was captured in yet another TikTok.
Article continues below advertisement
True to form, however, she got even angrier upon learning that she was put on TikTok without her knowledge. Nevertheless, the kids are still at it as they pull more pranks at the mom's expense.
We can't exactly tell if this kind of interaction with a mom is parent goals or not, but we can safely assume that few people out there have a family story as wild as this one.