Mom Asks Pediatrician to Use Mindful Language When Weighing Her Daughter
One mom shared the message she wrote to her daughter's pediatrician about discussing her weight. Fortunately, the doctor knew just what to say.
Growing up? I give it a 0/10. Never again. I have many notes to give — most of which pertain to how food and bodies were spoken about around me, particularly by my pediatrician.
Article continues below advertisement
One mom is trying to prevent her daughter from being exposed to this type of negative talk. She recently took to TikTok to explain how she worked with her daughter's pediatrician to create a body-positive checkup.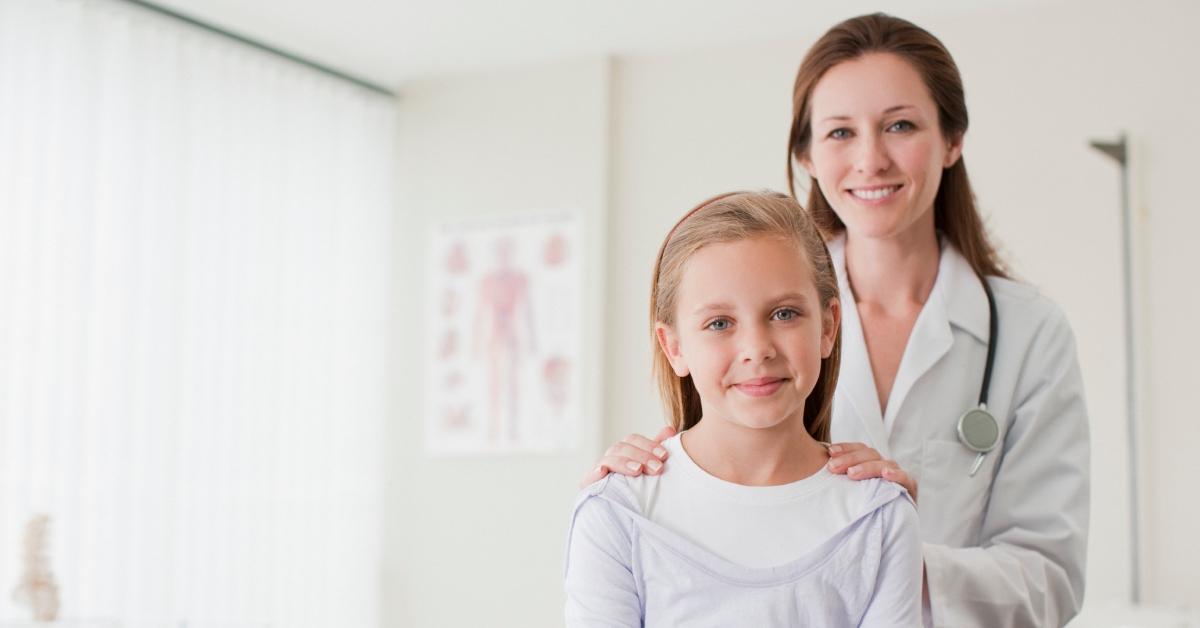 Article continues below advertisement
A mom writes her daughter's pediatrician a special note asking her to be careful when talking about weight/BMI and food.
A mother named Caroline (@general.caronobi) took to TikTok to share some details about her daughter's annual checkup at the pediatrician. "Trying something new at the pediatrician, will report back how it goes," she wrote in the video's text.
The video then shows a handwritten note that Caroline seemingly passed along to her daughter's pediatrician. It said:
"Doctor, when discussing my daughter's weight and/or BMI, please refrain from using qualitative words like 'good' or 'bad.' We have managed so far to keep a body-neutral and body-positive environment for her childhood, and I appreciate your cooperation in preserving that for as long as we can. Feel free to ask to speak with me outside the exam room if you have any concerns. Thank you!"
Article continues below advertisement
In the comment section, Caroline added: "First impression from the nurse taking the note was great, she took her time reading it and gave me a big thumbs up and said thanks."
The doting mom also shared that when her daughter went in for a checkup last year, she told the doctor during the appointment to be more thoughtful and it didn't go well. Since then, she seemingly switched her daughter's pediatrician and came prepared this time with a note.
Article continues below advertisement
Others applauded Caroline's actions, claiming they were traumatized by how their pediatricians talked about their weights during childhood checkups.
"As a kid who was deeply scarred by my pediatrician's comments about my weight, thank you so much for doing this for your child," wrote one user.

Article continues below advertisement
Another user wrote: "I wish this happened when I was a kid. I remember my pediatrician telling me to lose weight at eight and asking my mom about putting me in Weight Watchers"
A third user recalled that at the first doctor's appointment she could remember, the nurse weighed her and said, "Oh geez. We got a big girl, don't we?"

Article continues below advertisement
This pediatrician came through and discussed a young girl's body with her in a thoughtful way.
In a follow-up video, Caroline explained how the checkup went after the nurse and pediatrician were given the note.
She noted that the nurse made no comment when she was weighing her daughter. She also said that the pediatrician asked if it was OK to show a growth curve with no numbers on it to her daughter. Caroline agreed.
As for how the pediatrician discussed her daughter's weight, Caroline reported back the following: "She told my kid, 'Your body is growing exactly the way it wants to grow. Hooray.'"
Article continues below advertisement
Furthermore, Caroline confirmed that there was no mention of her daughter's weight, body shape, or anything like that.
Instead, her daughter was asked questions like: "How do you feel? Are you feeling good? Are you able to exercise and eat lots of fruits and veggies and meat?"
Caroline also said that the doctor didn't mention anything about restricting or avoiding certain types of foods. All in all, it seemed like a pretty successful visit.
As one person wrote in the comments: "Ugh, I love this so much. Just sitting here crying a little because of the gift you're giving her," read one user.
We hope more moms and doctors rethink the way they talk about weight to young, growing children.