TikToker Angry After Finding Babysitter Asleep, Wants to Know if She's in the Wrong
A mom asked her TikTok following if she was "overreacting" to a babysitter sleeping while looking after her 10-month-old son for three hours.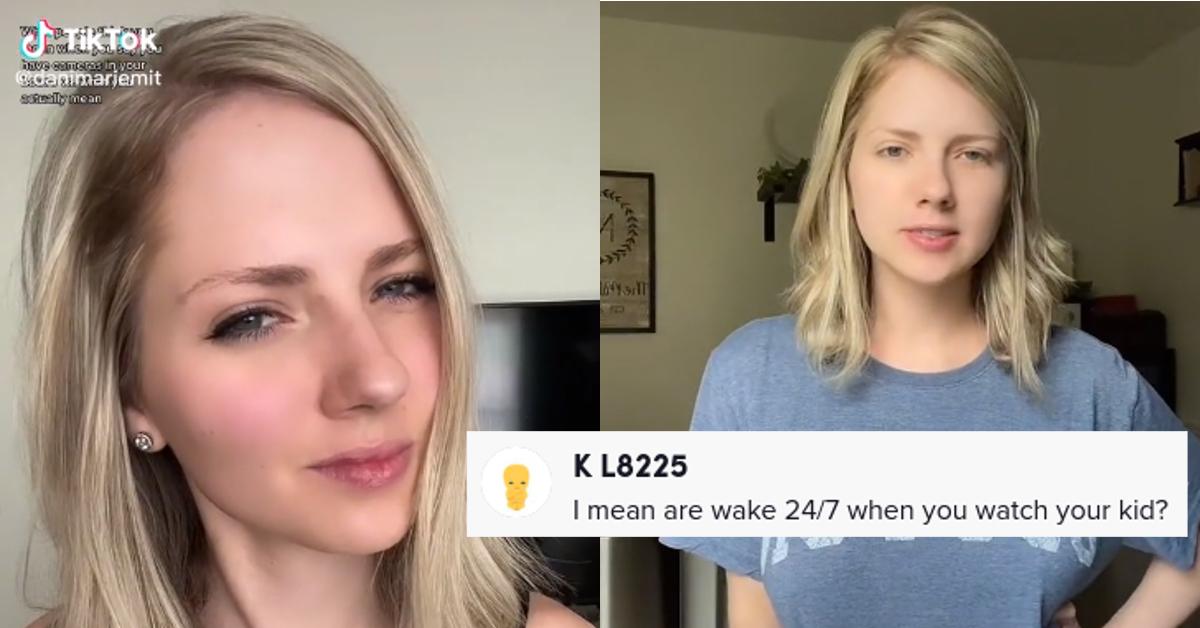 Leaving your baby with someone else is a nerve-wracking experience. For some parents, even the idea of having a close friend or family take care of your little one is a tough pill to swallow. However, there are many reasons why it's important to have a bit of distance when it comes to your children, and everyone needs a date night or some time to themselves in order to feel like a human being and not just "mom" or "dad" every now and then.
Article continues below advertisement
Some 30 percent of children in America rely on spending time with their grandparents while their moms and dads are preoccupied, and way smaller percentages are watched by other family members and close friends. Most other folks are left looking for childcare through various services, companies, or word of mouth.
Career Explorer also states that nannies have above-average workplace satisfaction as compared to other vocations. The outlet writes that individual personality traits that draw folks to this particular line of work may be the reason behind this, "Nannies rated their personality fit with their work an average of 4.0/5. The majority of nannies find their personalities quite well suited to their work, with relatively few having complaints about their fit."
Article continues below advertisement
And while it isn't difficult to understand that people get jaded with their work, no matter how great a job might seem, there's something about being entrusted to look after another person's child that is considered almost sacred in a way.
This could be why so many folks are getting up in arms over a now-viral TikTok posted by user Danielle Mitchell, who posts under the handle @danimariemit.
Article continues below advertisement
She begins the clip by asking her followers, "Am I overreacting?" then launches into an incident she had with a babysitter she hired to watch her and her husband's 10-month-old baby.

Article continues below advertisement
Danielle said her and her husband headed out on a date night together and that this was the first time that someone other than their parents were watching the baby.
She mentioned that before her and her hubby could get out of the house to have some time to themselves, the babysitter was able to rock their child to sleep in a matter of just 15 minutes.

Article continues below advertisement
She goes on to say that during their date night, she decided to check the cameras in their home and noticed that the babysitter was asleep. At first, Danielle thought that she was listening to an audiobook because that's what she said she was going to do while manning the fort. However, after she texted the sitter to let the dog inside the house and saw that there was no response from the sitter, that's when Danielle began to "freak out."
"Internally, I'm starting to freak out. She's watching our son, but she's asleep. But he's also asleep. But he's only ten months, and I don't know if she would hear him if he woke up and started crying."
Article continues below advertisement

Danielle goes on to say that even after she arrived back at her house, the sitter didn't wake up right away. What's more is that she noticed the baby monitor wasn't on, which could've excused the sitter taking a nappy-poo.
She asked her followers: "Now, I don't know what to think. Is it normal for your babysitter to fall asleep when they're watching your kids?"
Article continues below advertisement
Danielle also mentions that she wasn't out late with her husband and that they returned home by 9.30 PM. Some users asked whether or not the MomToker let the babysitter know that she was on camera, to which she responded that yes, it's obvious there are cameras everywhere in the home.

Article continues below advertisement
There were some commenters who thought that it wasn't a big deal at all the babysitter was sleeping. Some echoed those sentiments but agreed that the monitor should've definitely been turned on.
There was one commenter who argued that it shouldn't be considered a big deal that the babysitter decided to take a nap while looking after her child, because Danielle does the same thing.
The TikToker responded in a follow-up video by basically stating that it's unfair to compare the two circumstances.
Article continues below advertisement
"I actually had to think about this one, but this is what I'd say to that. First of all, I am his mother, so I am a little more attuned to him than a random person. So, if he wakes up and starts crying, I am literally up in a split second. And second, I am not getting paid, but I am paying the babysitter."
Article continues below advertisement

What do you think? Was Danielle in the wrong for expecting her babysitter to not sleep? Or is that the basic part of pretty much any job you're hiring someone for?