"So Glad I Don't Eat at Potlucks": Folks Stunned at Food Items This Mom Refuses to Refrigerate
Holy stomach problems, this mom doesn't refrigerate a ton of food after opening and it has us running to the bathroom at the thought of eating them.
According to the Department of Energy, "In 1805, an American inventor, Oliver Evans, designed a blueprint for the first refrigeration machine, but he never built a concept." Almost three decades later in 1834, a man by the name of Jacob Perkins used Oliver's design in order to build the first refrigerating machine. And while we certainly had tried and true methods of preserving food before this, having a constant cooling system in one's home was a game-changer.
Article continues below advertisement
Suddenly trips to the store were fewer and far between while the garbage mostly consisted of actual trash and not rotting food. The whole world was our fresh oyster. Since then, it feels like we've grown entirely too dependent upon our refrigerators. I know that I have this idea that everything can be stretched out if I just put in the fridge. Not everyone is like that. For example, this mom doesn't seem to refrigerate anything after opening it. Is that cool? Let's get into it.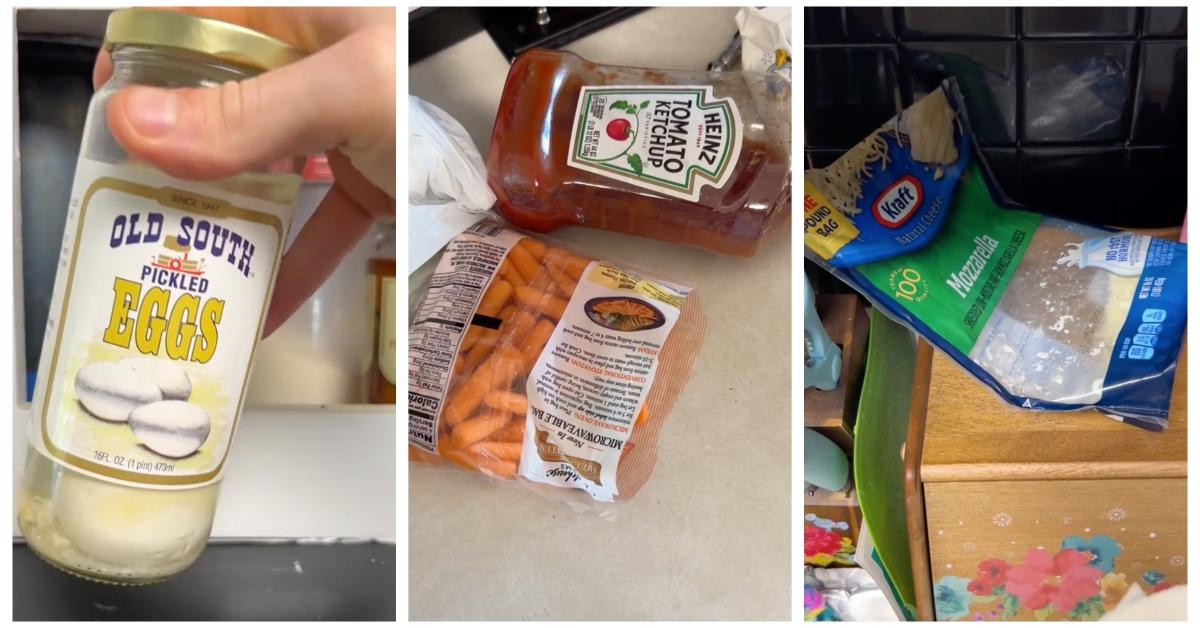 Article continues below advertisement
It's not too late to put these in the refrigerator.
I'm not sure if I actually believe in cursed objects but I do believe food that is meant to be refrigerated after opening is cursed if not placed in the fridge. The curse of course comes in the form of many trips to the bathroom, with things possibly coming out of one or both ends. Sorry if that's gross but leaving this food out of the cold is also gross!
The @joshandmomma TikTok account is exactly what you think it is. It's shared by Josh and, wait for it, his momma. These two southern cuties are committed to introducing the world to some pretty interesting food choices. For example, a banana wrapped in ham and mustard that was probably straight out of a Betty Crocker cookbook circa 1955.
Article continues below advertisement
I am actually more OK with that antiquated ham sandwich than all the unrefrigerated items tucked away in various places in Josh's mom's kitchen. Behold, a list of food that is clearly marked "refrigerate after opening" but maybe Josh's mom knows something we don't?
Article continues below advertisement
First there's the minced garlic, and I'm not referring to the dry kind. It's just seasoning the inside of a cabinet next to another opened jar of minced garlic and a can of fruit cocktail. Not since Pete Davidson and anyone have two things made less sense.
Next, Josh opens up a door and reveals a bottle of lemon juice. Now, this one I kind of understand. It just doesn't feel like lemon juice that isn't straight from a lemon could go bad. I think it's the tartness that's fooling me. Tarts are never bad, and that is a double entendre.
Article continues below advertisement
Things have gone south, literally and figuratively, when Josh pulls out a jar of Old South Pickled Eggs. On the one hand you might be thinking about how it's common for people in Europe to not refrigerate their eggs. On the other, you're realizing these are pickled which is different. These are boiled eggs and, as such, bacteria will happily move in.
Article continues below advertisement
Once again I find myself torn. Josh's mom does not put dried, grated parmesan cheese in the fridge and I'm inclined to agree. It's giving spice cabinet. Guess what, dried parmesan doesn't have to be refrigerated and is only done so to extend the shelf life! Don't be fooled by the cheese part. By the way, I spoke too soon regarding cheese because a stack of Kraft singles and a bag of shredded cheese was spotted hanging out at room temperature.

Article continues below advertisement
Josh's mom also has a ton of condiments, none of which are in her fridge. From Heinz 57 sauce to at least three bottles of ketchup — back down to mayo sitting by the sink, it's not OK! More than one person pointed out that botulism from mayonnaise is a thing but that myth has since been debunked. Still, put that mayo into the fridge.
The comments ranged from people concerned for Josh's mom's health to curiosity about why someone would need three bottles of opened ketchup. If it were me, that reason is because you forgot you had one and bought another and then another, from the grocery store.
"I'm so glad I don't eat at potlucks now," someone wrote.
At the end of the day, the saddest takeaway was don't eat at another person's house, but I reject that notion! You just have to have a meal that is room temperature–friendly.