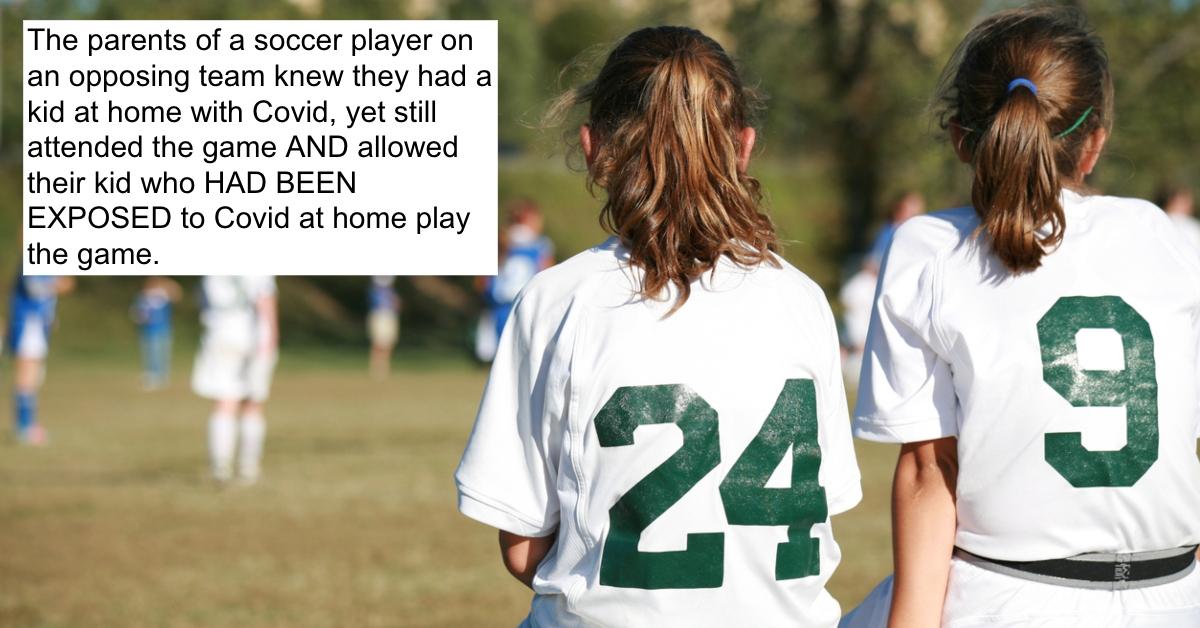 Mom Shares How 12-Year-Old Daughter Might Have Contracted COVID to Warn Others Who Think They're Being Safe
In a viral thread, mom and publishing professional Kathleen Schmidt shares how her family's entire world was turned upside down thanks to one careless family. She explains how her 12-year-old daughter likely contracted COVID after she "made a mistake" and let her play travel soccer. She was under the impression that other families were being as careful as they were, but that was not the case.
Article continues below advertisement
Some parents are letting their children play outdoor sports during the pandemic. It's been hard to be cooped up at home, and outdoor sports offer a mostly socially distanced option for enrichment. But you can only control your own behavior, and you really have no idea how careful other families are being, so it is definitely a risk. Kathleen now admits that letting her daughter play was a mistake.
The league took every safety precaution they could. But Kathleen didn't think about how parents on other teams might not be following protocol. I don't know how. Every time I go out in public, I'm thinking about how I have no idea how many people these strangers have come into contact with and how exponentially my bubble would expand if I came into contact with them. But alas, Kathleen seemed confident in how her daughter's team was operating and evidently thought other teams were doing the same things.
Article continues below advertisement
Recently, she was told a kid on an opposing team tested positive for COVID. She found out that the kid who'd tested positive had a sibling at home whom her parents knew was positive for COVID when they let her play the game. It apparently didn't cross their minds to quarantine the rest of the family knowing that one member was COVID positive. I would be livid. And Kathleen was.
Could you imagine knowingly putting so many other people in danger like this? I hate to say it, but this is why you can't let your kids play sports. This is why expanding your bubble is a very bad idea. You have no idea where people's values, knowledge, and priorities lie.
Article continues below advertisement
Soon, Kathleen's daughter started having symptoms of COVID. She's been tested, and they are awaiting the results. Now that it's likely that her daughter has COVID, she has to get to work letting any contacts know.
Her poor daughter is in isolation from the rest of the family. She's called every single place she's been since November 8, the date of the exposure. She's alerted teachers and the school nurse, not only at her daughter's school but for at her older son's school as well.
Article continues below advertisement
The whole family will be quarantined for 24 days. Luckily, Kathleen is privileged enough to be able to work from home and get what they need delivered. This is not the reality for lots of people.
Kathleen is sharing her story because it's a perfect example of how COVID can spread so fast and so insidiously through a community. All it takes is one irresponsible person. You can take every precaution in the world, but you don't have any control over how other people act.
Article continues below advertisement
The soccer season is now over, and the whole team has been told to quarantine. But there are still parents convinced that they couldn't have been exposed. Who knows if they're actually taking all the precautions they should be, even now?
It totally sucks, but you can't trust that other people are being as careful as you are. You can't let your kids or yourself out of your bubble. This is how COVID spreads through a community.
You have to assume that others are being irresponsible. For your own safety. It's tempting to want to believe that everyone is doing their part to keep people safe, but that's just not the reality. Not right now. And with cases everywhere rising, it's time to be more cautious and vigilant than we have perhaps let ourselves become. Kathleen hopes her experience will warn others, make them think twice before letting their kids and families partake in activities like outdoor sports. It's just not worth it.