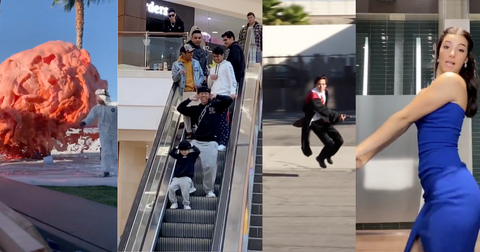 The Most-Liked Video on TikTok Is an Adorable Dance Video
By Katie Garrity

Updated
No one can question that TikTok has now become one of the most popular social media platforms to exist. The potential for a viral video on the app is astronomical. TikTok garnered 738M downloads across iOS and Android in 2019 alone. That number only continues to grow.
In 2019, the videos at the top of the charts for TikTok are completely different than what we're seeing now and that just speaks to the ever-changing trends on TikTok and how fast things move on the app. It's no surprise that many popular TikTokers take the top spots for most-liked and most-viewed videos. So who and what is at the top of the list right now?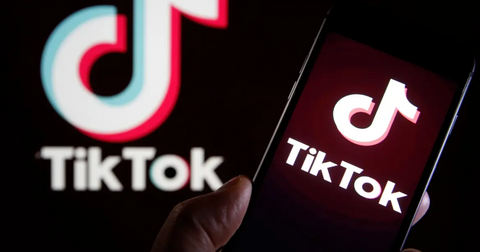 TikTok user, @justmaiko, makes out with the most-liked video on TikTok currently.
While this is subject to change because TikTok is growing and changing so rapidly all the time, @JustMaiko, or Michael Le, has the most-liked TikTok video right now with 21.5 million likes and 229.2 million views.
The video shows Michael with a little boy as they do the Ahi Challenge down an escalator in a crowded mall. The video's caption reads, "It's official: we are the CEO's of this sound."
It definitely seems like not only is he the CEO of that Ahi Challenge sound, but also the CEO of TikTok. Michael Le has 23.9 million followers on TikTok with 633.6 million video views. In many of his videos, he includes his adorable little brother.
Michael also holds the No. 3 spot for most-liked TikTok videos with a very similar video of him, once again, doing another dance challenge to "Hips Don't Lie" by Shakira while going down an escalator.
It's no surprise who else tops the list for most-liked videos on TikTok.
Internet celebrity, David Dobrik, holds the second spot for the most-liked video on TikTok. David has 17.5 million followers on TikTok with 474.8M total likes on the app. David's most-liked video is his record-breaking experiment that is similar to dropping Mentos into a bottle of Coca-Cola.
Others on the list include TikTok queen, Charli D'Amelio, and her "Get Busy" dance in a cute blue dress. Addison Rae (and her mom) are also on the list in one of their funnier TikToks where Addison surprises her mom with a song that someone wrote about her.
Zach King also tops the list with his illusion videos.
Zach King is one of the most popular creators of all social media. He has huge followings on YouTube, TikTok, and Instagram. He was also a huge presence on Vine before the app was shut down.
In one of his most popular and most-viewed TikTok videos, he makes it appear as if he is flying around on a broomstick with the Harry Potter music playing in the background. The caption reads, "They rejected my application to Hogwarts but I still found a way to be a wizard. #illusion #magic #harrypotter"