People Are Rallying to Ban This Mother From Ever Naming Another Child
Picking a name for your child is a tough choice, there are so many great names to choose from. Which is why people are wondering what the heck is going on with this mom's "name board."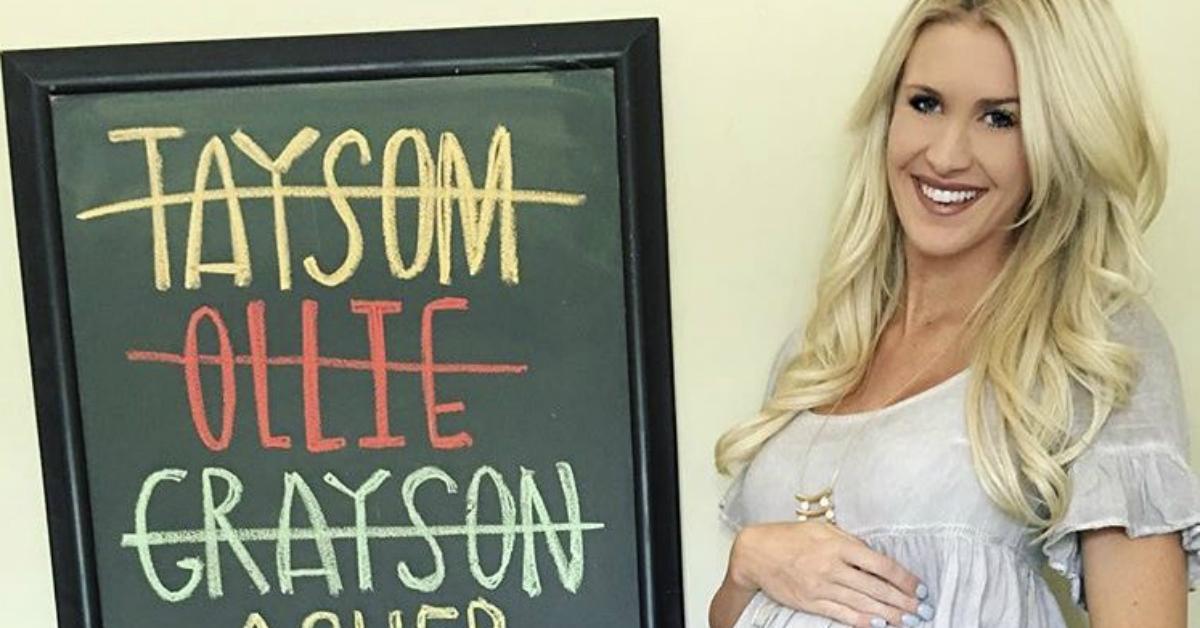 A new mom is getting roasted online yet again for putting photos up of the "name boards" that she created before giving birth to her children.
And there's a part of me that finds it difficult to get on someone's case, especially a parent's, for wanting to name their kid something a little out of the ordinary. You want such remarkable things for your children. You want them to lead remarkable lives.
Article continues below advertisement
So you get to thinking that maybe if you give them remarkable names, you'll give them a headstart in life, because they're going to emerge from your glorious womb with an even more glorious moniker that'll set them up for greatness and it's all because you took the hallowed ceremony of attributing your seed a name seriously, like the loving mother you are.
But what if the names you selected are pretty darn roast-worthy?
Obviously, everyone's got their own opinions as to what constitutes a "great" name and what doesn't. But there seems to be an overwhelming number of people on Twitter who can't get over the name selections this one mom conjured up for not one but two of her children.
Let's take a look at her first baby and what she had on the agenda: Taylee. McKarty. Nayvie. Maylee. Lakynn.
I know some people will think I'm the last dude to comment on someone's name: my first name is the butt of a You Don't Mess With the Zohan joke and my last name is the bane of telemarketers everywhere.
Article continues below advertisement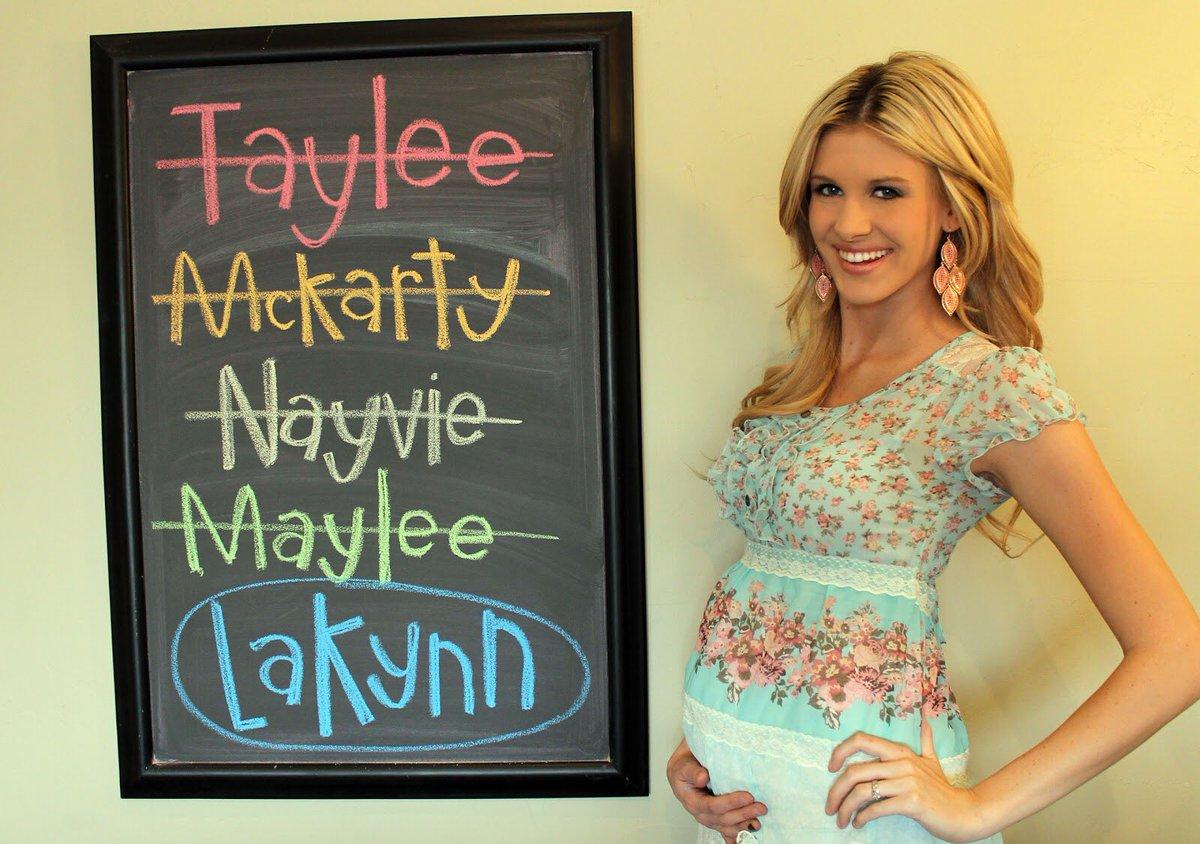 But even I could argue, along with other Mustafas around the world, that there's some history behind my name: no one in Egypt or the Arab world are going to be like, "Where did you...conjure that up?"
They're gonna be like, "Oh Mustafa, nice, meet my brother whose name is also Mustafa and there's also a song about your name and some very nice Urban Dictionary definitions."
Article continues below advertisement


Article continues below advertisement
And this proud Mama, in spite of all the lampooning and roasting going on on the internet about her name, decided to stand firm and come up with a bunch of other prospective names for her second kid.
She decided to go the "unconventional route" yet again and come up with some names that sound like they were hand-picked from a Tumblr Writer's workshop Young Adult novel: Taysom. Ollie. Grayson. Asher. Tatum.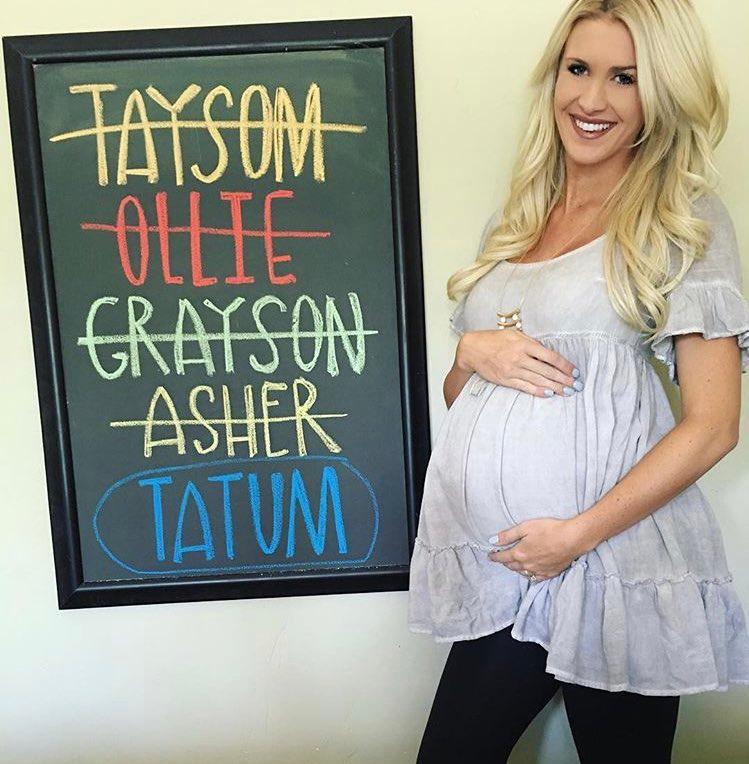 Article continues below advertisement

She decided to ultimately go with "Tatum." I enjoyed Magic Mike: XXL as much as the next guy and credit Channing for helping to establish and create a wonderful franchise centered around the misadventures of a bunch of male strippers who really, really love sensual dancing, but I might leave my love for that at the door when it comes to naming my child.
Then again, I wanted to name my son "Mack" just because I thought it'd be cool if he was in any kind of sport and people could chant, "HERE COMES THE MACK TRUCK" whenever he showed up at the stadium.
Article continues below advertisement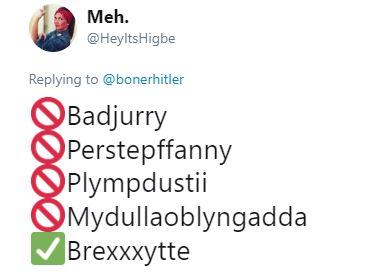 Article continues below advertisement
It didn't take long either for other people who had names that were created by blending two "standard" names and then messing with the spelling to enter the fray.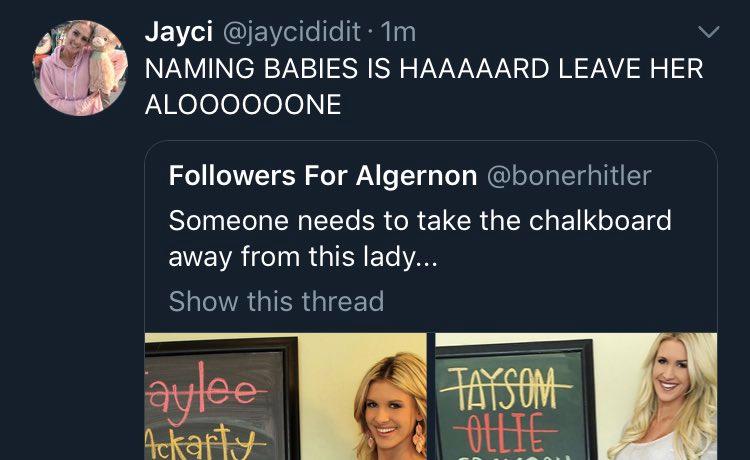 Article continues below advertisement

To Jayci's credit, however, she did take the whole thing rather well, and there were plenty of other people with non-traditional names of the "Taysom" variety to chime in and offer their thoughts.
Article continues below advertisement


Article continues below advertisement
Then it became a free-for-all of ridiculous-on-purpose names that honestly, don't stray too far from the mom's two boards that started this whole Twitter thread.

Article continues below advertisement

What do think? Are people just being mean? Or is it mean to subject a kid for the majority of their young life to be called Nayvie? And why not just spell it "Navy?"