Everything You Need to Know About HGTV's New Show 'Mountain Mamas'
'Mountain Mamas' is HGTV's newest house-hunting show set in Montana! Real estate pros Jackie Wickens and Trecie Wheat Hughes star in the show, making future-homeowners' Big Sky dreams come true.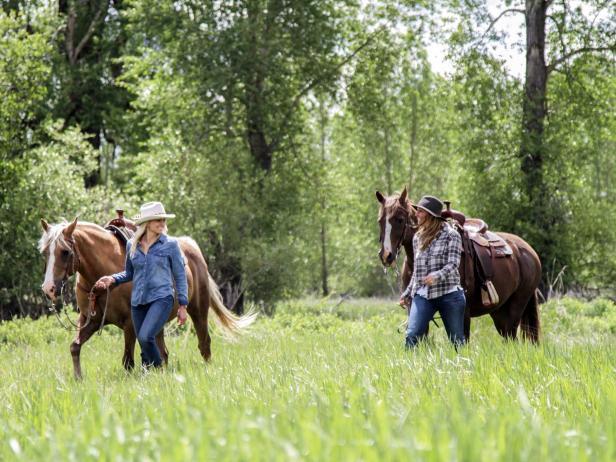 Get ready to become obsessed with Mountain Mamas, your new fave home-buying TV show. Unlike other house-hunting series like Fixer Upper, Flip or Fop, House Hunters, or Love it or List It, HGTV's Mountain Mamas is set in Montana, aka Big Sky country. Premiering Aug. 10 (this Saturday), you'll be able to watch two back-to-back episodes at 11 and 11:30 p.m. EST/PST. Here's a guide to everything Mountain Mamas:
Article continues below advertisement
Who's starring in Mountain Mamas? Meet Jackie Wickens and Trecie Wheat Hughes.
Mountain Mamas is being led by Jackie Wickens, a real estate guru. According to Pure West Real Estate, Jackie started helping clients with selling and buying homes in 2012, and specialized in residential, farm, ranch, and recreational homes. She has over 17 years of construction background. On the site, she states, "Attention to detail and my commitment to customer service are just a few things that drive me to accomplish my client goals. I approach life and work with sincerity, honesty, and compassion." When she's not working, she hangs out with her husband and two kids.
Article continues below advertisement
Trecie Wheat Hughes, also a real estate professional, joins Jackie in leading Mountain Mamas with her amazing eye for design and architecture. According to Christie's International Real Estate, Trecie has been in the real estate game since 2003 and is an "expert in the Historic Districts of Livingston and Bozeman."
Article continues below advertisement
Why Montana?
Simply said: Its beauty. According to HGTV, "Viewers will be wowed throughout the season with custom design elements including a river rock tiled master shower, an outdoor living room complete with fireplace, and a media room with a vintage movie theater vibe." It'll be unlike most settings viewers are used to with other house-hunting shows. And more and more people are moving to Montana every year.
"A lot of people dream of living in Montana. We help buyers moving here to get into their dream home," Trecie states. "But living in a place this beautiful comes with a cost. If you're willing to look at a property that has potential, the price drops dramatically," Jackie adds.
Hello, fixer-uppers galore!