10-Year-Old Nandi Bushell Is Dave Grohl's Favorite Drummer
Here's what you need to know about British multi-instrumentalist Nandi Bushell, who has already been recognized by her hero, Dave Grohl.
You've heard of The Little Drummer Boy, but do you know the little drummer girl? 10-year-old Nandi Bushell is quickly becoming a social media icon, and her hero, Nirvana and Foo Fighters' Dave Grohl, has even described her as the "best drummer in the world."
Article continues below advertisement
So, who is this child prodigy multi-instrumentalist? She counts Lenny Kravitz among her friends, and he has said, for his part, that Nandi inspires him.
Keep reading while we learn more about this talented drummer, guitarist, bassist, producer, singer, and songwriter.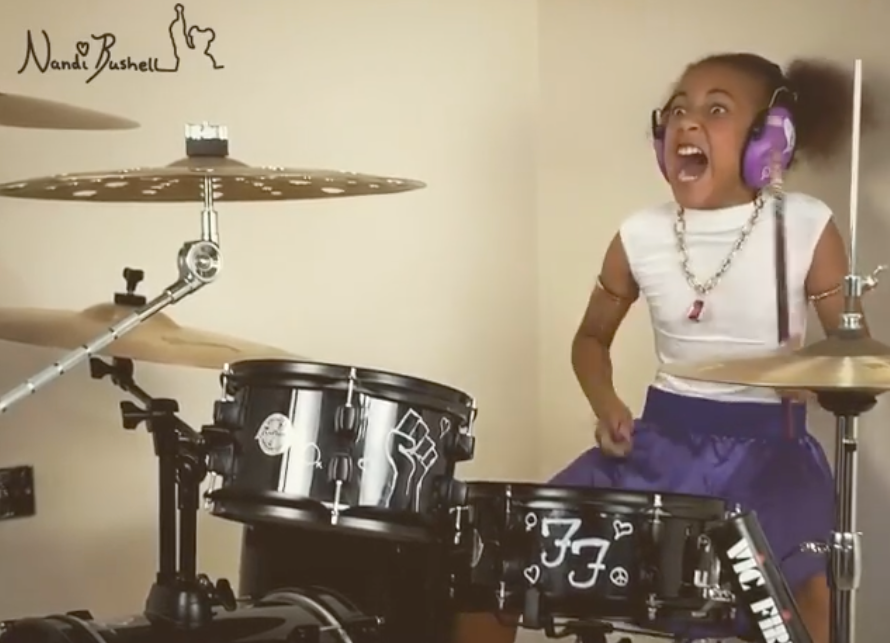 Article continues below advertisement
Who is Nandi Bushell?
10-year-old Nandi has over 19 million views on the YouTube channel she's been keeping since the age of 6. The child of British and Zulu parents, Nandi he has garnered attention from some of the most renowned musicians in the world, and started her own career as a musician at the young age of 5.
The Ipswich resident "always liked listening to the Beatles and looking at Ringo Starr's drum kit," she's said in interviews. Having dreamt of playing like Ringo, at 5, Nandi went to a toy store one weekend with her parents, after they decided to reward her for her excellent grades in math.
Article continues below advertisement
"Of course, I picked out a toy drum kit and from then on, a couple weeks later, I was better than my dad," she says of her father, a drummer and guitarist, who she credits with teaching her all "the really, really, really basics."
Article continues below advertisement
Her parents, who realized she had impeccable timing and rhythm, then had Nandi take lessons. The rest, she taught herself on YouTube.
But the fact that she's received praise and touring invitations from world-renowned musicians doesn't have Nandi resting on her laurels. While she has already appeared on a number of TV shows, like The Ellen DeGeneres Show, she explains she still keeps a regimented practice schedule.
"On Fridays, I go home, I have a snack, and then after that I do my drum practice," she told Norwegian presenter Fredrik Skavlan on his talk show. She explains warming up, practicing the songs she wants to do, jamming out with her dad, and then also focusing on "some technical stuff like jazz and samba."
Article continues below advertisement
Nandi and Dave Grohl are each other's biggest fans.
But Nandi, who just finished the sixth grade (and completed fifth grade "with distinction") is also a star at school, and plans to "be a mathematician" if music doesn't work out for her — which we are positive it will.
To date, she not only drums, but also plays the bass, guitar, sings, writes songs, produces, and arranges remixes to her favorite rock and roll tracks.
Article continues below advertisement
That said, the most exciting thing to happen to Nandi in the past few months has to have been the fact that her "top favorite drummer" Dave Grohl has not only caught notice of her, and not only done drum battles with her on social media, but also written a special song just for her.
"UNREAL!!!" she captioned a video on Instagram. "I can't believe Mr. GROHL wrote a song about me! This is so so so EPIC!!!! I think it's the best song EVER, in the WORLD, like EVER!!! Thank you so much Dave. You have raised the stakes to all instruments!"
We can't wait to see what this rising star does next.