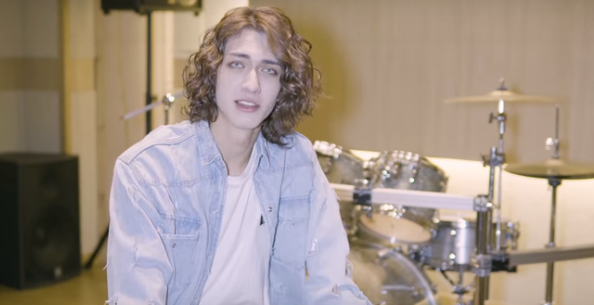 K-Pop/Rock Band Manager for About U Allegedly Fires Drummer Over Snapping Drumstick
Although I couldn't name a single K-Pop song, I know just how much of a worldwide phenomenon the music genre is from the sheer adoration and copious amounts of "stanning" folks on Twitter do for their favorite bands. What's really interesting to see, over the years, are the shifting trends in the K-Pop scene, with some bands now, like About U, incorporating live instrumentals and more rock elements into their performances.
But their drummer, Victor, won't be with the band much longer.
Article continues below advertisement
Victor says on his YouTube channel that he's been permanently relieved of his skin-bashing duties for About U despite training to be a top drummer for some eight years. And the reason? Because after a vigorous and technically impressive performance, he struck a final pose by snapping a drumstick and staring into the camera. Was it a little goofy? Absolutely. A middle-school kid's idea of trying to look cool? Definitely.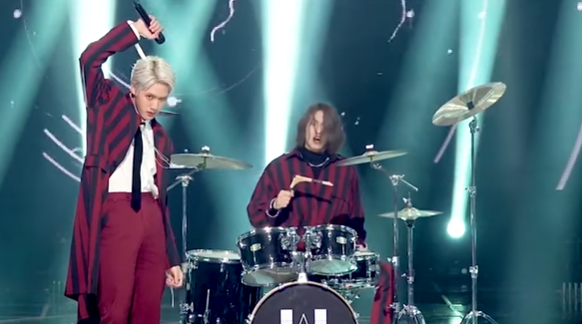 Article continues below advertisement
But is it worth firing a drummer over? No freaking way. Drumsticks break during performances all the time, and anyone who's drummed consistently for even a few months will tell you that sticks get worn down pretty quickly. It's not like the things are expensive, either, nor was his stick-snapping stunt particularly violent or suggestive. It's not like he made an obscene gesture with it or anything afterwards. He kind of gave a vacant stare while holding the stick in front of him.
But Victor alleges that this very act is what cost him a spot on the band as he was approached by a manager shortly after the performance and told that not only was he banned from performing on TV, but that he was let go from the band.
Obviously, these reports are coming straight for the drummer himself and in a YouTube video, he provided a clip of the act that apparently got him fired from the band.
Article continues below advertisement
It's difficult to imagine, however, that this is the only reason Victor was let go, as some people on Reddit began speculating: "I honestly think he must've been on thin ice already. I mean, yeah, arguably, this would be poor manners or disrespecting property - but breaking props is nothing really new in a performance? And drumsticks aren't super expensive? There must be more to it than just that. I'm almost certain they were looking for an excuse to fire him." - coffeencats.
Article continues below advertisement
Others pointed out just how common it is for musical instruments to fail/break or be replaced during shows. Guitar strings snap during shows and back-up instruments and replacement strings are always at the ready: "I agree. It's not unusual at all for drumsticks to break during performances, just like guitar strings etc. Surely there has to be more to the story than this." - MaxvanDam.
Hilariously enough, Victor seems to be most upset over the fact that his mom might discover he's been dropped from the band, because he's been training to be part of a a high-profile K-Pop band for eight years and only got to spend three weeks in the limelight as a result.
In a secondary video, however, he said that the greater concern from the band's management was that they thought he was "too reckless" and breaking the drumstick was indicative of potentially bigger problems down the road.
Article continues below advertisement
I guess whoever's in charge of guiding the band really isn't into rock 'n roll culture and what Victor did was tame by other artists' standards. I'd love to see 21 Savage managed by a K-Pop band producer if that was the case. "Hey, so your history of murder is kind of a concern for us..." man, I'd pay so much money to see that happen.
Article continues below advertisement
Victor went on to say that they thought he'd do things like "take off his shirt" or start yelling during a performance, because, you know, god forbid anyone have fun while performing music.
He went on to give nothing but praise to his fellow band members and asked fans to still support About U regardless of what management did to him. He says that there are other aspects of music he enjoys, like playing guitar and composing, so he's hopeful about his future.
As of now, he could probably ride this drama to get a certain number of subscribers, especially people who are livid that he was released for such a petty reason.