Woman Spots Ex-Husband and Nanny Getting Too Close in Disney Vacation Photos
A woman was scrolling through old photos of a family vacation when she noticed her ex husband was a little too close to their Nanny on the trip.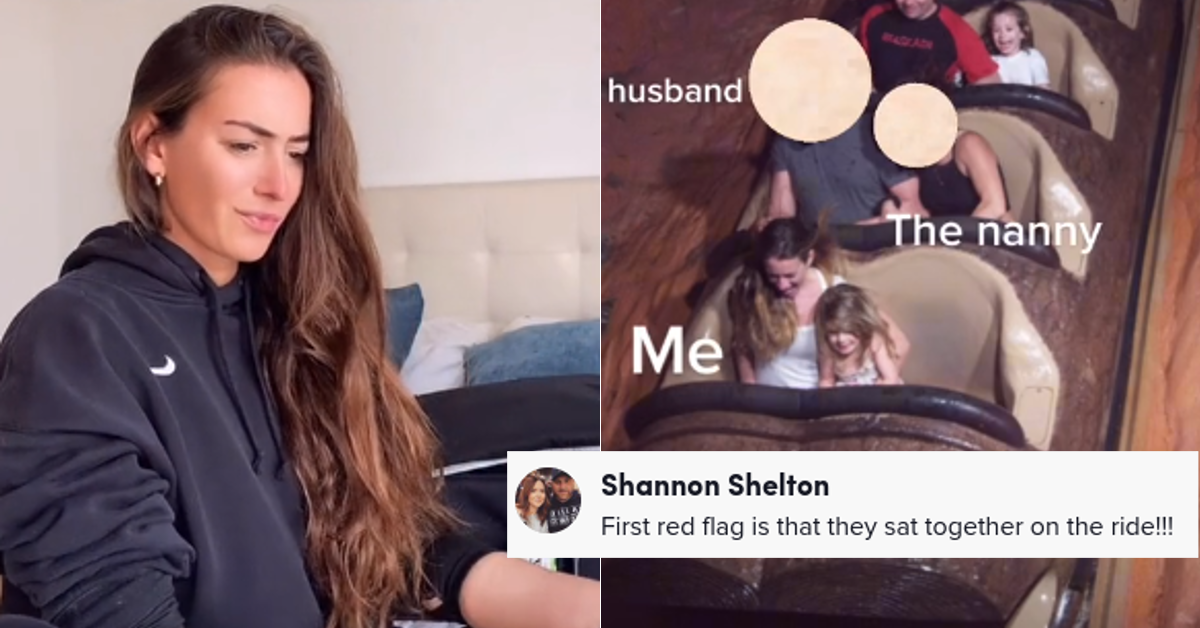 Sometimes when we're deep into a relationship with someone, we can easily lose sight of a lot of red flags that we may have otherwise seen when we were just beginning to date them. Perhaps it's because so much of our personality becomes intertwined with our significant other at some point that we simply don't pay attention to those red flags because we're so busy trying to make that relationship work.
Article continues below advertisement
And then, as is often the case, when we end things with that person and start to look back at certain moments in the relationship, there are particular things that begin to stand out. This is especially true of a partner that we caught or suspected of cheating at some point. Instances where they were hanging out with their "friends" until odd hours of the night.
Or perhaps we noticed that there was a time period when they were seemingly a bit too over-protective of their phone or they were talking too much with a coworker. Or, like this TikToker noticed while scrolling through old pictures of her ex-husband while they were on a family vacation, being a little too comfy and cozy with a nanny they brought on said vacation.
Article continues below advertisement
Natalie, who posts under the handle @ibizadaze wrote in the caption for her video: "We went to Disneyland in Orlando and took the nanny with us. To help with the kids…. Not the husband #divorcetok #divorcediaries #exhusband."
Article continues below advertisement

In the clip, Natalie dramatically re-enacts her reaction to seeing the photo in question and then shows the photo in question which depicts her and one of her children sitting at the front of the ride while her husband and the nanny sits behind them.
Article continues below advertisement

The Nanny can be seen clutching her ex-husband's arm, which lead Natalie and commenters on the post to believe that there was something going on between the two of them.
Article continues below advertisement

Some were shocked at the brazen attitude of her ex and the nanny, especially because it's common knowledge that photographs are usually taken on theme park rides.
Article continues below advertisement

Others just couldn't believe that they were caught re-handed, while several other TikTokers stated that her ex was basically airing out all of his red flags for his wife and everyone at Disney World to see.
"Oh my god. The worst. I was a live in nanny as well and I would NEVER."
Article continues below advertisement

"Proves that guys really want a mommy first, then lover. Wives and women want partners. He prob needed a nanny more than the kids. Just saying."
"I just don't know how I'd ever recover from that. It's just too unfair. They are so wrong!!!"
"You were too nice. Never get a young nanny. Always get a old grandma."
Article continues below advertisement

Others joked about the entire situation: "You would never have had this problem if you had hired Mrs. Doubtfire."
What do you think? Is this evidence that her ex was cheating on her with someone they hired as a Nanny? Or was she grabbing on for deal life to deal with the velocity that riding down the log on Splash Mountain generates?