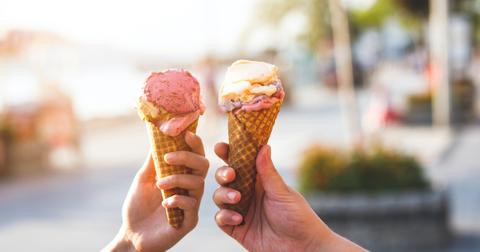 We're Literally Melting Over These National Ice Cream Day Deals for July 19
By Lizzy Rosenberg

Updated
Although the remainder of summer is devoid of any major holidays, National Ice Cream Day is on Sunday, July 19, and celebrating with a cone or sundae is absolutely mandatory.
So, to beat the summer heat on this glorious holiday, we've compiled a delicious list of National Ice Cream Day deals that will literally make your heart melt.
Free scoops at Baskin-Robbins via DoorDash*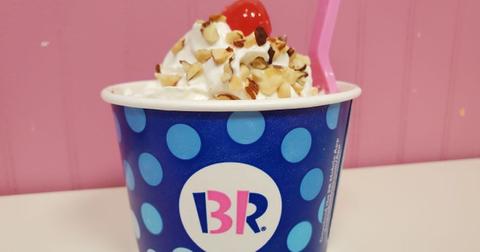 Your favorite ice cream chain with 31 unique flavors is offering customers a free regular scoop with no delivery free, with all DoorDash purchases of $15 or more. Simply use the promo code BASKINSCOOP at checkout to get the deal on July 19.
Buy One-Get One half off soft serve and sundaes at GODIVA
GODIVA boutiques and cafés are re-opening just in time for National Ice Cream Day, so to celebrate on July 19, customers can get BOGO 50 percent off all sundaes and soft serve cones, per a press release. Customers can choose between several soft serve flavors, including Signature GODIVA Dark, Classic GODIVA Vanilla or a swirl of both flavors, as well as several waffle cone flavors, from dark chocolate decadence, to chocolate dipped and dipped with almonds.
15 percent off online orders from Coconut Bliss*
Dairy-free ice cream company, Coconut Bliss, is celebrating National Ice Cream Day all weekend long. From Friday, July 17 to Sunday, July 19, customers will be able to use the checkout code, BLISSDAY15, to get 15 percent off all online orders of four or more products, so get ready for a deliciously vegan feast.
Win free ice cream for a year from Casper's Ice Cream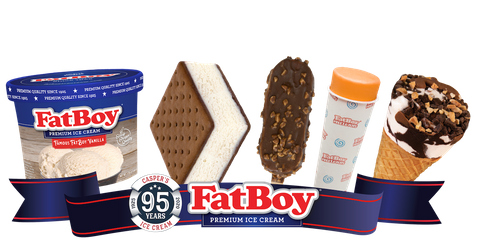 Casper's Ice Cream (owner of FatBoy, Jolly Llama, Churnbaby) is celebrating its 95th anniversary in tandem with National Ice Cream Day, and to celebrate, they're doing a major of ice cream giveaway on Instagram. To enter, according to the press release, post a video to Instagram of yourself "screaming for ice cream" to your Stories or as a grid post, and tag at least one of the accounts (Churn Baby, Jolly Llama, or FatBoy).
Use the hashtag #iscream4icecreamCB, #iscream4icecreamFB, or #iscream4icecreamJL (depending on which account you tag), and the best video will be selected to win a year's worth of free ice cream. The giveaway opens July 19 and closes July 27, before the winner is announced on July 28.
2x Real Rewards points from Yogurtland*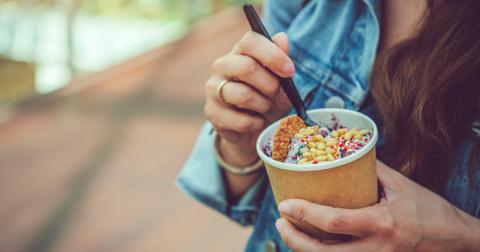 Yogurtland is celebrating National Ice Cream Day by doling out double Real Rewards points for all takeout orders. Don't forget to load up on toppings.
Free Coolhaus products*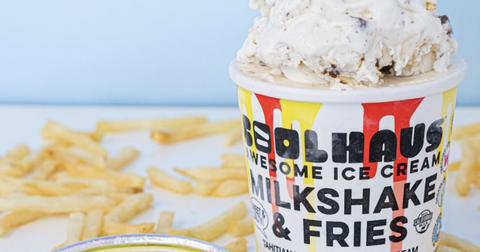 For an at-home treat, Publix is giving 20,000 customers the chance to get one free Coolhaus item with a downloadable coupon on July 18 and 19. The freebies are first-come-first-serve, so get it while it's hot (er... cold).
Win a job tasting ice cream with BonusFinder USA
BonusFinder USA is providing ice cream lovers with the chance to rank ice cream for a living, $500, and endless taste tests from a variety of brands from the frozen isle. To apply, fill out the online application before July 27 and explain why you're the perfect candidate. The winner will be announced on July 29.
BOGO ice cream sandwiches at Insomnia Cookies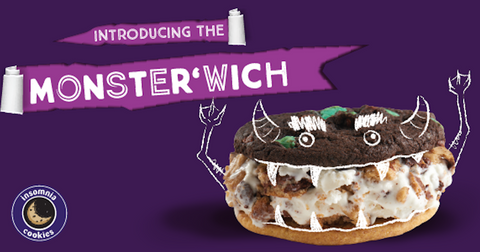 Insomnia Cookies is getting in on the fun with a new creation, the Monster'wich, which sandwiches a scoop of ice cream between any two traditional cookie flavors. And to celebrate National Ice Cream Day, according to the brand, fans can get BOGO Monster'wiches on July 19, so prepare for double the fun.
$0.85 cones from Friendly's*
Friendly's is celebrating the delicious holiday July 18 and 19, by offering BFF club members free single ice cream cones for $.85.
Win a spot in the Fantasy Flavor Scoop Off from Häagen-Dazs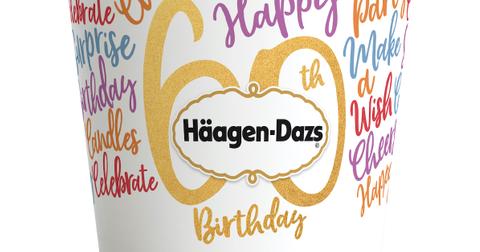 Häagen-Dazs is giving fans the chance to win a totally customized fantasy ice cream flavor. To enter, follow the brand on Instagram, find their National Ice Cream Day post on July 19, share your most creative flavor idea in a comment, that starts with "My contest entry," and tag a friend in the same comment. Eight ideas will be selected to face off in a Fantasy Flavor Scoop Off bracket, and the winner will receive their dream flavor.
$10 Ben & Jerry's and Talenti pints from goPuff*
From July 13 through July 18, goPuff, a convenience store delivery app, is offering two $10 pints of Ben & Jerry's and Talenti Ice Cream for just $10, and on July 19, any two pints will only cost you $6.
"Buy 1, Save $1" for single-serve So Delicious products via Instacart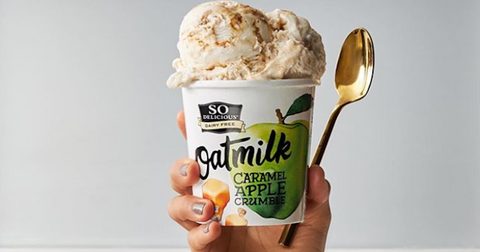 Through Sept. 27, So Delicious is teaming up with Instacart to offer "Buy 1, Save $1" for all single-serve ice cream products, as well as a "Buy 2, Save $1.50" deal for ice cream pints.
Ice cream giveaway from Sensodyne*
While toothpaste and ice cream generally don't mesh, Sensodyne is running a Twitter giveaway for New York City, Los Angeles, Chicago, San Francisco and Philadelphia residents, that will award winners with a cooler bag, filled with one pint of ice cream, an ice cream bowl, delicious sundae toppings and Sensodyne toothpaste. Simply tweet #SensodyneSundae, #giveaway, and the ice cream emoji on July 19.
$1 off Dipped Cones from Dairy Queen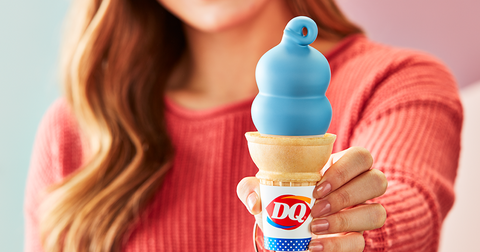 Dairy Queen is offering fans $1 off Dipped Cones on July 19, according to the brand, so we're obviously trying the new Cotton Candy Dipped Cone.
Win a Thrifty Thermo from Rite Aid*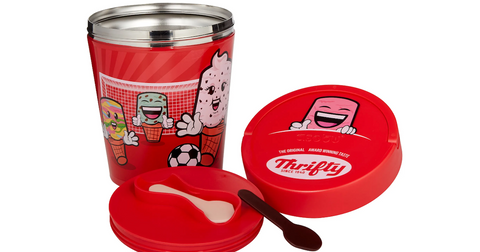 Rite Aid is giving Wellness and Rewards members the chance to win a free Thrifty Thermo to keep their ice cream cold, and luckily, signing up is free.
7-Eleven is now offering My/Mo Mochi Ice Cream Balls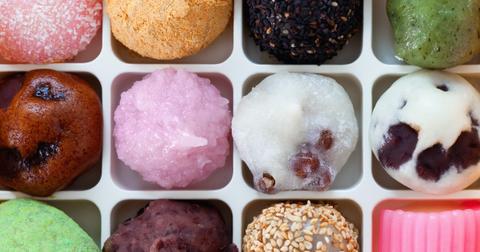 7-Eleven is celebrating National Ice Cream Day by offering new two-packs My/Mo Mochi Ice Cream Balls in Ripe Strawberry and Sweet Mango. Each two-pack costs of $2.99 and can be found at participating 7-Eleven locations nationwide.
National Ice Cream Day is what we've been waiting for all summer long. We're already looking forward to next year's celebration.
*These deals have been provided by Sara Skirboll, Shopping and Trends Expert at The Real Deal Blog.