Dairy Drinkers, Let's Talk — Here's Why Canada Has Bagged Milk
Americans are used to seeing dairy milk sold in cardboard cartons or plastic jugs, so why does Canada have bagged milk? Let's explain the mystery.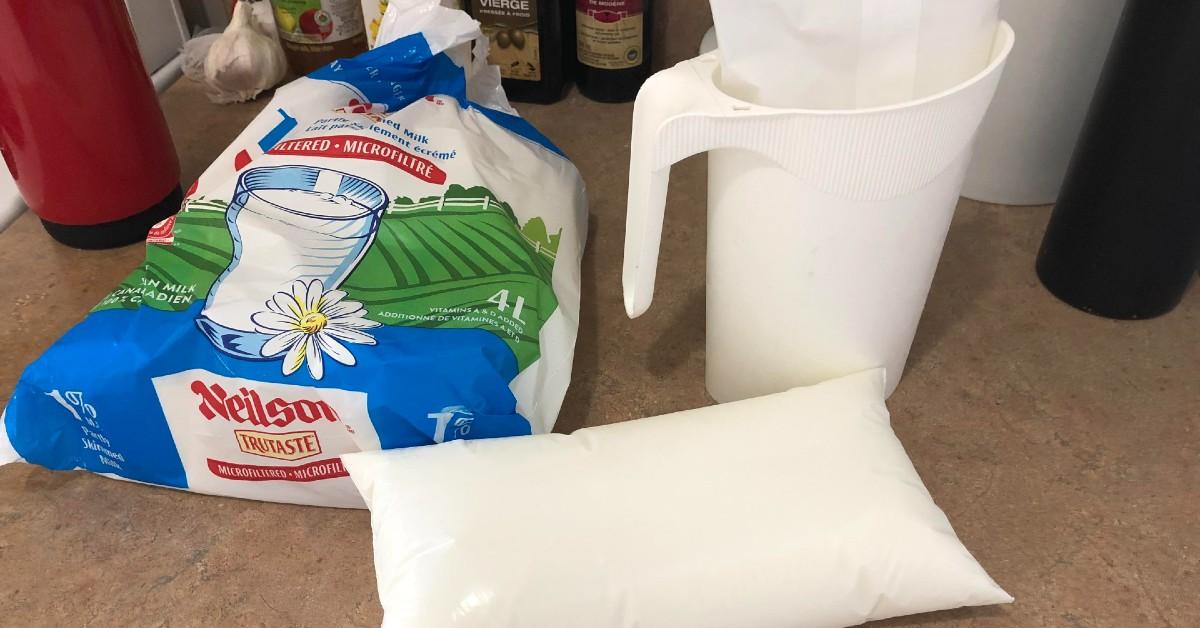 Milk has seen, well ... it's seen a decline in popularity over the last several years. From oat milk to soy milk to nut milks (we really can't live without our caramel oat milk lattes), alternative milks are taking over, but dairy milk is still a thing. And it's still sold in cartons — well, it is in the U.S.
Article continues below advertisement
It tuns out that Canada sells cow juice in plastic bags. That's right, not gallon jugs, not cardboard cartons, but baggies. Imagine just opening your fridge to find an IV bag full of milk, ready to be used for your bowl of Corn Flakes. It's unreal. But why, what is the reason (cue Cardi B)? And did Canada print photos of missing children on said baggies? OK, probably not, but still, we have lots of questions.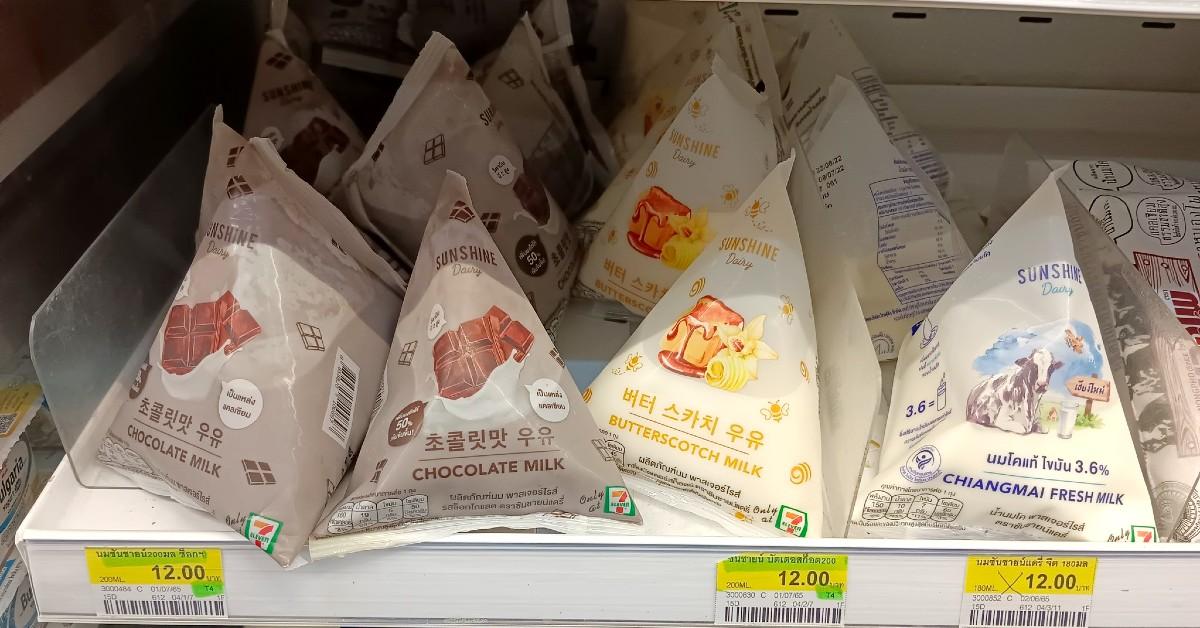 Article continues below advertisement
Why does Canada sell bagged milk?
According to the Canadian Broadcasting Corporation, bagged milk is a weird staple in Ontario, Quebec, and Maritime provinces, but other parts of Canada are strangers to the impractical phenomenon.
"Whenever I have American friends visiting, they think the milk in my fridge is totally ridiculous," CBC reporter Jonathan Pinto admitted. "In Detroit, milk comes in jugs."
It really is inconvenient to snip the corner of a bag of milk only to put it in a pitcher and pour it from there. There are just too many steps; why is that? Well, think about the things that differ between the U.S. and Canada. The latter has far more maple syrup than America does, the people are much kinder (New York is not for the faint of heart), and, oh yeah, they have the metric system.
Article continues below advertisement
As detailed by the CBC, Canadian milk bags were birthed in the late 1960s. So, when Canada converted to the metric system in the '70s, the dairy industry needed to resize milk containers, which were measured in imperial quarts at the time. The cheapest way to do that involved sticking with the bags, which the industry was already testing at the time anyway.
Article continues below advertisement
"Changing a one-quart bag to a 1.3-litre bag was relatively painless, so three-quart bags of milk quickly became four-litre bags across parts of Canada," the CBC wrote. This was in comparison to resizing big glass bottles, which would be a fairly costly process.
But when plastic jugs became a cheaper alternative to glass, some parts of Canada opted for the now-classic jug of milk. And while Alberta and British Columbia are practically void of bagged milk, Ontario has held onto the weird dairy packaging. And yes, there's a historical reason for that as well.
Article continues below advertisement
Apparently Ontario has a strange little restriction about how much milk you can purchase in specific containers. Regulations didn't allow the sale of more than one pint of milk in containers that weren't "plastic film pouches (aka bags), laminated containers, or coated paper containers," the CBC wrote.
"I think it was a historical regulation that stemmed back to the days when plastic jugs were very rare in the marketplace," Dan Wong, president of the Western Dairy Council, told the outlet.
It kind of seems like they're sticking to the plastic milk bags for the gag of it all.
Rather than implement a deposit or recycling program for gallon milk jugs, retailers found it easier to sell giant bags of milk.
And though this odd regulation was adjusted in 2018, milk baggies are just what Ontarians know. Maybe one day they'll get to enjoy secretly drinking milk from a gallon jug, but until then, milk IV bags it is!