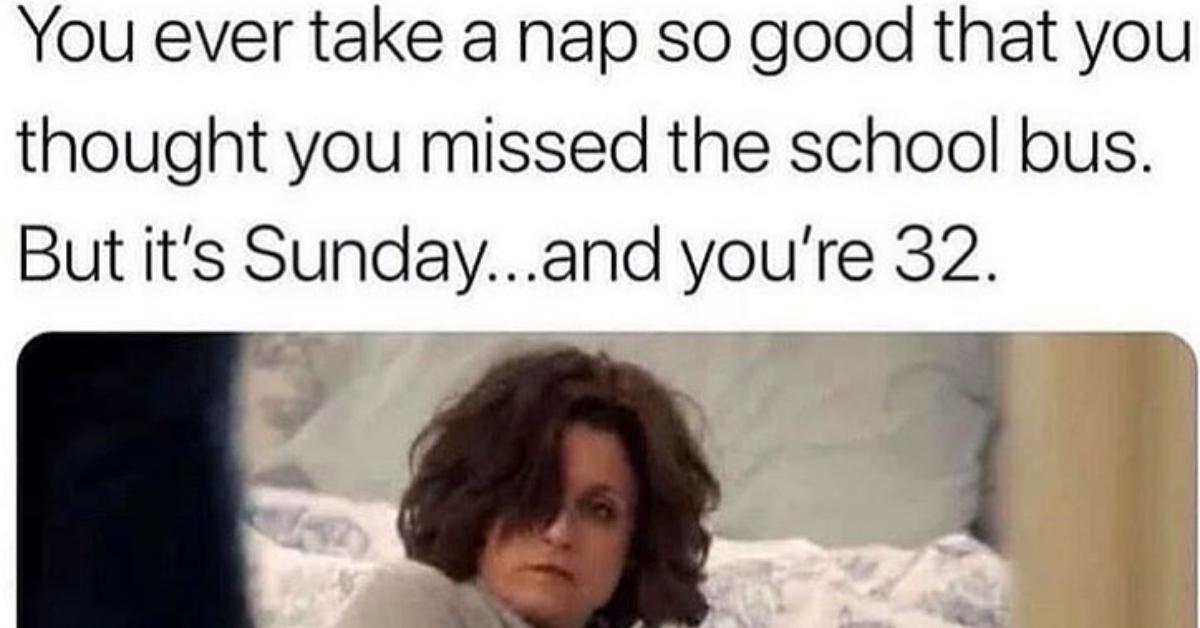 Before You Snooze, Check Out These Hilarious National Napping Day Memes
While many people struggle to make it through Mondays as it is, there's no denying that the one after spring's Daylight Saving Time is one of the worst of all. Getting an extra hour of sunlight in the evening is great and all that, but did it really have to come at the expense of our sleep?
Thankfully, National Napping Day is on March 9, which in 2020, means that it came at the perfect time: the day after Daylight Saving Time.
Article continues below advertisement
Now, you can take that midday snooze at the office and justify it to your boss that you're simply celebrating a holiday. There are also many mental and physical health benefits to taking a nap during the day, which is really just cause for taking two naps to celebrate.
If you're the type of person who needs some light reading before being able to fall asleep in the middle of the day, we have you covered. Read on for the National Napping Day memes that will inspire you to sleep.
1. National Napping Day is a way of life.
People are entitled to celebrate National Napping Day as they please, but we suggest that actually taking a nap is the best way to honor the occasion. While some will be imbibing coffee like it's another job, a good midday nap is a fantastic way to recharge before getting back to work or school.
Article continues below advertisement
2. You really can't argue with this logic.
There are three types of people in this world:
1. Those who plan their days around their naps.
2. Those who plan their naps around their days.
3. Those who don't take naps at all.
Those who identify most closely with No. 1 will find this sign to be very relevant.
Article continues below advertisement
3. Kids don't know how lucky they have it.
We shudder to think of a time when we actually used to cry to our parents about not wanting to go down for a nap, even though we'd be wildly cranky if we didn't take one. As kids, taking naps was an everyday thing, and nobody told us that one day we'd have to stay up for way more than a dozen hours at a time. We're still just as cranky without a nap, by the way.
Article continues below advertisement
4. All the greats took naps.
The Bachelor Season 21 alum Corinne Olympios gets the importance of napping. After all, the season's (lovable) villain was actually reprimanded by the other ladies for napping through a rose ceremony. She went on to have this amazing quote about the great people before her who took snoozes (though who really knows if what she said is true), and now she's one of the unofficial spokespeople for National Napping Day.
Article continues below advertisement
5. Napping went from a punishment to a reward.
Once again, many are using National Napping Day as a time to remind us of the period in life when napping was a much-hated time of the day.
Article continues below advertisement
6. Napping is always a gamble.
Oftentimes, you don't control a nap, the nap controls you. Whether you set an alarm to wake up from a nap or you hope that your body will wake itself up after a few minutes, there's no telling what time you'll ultimately get up.
Article continues below advertisement
7. National Napping Day couldn't have come at a better time.
Though you're really supposed to adjust to Daylight Saving Time by adapting to the new schedule, it's not easy. Napping might be a bit of a cheat, but there's a reason why the national commemoration of the midday slumber falls right after the spring Daylight Saving Time.
Article continues below advertisement
8. Don't let work get in the way of what's really important: taking that nap.
We can't exactly assure that your employers will be happy to see you taking a snooze during work hours, but if there's ever a time to try, it's on National Napping Day.