7 Hilarious Leap Day Memes and Tweets to Ring in February 29
The best Leap Day memes are here so you can celebrate February 29th — whether you choose to spend the extra day being productive or doing nothing.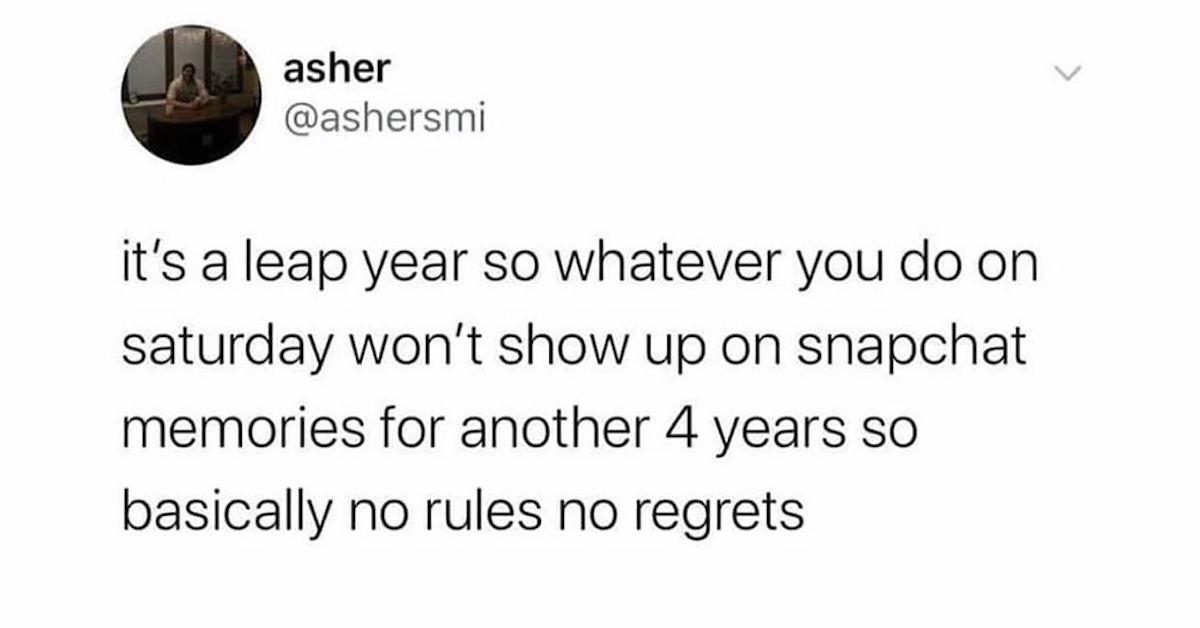 Because the Earth's rotation around the sun does not take exactly 365 days, every four years, we get the gift of Leap Day. While many only get through the drudgery and terrible weather of February because it is the shortest month of the year (by far), Feb. 29 comes around once in four calendar years to make it just a bit longer.
Article continues below advertisement
Naturally, because 2020 is a leap year, the internet has chosen to commemorate the special occasion by creating a plethora of hilarious memes.
While some view the extra day as a gift to accomplish more, others look at Feb. 29 as a throwaway day to spend doing absolutely nothing (or by watching 30 Rock). Celebrities including SVU actor Peter Scanavino and Fyre Fest founder Ja Rule will also get to celebrate their actual birthdays for the first time since 2016, as they were both born on Leap Day.
Whether you've decided to spend this extra day by getting more work done, or taking advantage of some sales, or you're letting the "bonus" day be one with zero plans, these seven Leap Day memes and tweets will at least let you ring in the final day of February with a laugh.
Spend your Leap Day by working smarter, not harder.
*Crosses fingers that Netflix somehow has a poor code despite being one of the biggest streaming platforms in the world.*
Article continues below advertisement
You'll prolong your embarrassment for four years.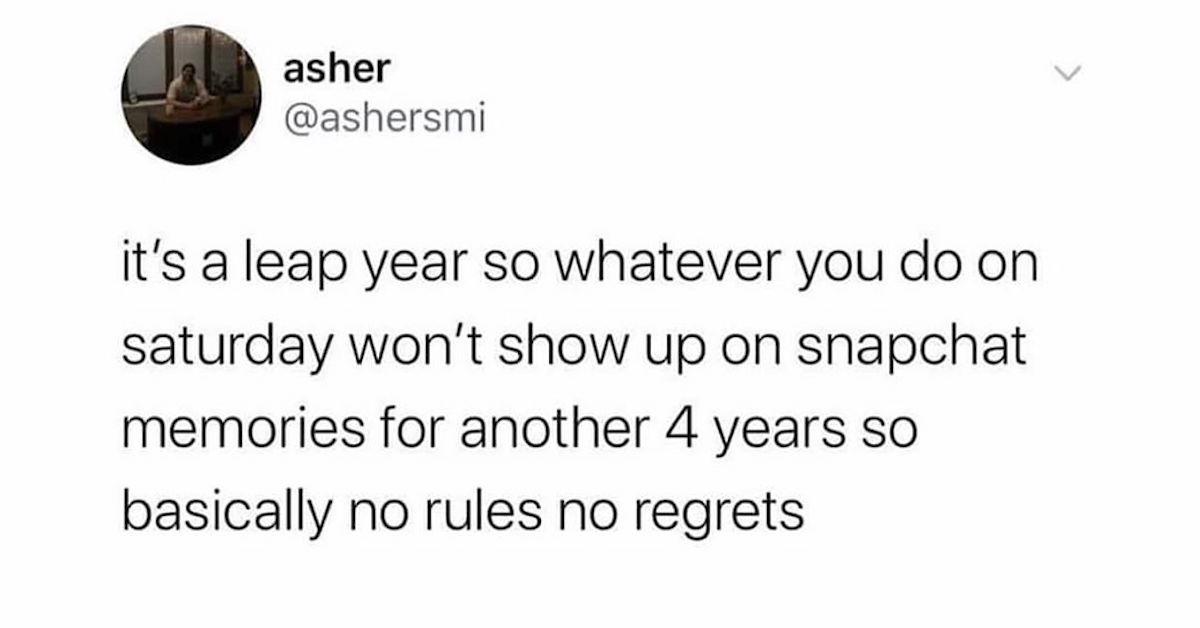 Who doesn't feel super cringey when getting a reminder of something you did in the past from Snapchat? While a simple solution to this issue is to stop saving memories to Snapchat (or to stop doing the stupid thing altogether), another method is waiting until Leap Day. As we know, the level of cringe has an indirect relationship with time.
Article continues below advertisement
You can't be blamed for (most of) what you do on Leap Day.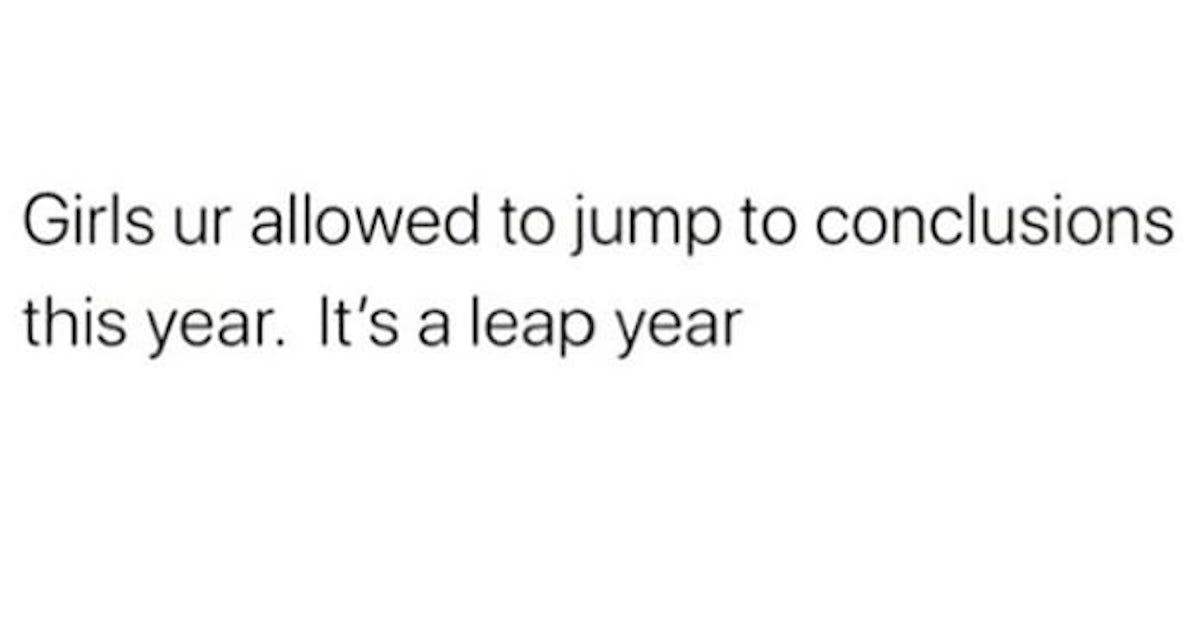 Saying that you're feeling thrown off by Leap Day is pretty much the same as when people blame their issues on Mercury being in retrograde. But, let's not just restrict this to women. We think that everyone should be able to jump to conclusions in 2020 because it's a Leap Year.
Article continues below advertisement
Some people only get to celebrate their birthday every four years.
There are several debates surrounding the (un)lucky people who are born on Feb. 29.
1. Do they celebrate their birthdays on Feb. 28 or March 1 on non-Leap Years?
2. Are they only as old as the amount of actual birthdays they've lived through?
We're still waiting for answers.
Article continues below advertisement
Nobody seems to quite understand what to do with Leap Day birthdays.
Sign us up for any Keanu Reeves meme, especially ones about Leap Day. Again, it seems like there should be some sort of official rule about Leap Day birthdays, since it affects about 4 million people in the world. And yet, there isn't.
Article continues below advertisement
Leap Day is meaningful to more than just people.
Get it — because frogs leap and it's Leap Day? It's a big day for the amphibians.
Article continues below advertisement
'Parks and Rec' has Galentine's Day, while '30 Rock' has Leap Day.
While Leslie Knope aka Amy Poehler from Parks and Rec is the technical originator of Feb. 13 as Galentine's Day (the official celebration of friendship ahead of the romance in Valentine's Day), 30 Rock is considered to be the show for Leap Day.
In Season 6, Episode 9, the show commemorated Leap Day with clips from the fake movie, Leap Day Williams. The episode also centered around Jack getting visited by a Leap Day "ghost" aka Kenneth with a bald head and a mustache.
Happy Leap Day!