10 Deals and Freebies for Nurses During National Nurses Week
Healthcare professionals deserve something special during National Nurses Week. These freebies, deals, and giveaways are a good start.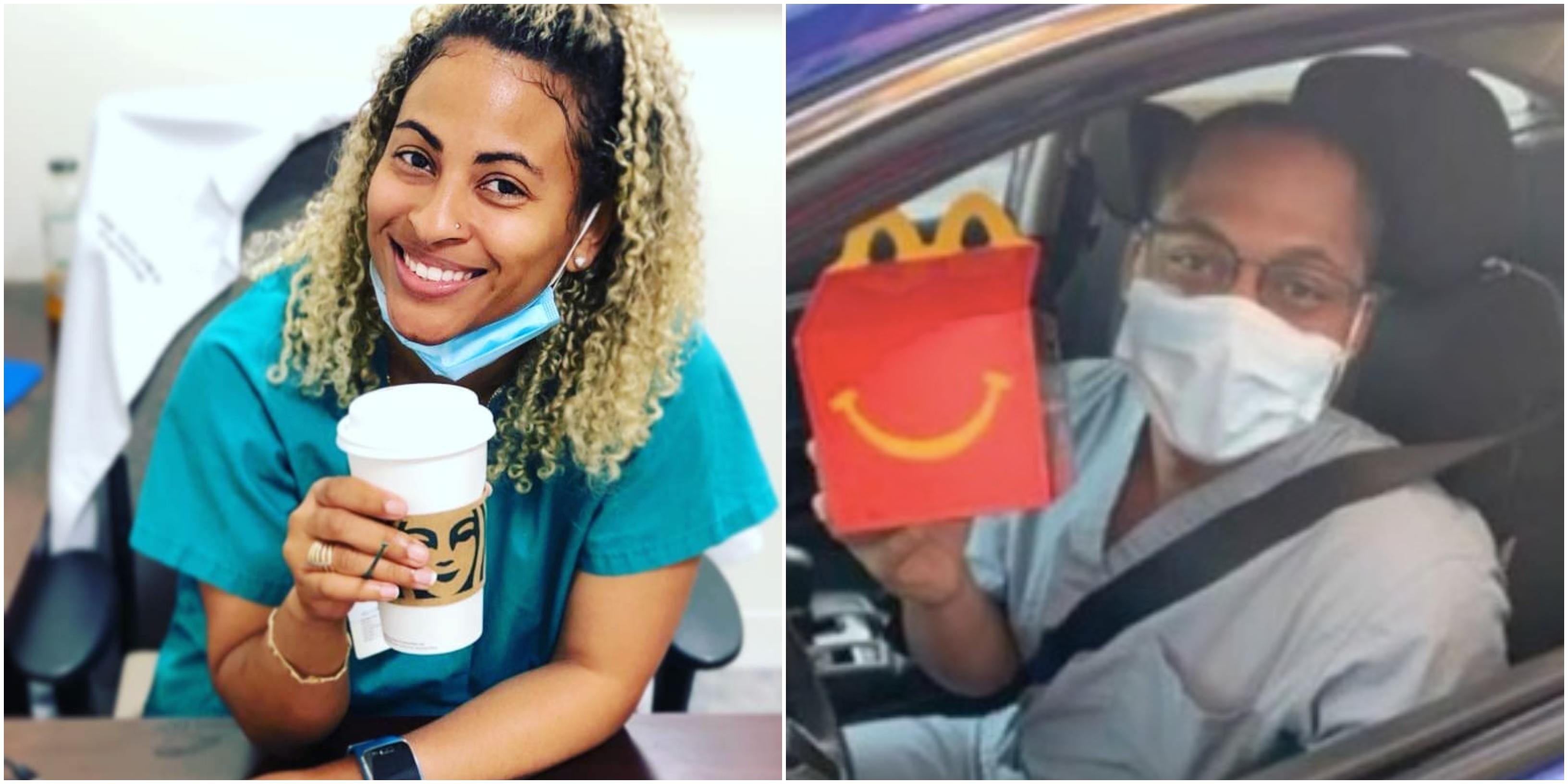 This year, more than any other in our lifetimes, nurses deserve your appreciation and support. And since the period from Wednesday, May 6 to Tuesday, May 12 is National Nurses Week, it's as good a reminder as any to keep those providers on the frontlines top of mind. Nurses often provide the most hands-on care to patients and are therefore among the most vulnerable essential workers during the COVID-19 pandemic.
Article continues below advertisement
While free gifts and discounts are certainly not a sufficient replacement for ample PPE, hazard pay, and mental health services, they are small ways businesses can show their appreciation.
Here are just some of the National Nurses Week freebies you can take advantage of if you work in nursing and other healthcare professions.
Starbucks
Starbucks has been offering free tall brewed coffees to frontline workers since March and will continue to into Nurses' Week. The complimentary hot or iced cup is available not just to nurses and doctors but all frontline healthcare personnel as well as first responders.
Article continues below advertisement
Cinnabon
As they do every year, Cinnabon is offering a free cinnamon roll to nurses during the week of May 6-12.
Article continues below advertisement
Dunkin'
Article continues below advertisement
Adidas
With their ID.me verification, healthcare workers can take advantage of a one-time-use 40 percent discount on sneakers and apparel.
Article continues below advertisement
Krispy Kreme
Since National Doctors' Day on March 30, Krispy Kreme has been offering a free dozen of their famous glazed donuts to healthcare workers who drive-thru with a valid employee ID, and the giveaway continues until the second to last day of National Nurses Week.
Article continues below advertisement
Nike
Nike is offering a one-time promo for 20 percent off on most items for healthcare workers and first responders who verify their status with SheerID.
Article continues below advertisement
McDonald's
Since April, McDonald's has been giving away Thank You meals to first responders and healthcare workers with proof of employment. The offer ends May 5, but hopefully they will extend to honor nurses this week.
Article continues below advertisement
Chipotle
Healthcare workers can sign up to get a free burrito on May 6 through this website, and non-healthcare workers can make more of these free meals available by naming their order "4HEROES" when they order on the Chipotle app. For every burrito they order, another complimentary one will be available to a provider.
Article continues below advertisement
Home Chef
Article continues below advertisement
Talkspace
Though not expressly for National Nurses Week, Talkspace is providing a freebie that is probably the most valuable and needed on this list: a free month of therapy on their Unlimited Messaging Plus plan. Providers who verify their NPI number or work badge can speak with a licensed therapist, a service that normally starts at $65 a week.