9 National Puppy Day Memes and Tweets That Will Improve Any Ruff Day
9 National Puppy Day memes that will put a smile on your face. Whether you're a dog owner or not, these memes will surely improve your day.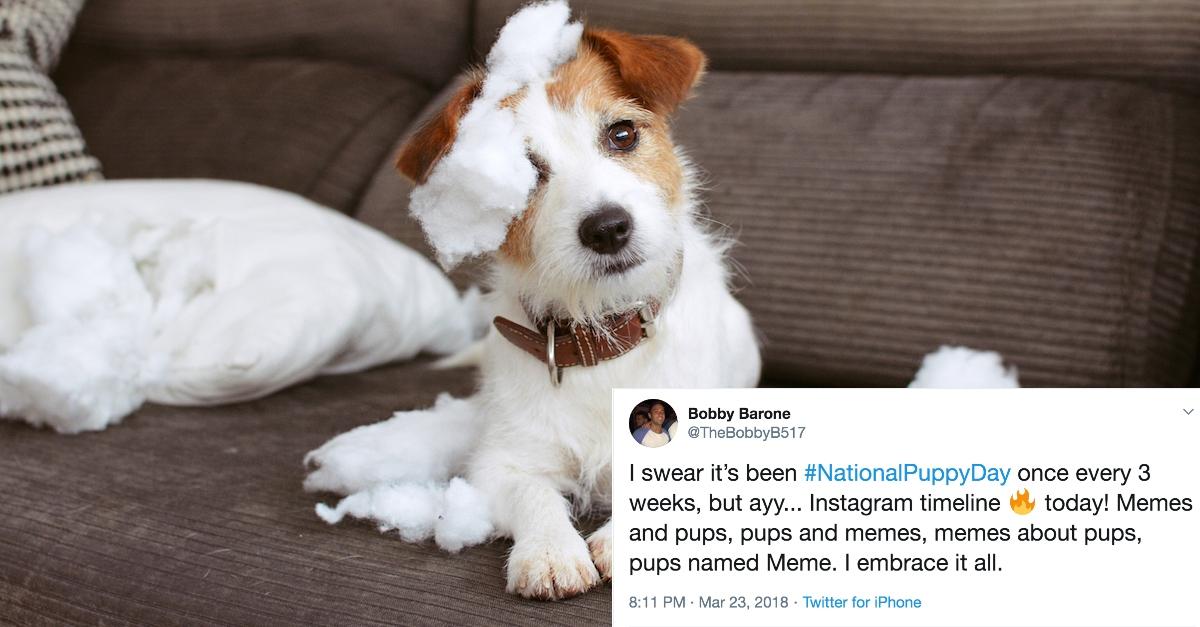 Whether you're a dog or a cat person, you can admit that there's really nothing that can unite the internet more than some adorable dog pictures. That's why it's not too surprising that there are multiple days of celebration for them — from International Dog Day and National Puppy Day to National Dress Up Your Pet Day and National Adopt a Shelter Pet Day.
Article continues below advertisement
These National Puppy Day memes will ensure you have a doggone good day.
National Puppy Day is easily one of the best holidays ever (especially if you love dogs and/or have them as pets)lolll. It's celebrated on March 23, and people are tweeting all about what makes their puppies special.
We've rounded up nine of the cutest National Puppy Day memes that will hopefully brighten your day. Because what's better than seeing lots of pictures of puppies? Pretty much nothing.
1. This is the dog version of "Hot Dogs or Legs."
Back in 2013 (truly, a much simpler time), people began posting photos of their tan legs, and asking if they were hot dogs or legs. The game went viral, and quizzes about hot dogs vs. legs flooded the internet.
The dog version of that is "sheepdog or mop," "labradoodle or fried chicken," "chihuahua or muffin" and "dog or bagel." Dare we say, it's a much cuter game.
2. You can never celebrate dogs too much.
OK, so there are a lot of national and international days in which dogs are celebrated, but is that really a bad thing?
Though this Twitter user has a point about the frequency in which dogs are given a time in the spotlight, has anyone ever gotten upset at the amount of puppy photos on their timeline?
Article continues below advertisement
3. This doggo is very qualified.
This meme is a 10/10 because it features a dog wearing glasses and a joke about a dog's greatest enemy (aside from cats): the mailman. This pup should be hired right on the spot.
Article continues below advertisement
4. This dog is not wrong...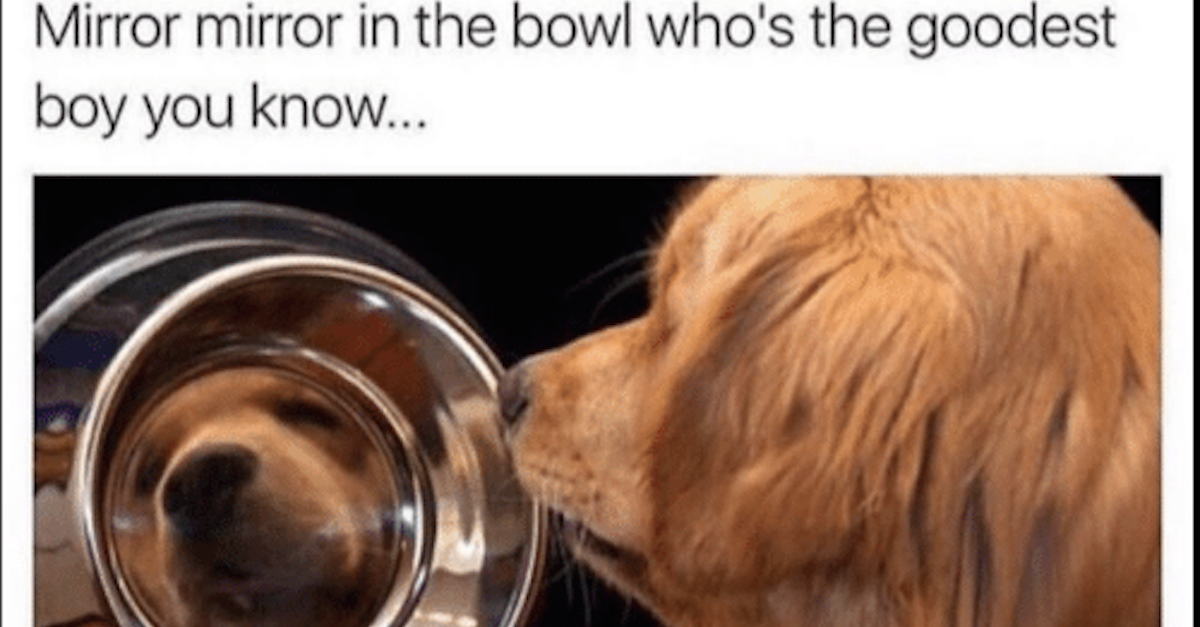 This meme is about the importance of being a good dog, instead of just a cute one.
Petition for a Snow White and the 7 Golden Retrievers remake for Disney+?
Article continues below advertisement
5. Here's how to make a puppy loaf:
This may be our favorite recipe ever. It's not for eating, though! Just for snuggling.
Article continues below advertisement
6. Please enjoy this dog in costume.
Although the debate about whether or not to put clothes on your pet is very polarizing, there's really nothing cuter than a dog in a Halloween costume. Although this pup is dressed as the evil doll from the Chucky series, there's something very non-threatening about seeing this animal run toward you.
Article continues below advertisement
7. Even people who "don't like dogs" can't help but fall in love with puppies.
If you ask us, there are only types of people in this world: People who love dogs, and people who think they don't love dogs because they haven't ever lived with a dog.
Article continues below advertisement
8. This dog regrets nothing.
Remember: You may think you have your dog well-trained when they perform tricks in order to get treats. But you're the one giving them treats. Who's really training who, here?
Article continues below advertisement
9. There's no such thing as a dispassionate puppy owner.
Many owners have a daily photoshoot with their dogs because everything they do is adorable. Plus, nearly every owner is willing to defend their dog as the cutest/best/smartest ever.
Whether you're celebrating with a dog of your own, or you're trolling through your timeline to spot all the adorable pups, Happy National Puppy Day!