These Hysterical Memes About Zoom Backgrounds Will Brighten Your Day
13 Zoom backgrounds memes to laugh at while you log onto your virtual class or meeting. The video app has gone viral in the wake of COVID-19.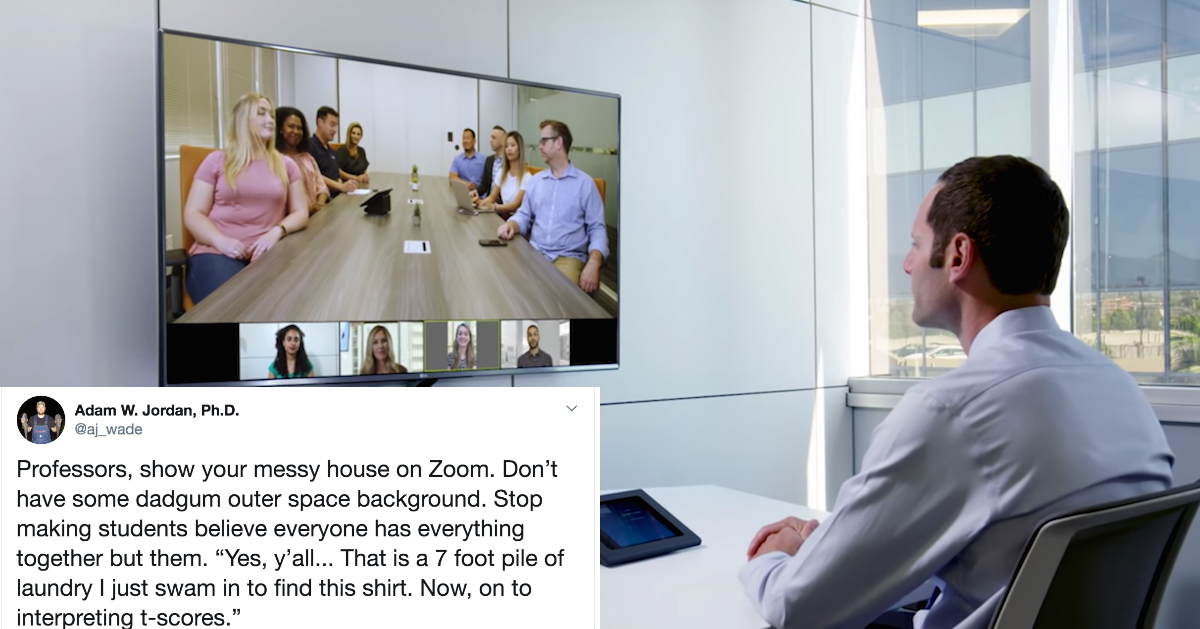 Since regular life is essentially on pause while COVID-19 aka the coronavirus continues to spread and affect people across the world, Zoom has become a staple in many people's days. The site is for video conferencing, and it has become essential to companies with regular meetings and schools that are now being run exclusively online. In essence, Zoom is a more professional Skype, and dozens of people can participate at once.
Article continues below advertisement
Because basically all users are logging on at home, there has been a ton of hilarious content about what people can see.
Now, Zoom users can add custom backgrounds that will cover up what's really going on behind them. While this feature was likely meant to help those who were self conscious about their Zoom environment, many are now using it to have some fun.
Read on for 13 Zoom background memes that poke fun at the new feature on the video conference app. Whether you're using Zoom for school, work, or you've just been hearing about it online, these memes will surely give you a smile during this incredibly tense time.
1. People are really getting creative with their backgrounds.
In 2017, Professor Robert Kelly was on a video call at home with BBC News when his two young kids barged in and (adorably) interrupted. The clip went viral, and Professor Kelly truly is a poster child for the Zoom backgrounds feature. While many are using static nature photos or pictures from their latest trip as backgrounds, one Zoom user decided to use the video of Professor Kelly's kids as his own.
Watch the original video here.
Article continues below advertisement
2. Zoom backgrounds can hide EVERYTHING.
Zoom backgrounds can definitely be used to add some humor into a highly stressful time, but some Twitter users think that they're also hiding some of the truth. We've all imagined what our professors are like when they're not teaching, and Zoom can really expose that. That is, if the professor neglects to use a background.
Article continues below advertisement
3. This guy is giving Charmin some free press.
Many have termed the coronavirus pandemic as the Coronapocalypse, so why not take your Zoom background to the next level by using a zombie background?
Grocery stores across the United States are widely depleted of their stocks, including toilet paper. Using a Charmin background on Zoom is definitely a (polarizing) conversation starter.
Article continues below advertisement
4. People are really having fun experimenting with celebrity backgrounds.
Just because you have a serious job doesn't mean you can't have some fun finding the perfect Zoom background. Though, we have to admit, this video running on a loop during a meeting is a recipe for the other people on Zoom to lose focus.
Article continues below advertisement
5. Want to cause a little drama during quarantine life? Try a dramatic Zoom background.
For many extroverts, quarantine life is especially difficult because there is virtually no social interaction to be had outside of the people you share a living space with. If work meetings are the only time when you can speak with other humans, or you crave a little attention, using a hospital background will certainly shift the focus to you. We just can't say that it's in good taste.
Article continues below advertisement
6. There are really no limits as to what you can make your Zoom background.
We're not exactly sure why this Twitter user wanted to use Dakota Johnson's Architectural Digest tour as his Zoom background. But, it could be because the actress featured an utterly enviable home in it that we wouldn't mind social distancing in.
Article continues below advertisement
7. There are some epic Zoom backgrounds to reflect the chaos of this virus.
The "This Is Fine" meme is relevant in nearly all circumstances, but it's finding new life during COVID-19. Use this background during a meeting and we can guarantee that it will put a smile on someone's face. Plus, it's somehow more subtle than some of the other choices on this list.
Article continues below advertisement
8. You can spend some time in Hogwarts.
Watching a Harry Potter marathon is a fantastic way to take up some time during isolation, and you can bring the magic to your Zoom interactions by using a Hogwarts background. Has there ever been a time when we wished we could be at Hogwarts more?
Article continues below advertisement
9. This background might be too soon.
As we mentioned before, the lack of toilet paper in stores has been a polarizing point for people, and this might not go over too well during your next Zoom meeting.
Article continues below advertisement
10. Use Zoom to pretend like you're in the office instead of your bedroom.
Article continues below advertisement
11. Maybe don't add a background during a meeting.
Creating the perfect background is a mindless task that can truly consume hours of your time, but we'd recommend not doing this mindless task while you're actually supposed to be paying attention to your class or conference call. Everyone can see you do it, and it's not a good look.
Article continues below advertisement
12. Want to hang with Bey and Jay?
If you've ever pretended to star in a music video, now is the time to make that a reality. This Zoom user enlisted the help of none other than Beyonce and Jay-Z to create an epic background.
Article continues below advertisement
13. Use this background if you've been re-watching 'The Office' during the quarantine.
One thing that many Americans can agree on is that re-watching The Office for the tenth time in a row during self-isolation is a good way to spend all that extra free time. Use this background from the show and pretend to look into the camera like Jim Halpert during your Zoom calls.
Article continues below advertisement
The best way to prevent contracting or spreading coronavirus is with thorough hand washing and social distancing. If you feel you may be experiencing symptoms of coronavirus, which include persistent cough (usually dry), fever, shortness of breath, and fatigue, please call your doctor before going to get tested. For comprehensive resources and updates, visit the CDC website. If you are experiencing anxiety about the virus, seek out mental health support from your provider or visit NAMI.org.