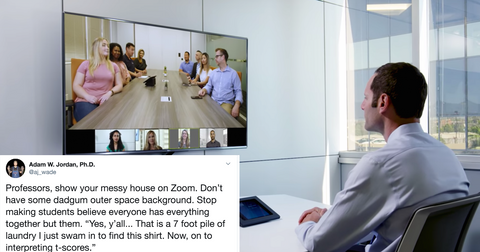 These Hysterical Memes About Zoom Backgrounds Will Brighten Your Day
By Shannon Raphael

Mar. 18 2020, Published 11:32 a.m. ET
Since regular life is essentially on pause while COVID-19 aka the coronavirus continues to spread and affect people across the world, Zoom has become a staple in many people's days. The site is for video conferencing, and it has become essential to companies with regular meetings and schools that are now being run exclusively online. In essence, Zoom is a more professional Skype, and dozens of people can participate at once.
Article continues below advertisement
Because basically all users are logging on at home, there has been a ton of hilarious content about what people can see.
Now, Zoom users can add custom backgrounds that will cover up what's really going on behind them. While this feature was likely meant to help those who were self conscious about their Zoom environment, many are now using it to have some fun.
Read on for 13 Zoom background memes that poke fun at the new feature on the video conference app. Whether you're using Zoom for school, work, or you've just been hearing about it online, these memes will surely give you a smile during this incredibly tense time.