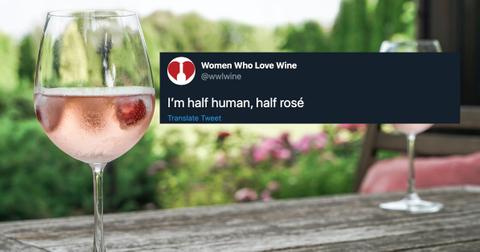 Celebrate Your Favorite Pink Drink With These National Rosé Day Memes
By Lizzy Rosenberg

Updated
National Rosé Day, which is celebrated annually on the second Saturday of June, is every basic babe's favorite holiday. Since the holiday falls on June 13 this year, we're planning to commemorate the pink drink in all its glory with National Rosé Day memes, alongside a nice, tall glass of our fave summer sip. Prepare for the ultimate weekend celebration.
Sorry roses, but it's rosé's day to shine.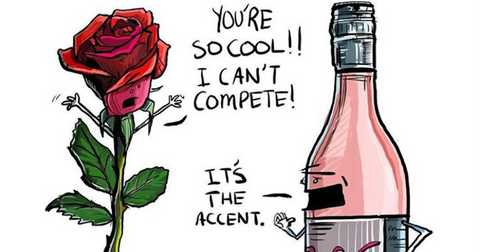 There's a reason why you appreciate a bottle of rosé so much more than a bouquet of roses, and it may or may not be because of the accent. But like, the alcohol also definitely has something to do with it.
Let's be honest, we all know how we'll be celebrating this weekend.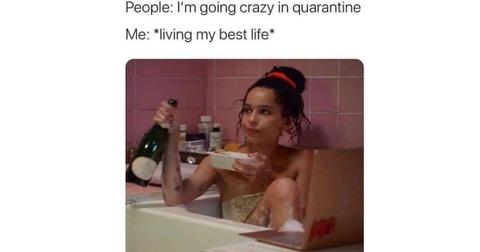 It's the year 2015. You were joyfully celebration National Rosé Day with your BFFs, mindlessly sipping pink wine on a rooftop. You barely had a care in the world, aside from what you were ordering from Shake Shack afterwards. But this year in 2020, we all know how we'll be celebrating: rosé, snacks, and a bubble bath, to mend our quarantined sadness.
EDIT: How to enjoy EVERY. SINGLE. DAY.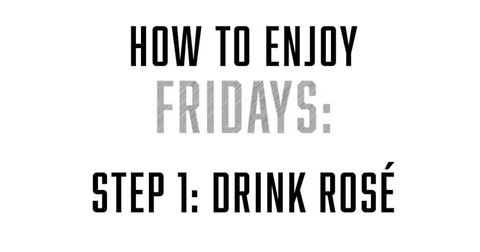 OK this meme was actually supposed to say, "How to enjoy everyday: Step 1: Drink Rosé." But you get the point, right?
An ode to pink wine:
We're truly grateful that Jess came up with these ingenious words of wisdom. This iconic New Girl quote will never, ever be forgotten... hence why we don't drink rosé at work happy hours.
Hence, we're forever grateful that National Rosé Day always falls on a Saturday...
As we said previously: wine + work events = inevitable disasters. That's clearly why National Rosé Day is celebrated on the weekends, to avoid any — well — "slobbering."
Jess really knows how to pick out a bottle of wine.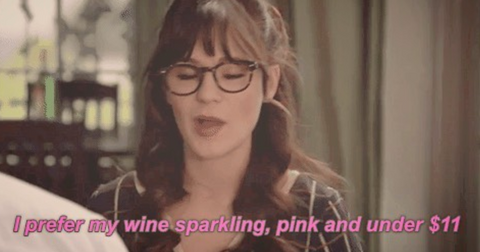 Jess, coming in hot (again!), with wise words about rosé! While a dry bottle of cab makes us feel like true kweens, rosé is truly what makes the world go 'round. Now go buy that cheap pink bottle that you know you'll love.
It's bound to be a "productive" weekend.
We definitely aren't anticipating having a productive weekend, unless you consider drinking rosé "productive." In that case, we're very, very busy this weekend. Please don't bother us while we're tending to these extremely important matters.
Some people really seem to have their priorities straight in quarantine.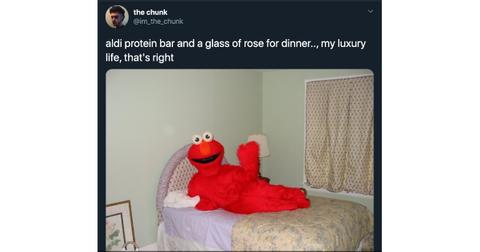 Just between us, a protein bar and some rosé sounds like our kind of night.
Some say the body is 60 percent water, but it's actually mostly comprised of rosé.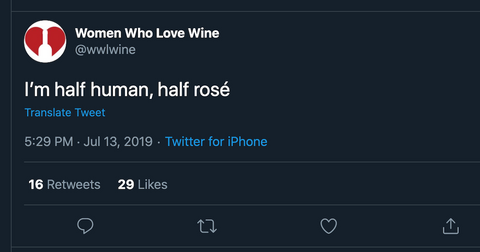 And think about it: after your epic National Rosé Day festivities this weekend, your body composition is about to contain a lot more of the pink drink.