Calling all selfie-takers! You'll probably be glad to know that there is literally a holiday dedicated to you. Yes, you read that correctly. Sunday, June 21, marks National Selfie Day this year, which means your feed is about to be flooded with *basic* snapshots of everyone you ever knew. But don't lie, you're probably going to be one of those people joining in on the Instagram fun because "why not?"
That said, if you plan to take to the gram to celebrate the day (the coronavirus pandemic can't stop of us from snapping a few shots of ourselves) with a solo selfie or group shot, it's crucial that you have a caption to really wow your followers. That said, we took the time to round up some of the best ideas for you. Keep scrolling for the perfect National Selfie Day captions.
National Selfie Day pun captions for Instagram
1. Believe in yourselfie
2. Trust yourselfie
3. Crazy about myselfie
4. Practice some selfie love today
5. Love yourselfie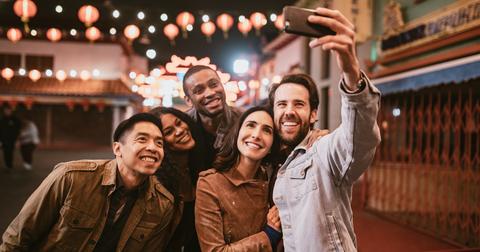 6. You should go and love yourselfie
7. Don't be afraid to let yourselfie dream
8. Have faith in oneselfie
9. Never give up on yourselfie
10. Stop being so hard on yourselfie
11. Selfie love is the most important love
12. Always be yourselfie
National Selfie Day quote captions for Instagram
13. "A good selfie is when you successfully capture the feeling of that very moment!" ― Anamika Mishra, Author
14. "A selfie has more face and fewer feelings." — Amit Kalantri, Author
15. "With the selfies, a photographer has finally found his place in a photograph." ― Amit Kalantri, Author
16. "No job is complete until the selfie is posted." ― Ashok Kallarakkal, Author
17. "A selfie is nothing more than just an external reflection of yourself." ― Munia Khan, Author
National Selfie Day movie captions from Instagram
18. "I'm not bad. I'm just drawn that way." — Jessica Rabbit, Who Framed Roger Rabbit
19. "Life moves pretty fast. If you don't stop and look around once in a while, you could miss it." — Ferris Bueller, Ferris Bueller's Day Off
20. "What? Like it's hard?" — Elle Woods, Legally Blonde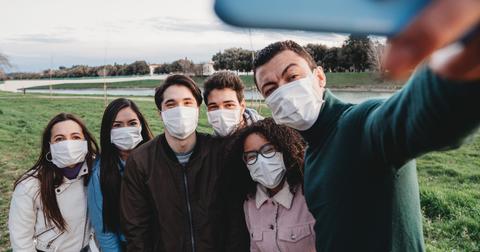 21. "You can like the life you're living. You can live the life you like." — Velma and Roxie, Chicago
22. "Oh, don't be absurd. Everyone wants to be us." — Miranda Priestley, The Devil Wears Prada
National Selfie Day captions from song lyrics
23. "But first, let me take a selfie." — "#SELFIE," The Chainsmokers
24. "What's wrong with being, What's wrong with being, What's wrong with being confident?" — "Confident," Demi Lovato
25. "Feeling myself, I'm feeling myself, I'm feeling myself." — "Feeling Myself," Beyonce
26. "If I was you, I'd wanna be me too." — "Me Too," Meghan Trainor
27. "Gonna love myself, no, I don't need anybody else." — "Love Myself," Hailee Steinfeld
28. "I am beautiful, No matter what they say, Words can't bring me down. — "Beautiful," Christina Aguilera
29. "I don't mean to brag, I don't mean to boast, I love y'all, but I love me the most. — "I Love Me," Meghan Trainor
Happy National Selfie Day! Have fun selfie snapping and posting to the 'gram!