Neighbor Begs People to Stop Using Washing Machines at 4 am, Sparking Debate
A Redditor posted a viral note from a neighbor about using their washing machine at odd hours and it sparked a viral debate on the popular site.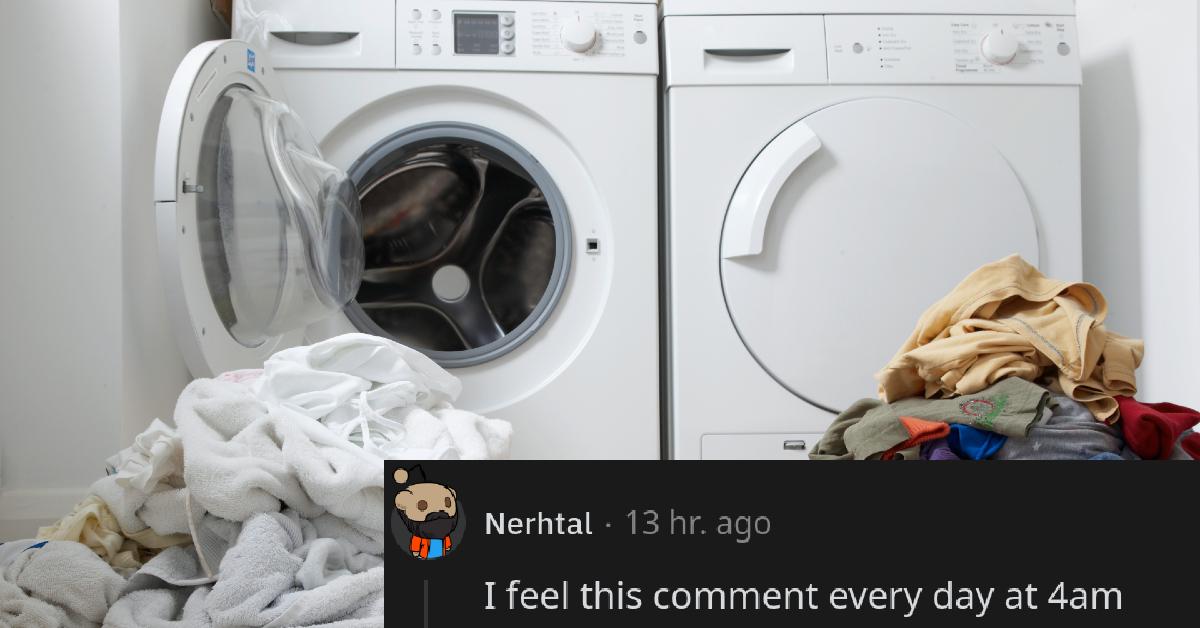 Neighbors can make or break a living situation. You can have a great apartment or house with swanky fixtures, great lighting, and all sorts of nifty amenities for a decent price, but if you've got neighbors who fancy themselves opera singers, or someone who feels the need to call the cops on you because a house guest parked their car on the street, it can turn your living situation into a nightmare.
Article continues below advertisement
Then there's those nosy neighbors who feel the need to invade your personal business and want to know things about your private life that really shouldn't ever concern them. But when does it become a concern? What do you do when a neighbor's activities start to affect your quality of life?
That very question is at the heart of a debate on Reddit's r/casualUK sub, where someone shared a note that was posted in their building by someone who took issue with a neighbor's washing machine schedule.
Article continues below advertisement
The note reads: "Dear Neighbours, 4am is not an acceptable time to use a washing machine. I have been woken up several times with your washing machine. Please stop! Refrain from using the washing machine before 7am. I have been woken up on too many occasions. This is very unfair when people are working."
Article continues below advertisement

According to Lemonade, 35 percent of Americans have expressed they've been annoyed with their neighbors at least once per month and it turns out this isn't generational.
Article continues below advertisement

Sure there's a stereotype that only older homebodies get into curmudgeon-mode whenever their neighbor does anything they disapprove of, but, "Millennials and Gen Z are almost equally annoyed by their neighbors" as elder residents.
Article continues below advertisement

The infographic goes on to state that, on average, 52 percent of Americans are annoyed multiple times a year by their neighbors, while 32 percent said their neighbors never bother them.
Article continues below advertisement

Throngs of Redditors responded to user @its_crayg_not_creg's Reddit post. Some agreed with the note, stating that while in most situations they're generally unbothered by their neighbors' washing machine, there've been other times where it's really messed with them.
Article continues below advertisement

"My neighbour sometimes puts her washing machine on at midnight. It's normally alright but sometimes if its an unbalanced load it sounds like a skeleton having a wank in a tin coffin," one person joked.
Article continues below advertisement

Others brought up the very good point that many people don't really have the luxury of doing their laundry during the day, and may have to run their machine late at night.
"I used to live in a really old crappy apartment building and we were only allowed to use the laundry room between 9am - 7pm," someone wrote. "Kinda made sense but very annoying as somebody who worked 9-5."
Article continues below advertisement

What do you think? Was it lame of them to leave a note for their neighbor and complain about the fact that they're doing their laundry at "odd" hours? Or is it kind of messed up to have those machines going off at 4am when most people are probably trying to go to sleep?