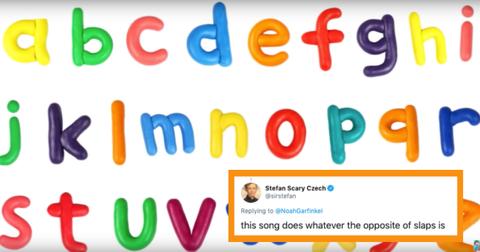 There's a New Alphabet Song, And Twitter Is Livid About It
By Abi Travis

Updated
Another day, another reason for Twitter to be in an uproar about something being completely ruined forever. This time, it's the alphabet song. You know the one —it's all the letters of the alphabet sung to the tune of "Twinkle, Twinkle, Little Star" (or "Baa Baa Black Sheep," if you prefer). You might think something as simple and educational as the alphabet song would remain uncontroversial throughout the end of time. Well, it didn't. There's a new alphabet song, and Twitter is annoyed.
What's the deal with the new alphabet song?
On Oct. 25, 2019, Noah Garfinkel — a writer-comedian and also the guy who appears in the portrait of Doug Forcett in The Good Place (yes, really) took to Twitter to share the horrifying news. "They changed the ABC song," he wrote. "And it is life ruining." Here's the clip of the song he shared. See if you notice the change. (Note: You will notice the change).
Did you catch that? Of course you did. It was right after the "K." If you were singing along, you probably immediately launched into "ellemenopee," but that's where they get ya. Instead of smearing the letters L, M, N, O, and P into one indistinguishable, four-syllable word, the "new" song splits them up. "L, M, N" and then a pause… and then: "O, P, Q, R, S, T, U." Look, it's bonkers. It sounds very weird to those of us who grew up singing about ellemenopees (and having no idea what they were).
As you'd almost certainly expect, Twitter was not happy about it. Ruin a childhood classic? Not on Twitter's watch.
But don't panic! You don't have to worry about a new alphabet song taking over the world.
In fact, that same YouTube channel (Dream English Kids) has another video featuring the same remixed version of the alphabet song that was uploaded in 2009! The "remix" is at least ten years old, so it's probably safe to say there's no danger of it taking over the world.
Also, in Garfinkel's tweet, he says "they" changed the ABC song. Who is they? The people in charge of all children in the world? Matt, the seemingly totally charming guy who appears to make all of the videos for Dream English Kids? Nah. There is no "they." There is no new alphabet song you need to worry about. You can sing the alphabet song the same way you've been singing it forever. And if you have kids, you can teach them the "old" way.
"They" can pry the original LMNOP out of my cold dead hands

— Emília 🎗 💗💛💙 🏳️‍🌈 💙❤🖤 (@RogueBlue5) October 26, 2019
But! We do have to admit that Matt's "new" alphabet song has the distinct advantage of actually separating the letters L, M, N, O, and P in such a way that makes them totally distinguishable. Could this "new" alphabet song actually maybe be just a teeny tiny little bit better? We're not saying that it is (because we don't want to be attacked by Twitter), but we're not not saying it, either.
For now, we'll keep singing about ellemenopees (and we encourage everyone who wishes to escape Twitter's ire to do the same).