Meet Nicholas Sandmann, the 18-Year-Old Speaking at the 2020 RNC
18-year-old Nicholas Sandmann is slated to speak at the 2020 Republican National Convention. Who is he, and what is his net worth?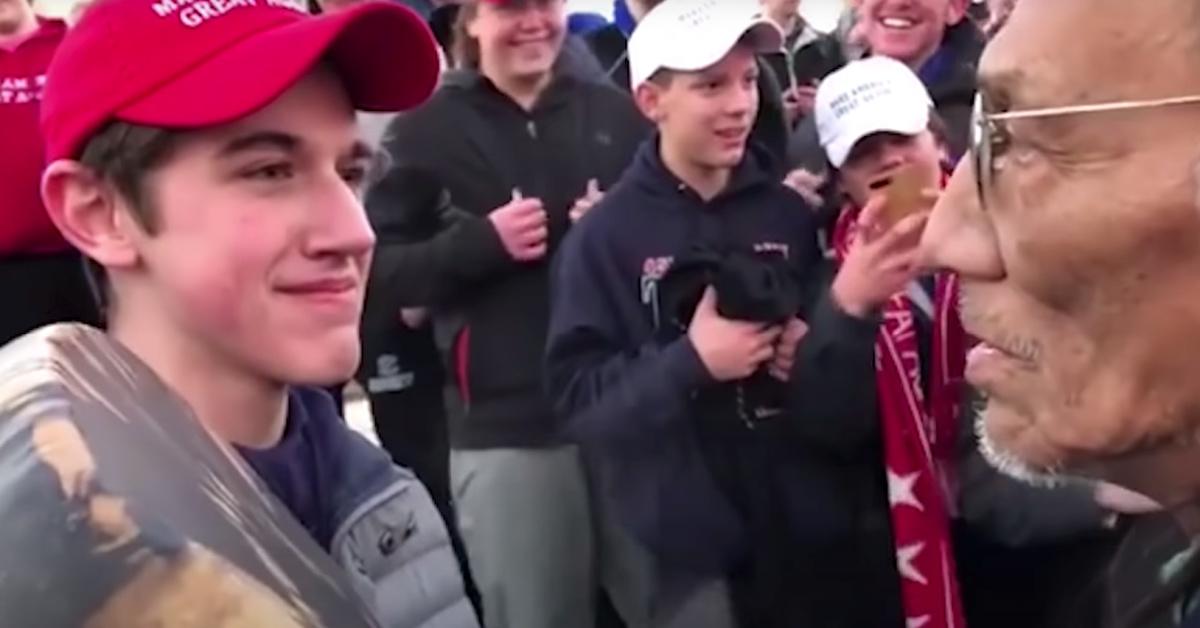 Monday, Aug. 24 marks the first day of the 2020 Republican National Convention. Just as the DNC did, the RNC will feature several notable speakers each evening — Donald Trump himself is apparently planning to speak every night (by comparison, the Democratic nominee only took the DNC stage on the final night).
Article continues below advertisement
Other RNC speakers include several of Donald Trump's family members, Mark and Patricia McCloskey (who were charged with felonies after being filmed pointing guns at peaceful Black protesters in St. Louis), and Representative Matt Gaetz of Florida. Also among them is 18-year-old Nicholas Sandmann — who recently came into some money as a result of some lawsuits against the media.

Article continues below advertisement
What is Nicholas Sandmann's net worth?
Prior to 2020, Nicholas Sandmann's net worth was probably pretty similar to many teens' — in other words, not much. However, he has received settlements from two major media outlets in 2020, so that's certainly no longer the case.
On Jan. 7, 2020, CNN settled a lawsuit with Nicholas for an undisclosed amount. This lawsuit was the second filed on Nicholas' behalf but appears to be the first to be settled. It was originally filed on March 12, 2019 and sought $275 million in damages. The other lawsuit was against The Washington Post and sought $250 million. On July 24, 2020 (which Nicholas says was also his 18th birthday), WaPo settled that lawsuit as well.
Article continues below advertisement
Both lawsuits were settled for undisclosed amounts, so there's no way of knowing exactly what Nicholas' net worth is, but one thing we can say is that his lawyers certainly didn't seem to back down when making their claims — and clearly, it paid off. Quite literally.
Article continues below advertisement
Who is Nicholas Sandmann?
If you don't immediately recognize Nicholas' name, that's because he didn't start making headlines until Jan. 18, 2019 — and then his name (and his face!) was suddenly everywhere. Nicholas was involved in a confrontation that took place near the Lincoln Memorial in Washington, D.C. There were two rallies taking place that day: the Indigenous Peoples March and the March for Life (Nicholas was in attendance for the latter).
Following the rally, Nicholas — along with fellow students from Covington Catholic High School — gathered at their appointed meeting place to wait for the buses that would take them home, several of them wearing "Make America Great Again" hats. As the students began to gather, a group of Black Hebrew Israelites reportedly began to taunt them. The students performed school spirit chants in response.
Article continues below advertisement
Nathan Phillips, one of the Indigenous people who was in D.C. for the Indigenous Peoples March, saw the confrontation and began walking toward the high school students while beating a ceremonial drum and singing. That's probably the part that you saw in headlines. That's also what led to the aforementioned lawsuits.
Article continues below advertisement
Initial media reports of the incident failed to cover the fact that the Black Hebrew Israelites had reportedly started the confrontation. Instead, headlines focused on Nicholas and Nathan, basing their information solely on videos uploaded to social media, which did not provide adequate context before or after the incident. Media outlets had to revisit their initial reports and revise their narrative, having effectively cast Nicholas and his fellow students as the aggressors of the situation and fueling controversy.
Which, as you may have guessed, led to the defamation lawsuits — and now, to Nicholas' speaking engagement at the RNC. In a tweet from Jan. 22, 2019, Donald Trump said, "Nick Sandmann and the students of Covington have become symbols of Fake News and how evil it can be. They have captivated the attention of the world, and I know they will use it for the good - maybe even to bring people together. It started off unpleasant, but can end in a dream!"
Perhaps Nicholas' RNC speech will be something of a dream come true for him. If you want to watch it, you can tune into the 2020 Republican National Convention from Monday, Aug. 24, to Thursday, Aug. 27.