Brad Pitt's Rumored Girlfriend Is a German Model With a Son of Her Own
Brad Pitt is rumored to be dating German model Nicole Poturalski, who is almost 30 years younger than him, but does she have a son?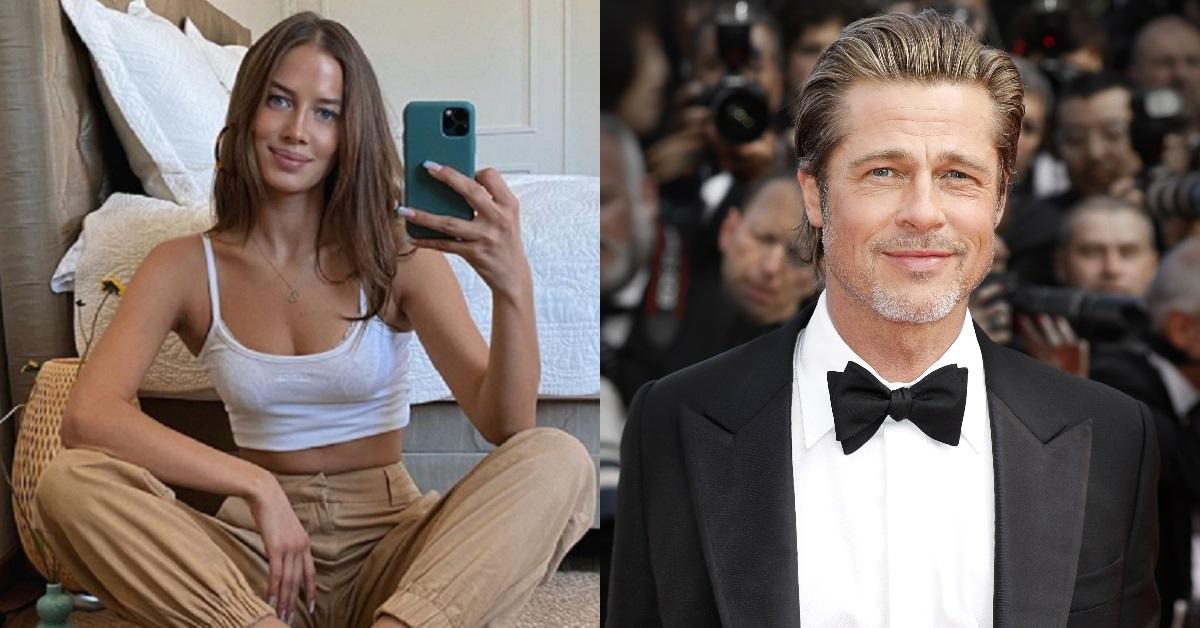 After years of keeping his love life low profile, it seems like Brad Pitt may have found himself a new girlfriend. Reports suggest that Brad is dating German model Nicole Poturalski, and the two were recently spotted together in Paris. Given that Brad is one of the biggest stars in the world, many fans are naturally curious about who Nicole is.
Article continues below advertisement
Who is Nicole Poturalski?
Several outlets are reporting that the relationship between Brad and Nicole has been confirmed and that the couple was also spotted boarding a plane in France together.
"They were seen driving in a chauffeured vehicle that took them to the airport for their next flight," an eyewitness told Entertainment Tonight. "They took the one hour flight and were spotted arriving in the South of France. They were very low-key and entered the plane quickly."
Article continues below advertisement
Before she was a model, Nicole wanted to be a marine biologist. She was discovered at age 13 by a talent scout at Disneyland Paris. She has graced the cover of Elle Germany and Harper's Bazaar Germany. Based on her Instagram, it looks like she splits her time between Berlin and Los Angeles, and The Daily Mail has also reported that she's fluent in five different languages.
She may be fluent in many different languages in part because, while she's originally from Germany, she is of Polish heritage. When she was asked what superpower she would choose if she could have just one, she said "traveling in time so I can visit all those amazing and historic events myself including the future."
Article continues below advertisement
Does Nicole Poturalski have a son?
Brad has six kids from his relationship with Angelina Jolie, and Nicole also has a kid of her own. She has a son named Emil, although she doesn't speak about him in public very often. Like Brad, she seems to keep her family life private, although Emil has shown up on his mom's Instagram on occasion. She's also written about motherhood, saying "Little love letter to all moms, that try so hard, give so much love, time and heart. Dont sleep, worry too much and love even more. You are great."
Article continues below advertisement
Nicole Poturalski may have posted about her relationship with Brad Pitt.
Although their relationship is just now going public for the first time, it's possible that Brad and Nicole have been dating for much longer than that. In fact, there seem to be hints about their relationship on Nicole's Instagram page. Throughout the past few months, Nicole has referenced her "love" and her "better half" in captions on her page.
"Saturdays these days for me is self-reflection, reading books spending time with my better half," she wrote in one caption.
It's unclear whether Nicole was referring to Brad in this caption or another partner, but many fans are speculating that she was spending a lot of her quarantine time with Brad. Nicole is just the latest woman that Brad is rumored to be dating, but it seems like this relationship may be more real than many of the rumors that have flown around in recent years.