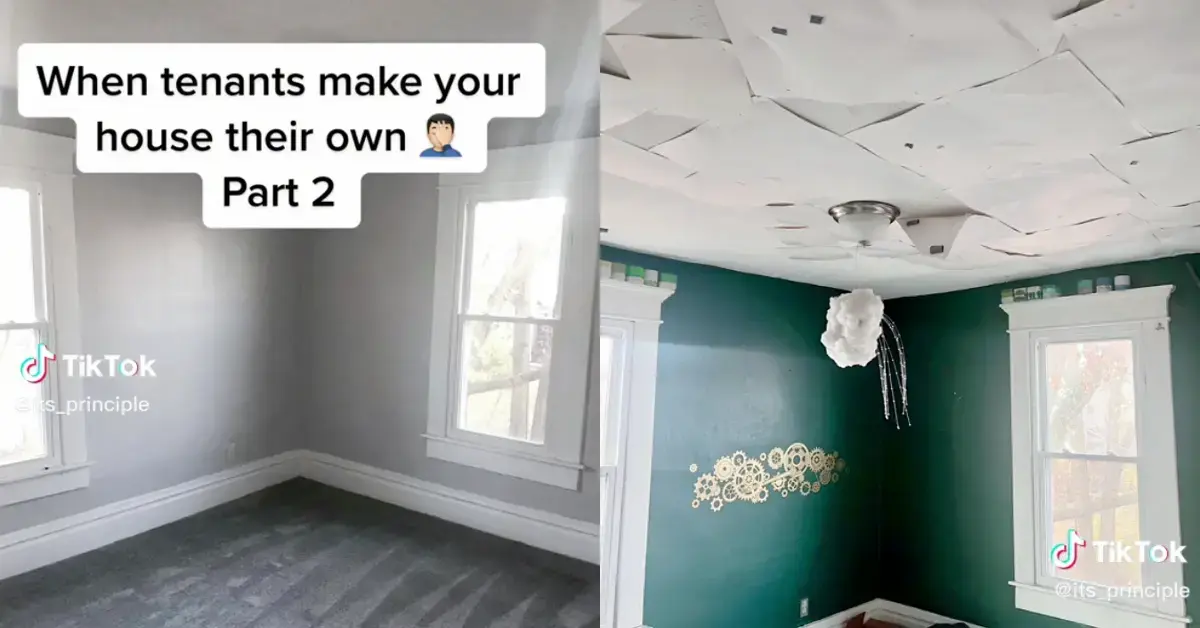 Landlord Shows "Awful" Before-And-After of Tenant, Sparking Debate
Landlords tend to get a lot of hate, and it's not hard to understand why: it's easy to feel salty when you know you're just subsidizing someone else's mortgage and funding their lifestyle. It's even worse when the property managers of the place you're residing in won't respond to repair requests or does a shoddy job of maintaining the premises.
Article continues below advertisement
However, there are some tenants who are nightmares to deal with; those who take advantage of local laws to not pay their rent or cause undue damage to the properties they live on. And then there are some who think that they've got way better design choices than the folks who own said properties and decide to implement those design choices.
Now if you're renting out a unit, common knowledge is to design it in an aesthetic that's as neutral as possible so that it appeals to the largest demographic of folks as possible. And it looks like Jeff, who posts on TikTok under the handle @its_principle, showed off a place that's put together in a manner that's in accordance with this philosophy.
The tenant in question, however, apparently holds a different belief when it comes to interior design.
Article continues below advertisement
Jeff shows off some "interesting" choices of fixtures and tacked-on decorations that were slovenly applied to the walls throughout the living space, complete with before and after photos.
Article continues below advertisement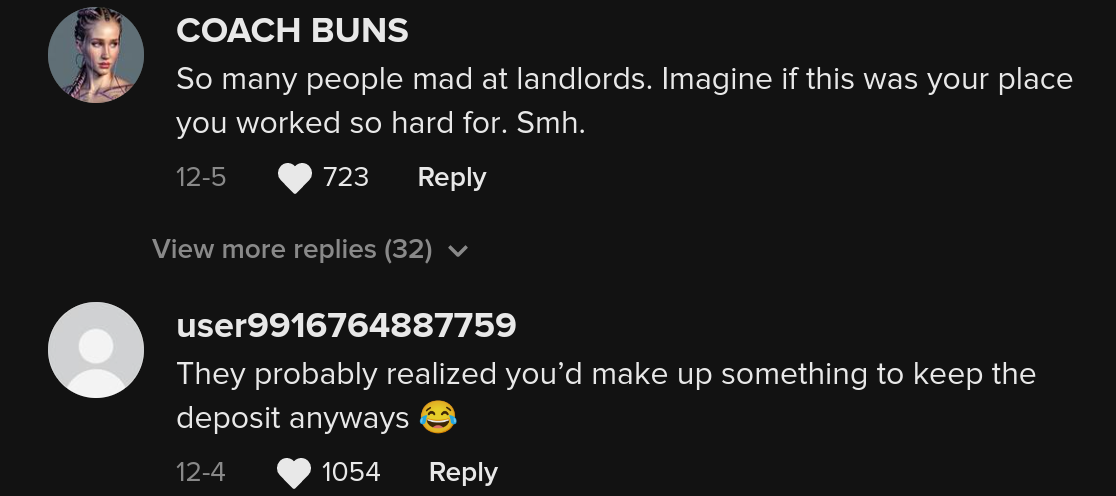 First, there's a room with grey walls and a dark-colored carpet. Clean white paint accents the windows providing a nice contrast to the walls. The tenant's thought it would look better with a greenish coat of paint and what appears to be a bunch of sheets of paper glued to the ceiling, with some added metallic-looking cog decals plastered on the walls.
Article continues below advertisement

They seem to have also added a hanging fixture that looks like a bunch of cotton balls smashed together in the hopes of resembling a cloud. Faux brick wallpaper was also added to various halls throughout the house, but the brick is glossy giving it an aesthetic like it just rained or it was covered in Vaseline because who doesn't like the look of slimy brick?
Article continues below advertisement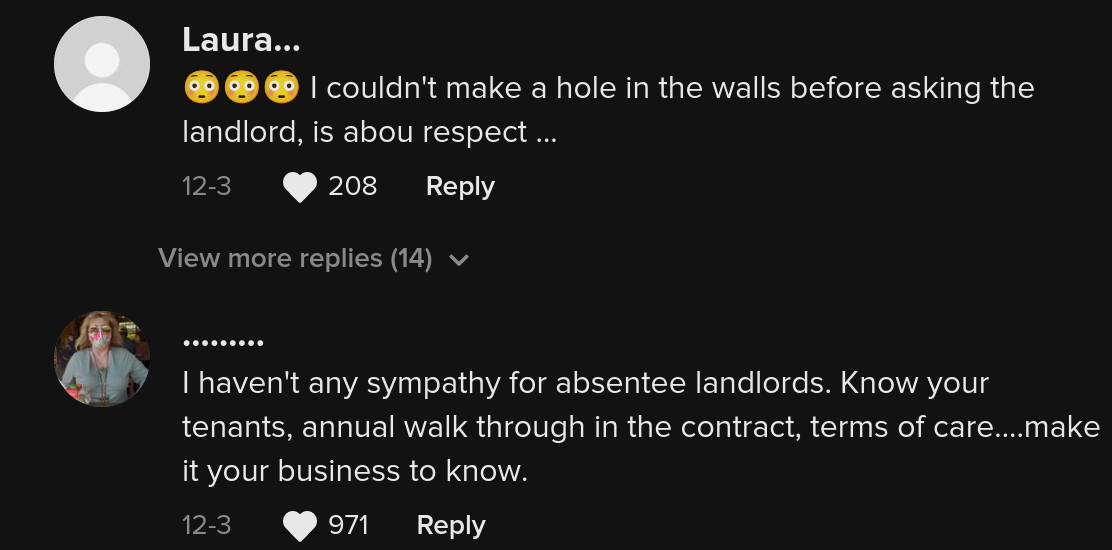 In the walls of the stairwell, there's an added cog on the wall theme, along with more faux-brick face in another room, however, it's of a more reddish vibe, rather than brown and tan tone.
For some reason, the bottom portion of the wall that meets the stairwell has more faux-brick wallpaper, but it looks like whoever was decorating the apartment ran out of materials.
Article continues below advertisement

Because then it just transitions to white paint with smears of a darker color running alongside it. This goes all the way to an upstairs room which features more faux wall fixtures: this time they opted for a metallic bracket look but it appears they couldn't settle on the color. Some of the panels are grey, and the others are half-painted white.
Article continues below advertisement

The clip then cuts to a variety of different items/materials left behind by the tenants, including a horror-filmed theme movie poster that looks like it was randomly glued to the bottom of a wall. The most bizarre addition looks like a fake dungeon door with a sign that reads: New York Insane Asylum above it.
Article continues below advertisement

TikTokers who saw the post speculated, as they did from previous posts from Jeff, that whoever was living there was running some type of escape room business.
Article continues below advertisement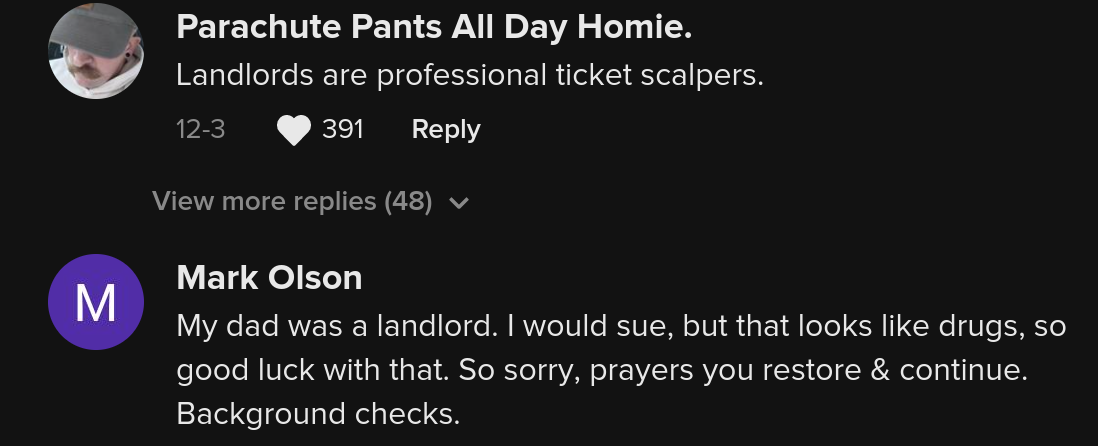 However, there were some folks who didn't have any sympathy for the landlord, stating that, "anything that makes a landlord regret becoming a landlord is a win in my book"
Article continues below advertisement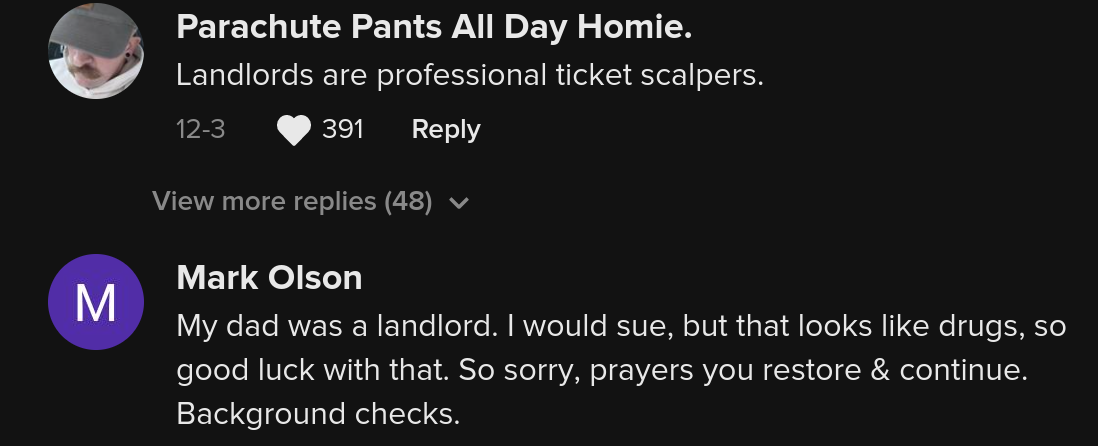 What do you think? Should tenants not be allowed to do such major re-designs without consulting their landlord? Or is that what deposits are for?