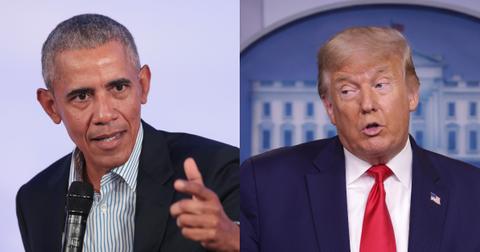 Obama Says Trump Is Trying to "Actively Kneecap" the Postal Service to Affect the Election
By Robin Zlotnick

Updated
Former President Barack Obama acknowledged in a recent interview that President Donald Trump is trying to "actively kneecap the Postal Service" in order to affect the 2020 presidential election in November.
Trump basically admitted to as much in a recent television appearance when he said, "They want $25 billion — billion — for the Post Office. Now, they need that money in order to have the Post Office work so it can take all of these millions and millions of ballots. Now, in the meantime, they aren't getting there. By the way, those are just two items, but if they don't get those two items, that means you can't have universal mail-in voting."
Trump has been a vocal opponent of universal mail-in voting, which is clearly the safest option during an uncontrolled pandemic. Not to mention, it's been proven time and again to be a safe and successful way to gather votes, and Trump's opposition to it has been considered by many to be an exaggerated lie intended to cast doubt upon the legitimacy of the election results before it even occurs.
Many agree that Trump admitted in that television appearance to purposefully messing with the efficiency of the U.S. Postal Service in order to interfere in the election. And President Obama is one of those people.
NBC News reports that in an interview with his former campaign manager David Plouffe, President Obama "slammed President Donald Trump for trying to 'actively kneecap the Postal Service' to affect mail-in voting in the 2020 election and urged lawmakers and citizens to take actions to 'protect the integrity' of the election."
He also accused Republicans of trying to "discourage people's votes from counting in all kinds of ways," including acts of voter suppression like voter identification laws and gerrymandering. But Obama also said that Trump's behavior and his threats were "unique to modern history."

He said, "What we've never seen before is a president say, 'I'm going to try to actively kneecap the Postal Service to encourage voting, and I will be explicit about the reason I am doing it.' That's sort of unheard of, right? And we also have not had an election in the midst of a pandemic that is still deadly and killing a lot of people.
"So in that circumstance, the thing I'm most worried about is ... how do we protect the integrity of the election process? How do we make sure that people's votes are counted? How do we police and monitor how state officials are setting up polling places and ensuring that every vote is counted?"
It's no doubt safest to vote from home during a pandemic, but now, in addition to completely botching the pandemic response, Trump seems to want to use the danger of the virus to his advantage in order to cheat himself into an election victory. He and other lawmakers who work for and around him who don't work tirelessly to stop him from doing so are complicit in the deaths of thousands and thousands of Americans.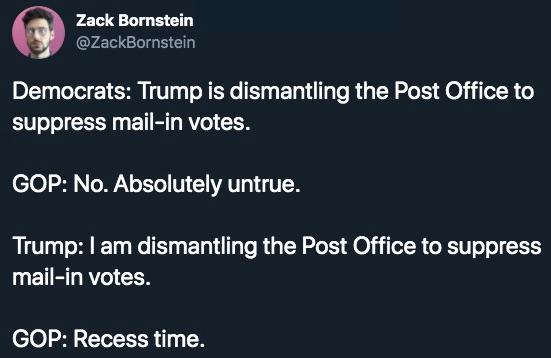 Trump has used his power to deny giving the U.S. Postal Service essential funds to be able to continue to run. The U.S. Postal Service is a fundamental service, the only one that delivers everywhere in the U.S.
People in rural areas rely on the USPS for medication and other necessary deliveries. But because of Trump's unwillingness to help, there have been service delays and delivery problems. And it will only get worse unless Congress turns it around.